 ](http://careyindiana.com)
INDIANAPOLIS – Chuck Pagano is firm in his belief of the importance of a strong running game, and he took a definitive step in that direction by adding Pep Hamilton as coordinator in 2013.
Intent on having a power running game with a firm 1-2 punch, the Colts started the season with Vick Ballard being one back counted on to throw punches.
Instead, he was leveled after one game with a non-contact knee injury in practice.  It upended his season ("My world got turned upside down," said Ballard), and then he saw his team land Trent Richardson in a trade.
With last year's eventual leading rusher, Donald Brown, gone, eyes are on how the rushing game will unfold in 2014.
Ballard is doing his utmost to influence the process while fighting the mental-physical recovery challenges.
"It's been both," said Ballard.  "Some days, it's more physical.  Some days, it's more mental.  It's just climbing the mountain.  Until I get to the top, I'll keep my hard hat on, keep my head down and keep climbing. 
"My strength is coming back.  It's better than it was a month ago.  It's not where I can see increases every day.  I do one weight, then suddenly I'm doing a heavier weight.  You climb, then it flattens out, then you climb (again).  As long as I keep climbing, that's the important thing."
Ballard's 211-carry, 814-yard rookie season ended with him being perfect in pass protections in the playoffs at Baltimore.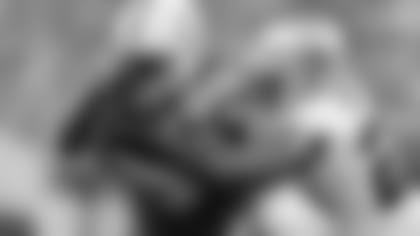 He opened with 63 yards on 12 rushes against Oakland, nailing all six protection assignments.  Four days later, Ballard's season ended on an untouched cut during an inside zone play.
"You hate to see anybody go down, but certainly in a non-contact practice by just putting a foot down and make a cut and your knee goes out on you, you don't expect it," said Pagano.  "It was tough on us, but for Vick, he's such a competitive guy, a football junkie who loves this organization and teammates.
"It was just like when Reggie Wayne went down.  Guys like them when they go down, they feel like they're letting their organization, teammates and city down.  He's doing well on his rehab, probably ahead of schedule.  It will be great to get him back."
Bradshaw joined Ballard on the sidelines two weeks later with a neck injury.  Richardson joined Indianapolis after Ballard went down and endured an uneven season (458 yards, 2.9 average) while learning a new offense.
A top NFL analytic site ranked the Colts 21st in interior rushes, a guard-to-guard area where the team probed about 65 percent of the time it rushed. 
Bradshaw held a 4.5 average on 41 carries before being hurt, while Ballard's lone outing had a 4.8 mark.  Indianapolis wishes to improve on its tied for 20th-rated rushing offense, and competition for playing time will be competitive in the spring and summer.
"I don't think it will be taking a hit to get my confidence back.  It will be more so the cutting where I can put my foot in the ground and make a guy miss," said Ballard.  "That will show me I have my shiftiness back.
"My goal is to return right before training camp.  It would be nice to participate in OTAs and mini-camp.  If I'm not ready, I'm not ready.  I won't rush it.  I will be out there during all the work.  We're not individuals, we're family.  I want to be there with my family."
Counting preseason, Ballard played in five games in Hamilton's new offense.  He feels he "got a good dose of it," and how backs are used with a high number of "touches" pleases him.  His 17 rookie receptions led Colts backs, and Ballard has receptions in 10 career outings. 
"I've prided myself on being versatile," said Ballard.  "As long as I can remember, I've been told, 'The more you can do, the better off you are.'  I try not to be a one-trick pony.  The more I can do enables me to be on the field on every down."
Pagano was a Colts rookie head coach when Ballard debuted.  In sharpening competition in year three of his program, Ballard remains a viable component.
"No question about it," said Pagano.  "I'm hoping he's one of the quick healers.  It will take some time.  The doctors can release you and tell you you're 100 percent, but there's still a part to a players where they have to get out there, run, make a cut, take a hit to gain the confidence back. 
"We saw what he did in his rookie season.  He's a tough, tough back.  Vick can do all the things in the new system we implemented last year.  From a run game standpoint, Vick fits the system.  He can run, block, he can be a third-down guy and a protector, all those things.  He's definitely going to be in the mix."
STAT LOOK:  The club's rushing average jumped from 26th to 13th (3.8 to 4.3).  The Colts fell from 110 first downs via the rush in 2012 to 88 last year, failing to have more than five in eight outings.      
QUOTE-UNQUOTE (Ryan Grigson on Trent Richardson):**
"Trent expects what we expect, and that's greatness.  He's always been at the top of the rung every time he's played.  He knows this is the NFL and it's a bottom-line business.  We all have expectations for Trent and he has expectations for himself – they're for him to be great.  I think he's in a great place and we're in a great place with him.  There's room for improvement for anyone, but there are areas in Trent's game where he did show up and help us in key situations.  There's obviously the big magnifying glass on him, but we see positives.  We feel he's going in the right direction."