INDIANAPOLIS – This was the game those around the NFL were looking for when the 2015 schedule was announced back in April.
The primetime aspect was inevitable.
The only doubt was where exactly another sizzling Colts/Patriots contest would fall on the schedule.
Week Six of the 2015 NFL season is upon us and with that brings another duel between the Colts and Patriots on Sunday Night Football.
The last time the Colts and Patriots were on the same playing field was the AFC Championship in January.
A 45-7 victory for the Patriots was followed by months of endless "deflategate" headlines, sparking the questions this week of how all the offseason noise has impacted the Colts locker room.
"I think the players in this locker room, in particular, got caught up in it less than anybody because it was a reminder of us getting embarrassed on national TV in the AFC Championship game," Matt Hasselbeck said this week.
"They took it to us in that game. They played great. We played terrible. I would say in this locker room, every time that game gets brought up, it's not something we want to think about it or want to talk about it."
What the Colts are thinking about this week is the challenge of facing the undefeated Patriots.
New England has been in a class of their own with their first four opponents.
They've averaged 18-point victories so far in 2015, and have the league's most productive offense heading to Indianapolis this weekend.
The quarterback play of Tom Brady has been "flawless' in 2015 (Brady is the league leader in several passing categories).
Colts cornerback Greg Toler says the Patriots scheme is the name of the game for their sustained success over the years.
"They pick their matchups and they don't allow you to get set," Toler said of the rapid tempo from Brady and the offense.
"With Tom at the helm, he's a quick pace QB so if he sees you have any type of disorganization at the back end of your defense, he's snapping the ball."
With talk sprinkled in about the Patriots itself, the most frequent topic this week surrounded recent history in this rivalry.
Safety Mike Adams (who was named AFC Defensive Player of the Week last week) carries a similar message to Hasselbeck.
"We're not talking about that," Adams said of the AFC Championship loss. "We're moving on. We're focused on this game because it's the next game. It's important to us because we're starting to build momentum. We're getting our guys back. Young guys stepped up, and we still won three games in a row. We're starting to get healthy and get guys back.
"This is a test for us, a big test. Someone said, 'Use this as a measuring stick of where we want to be.' You can say that, but we want to win this game. We want to win this game and we should win this game."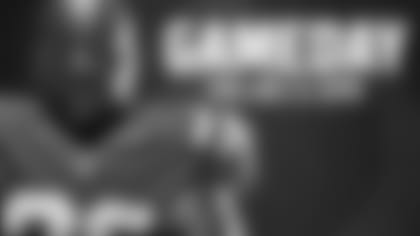 INTERESTING MATCHUPSPatriots run game versus the Colts defensive front:While the Patriots haven't run the football at an extremely productive clip this season, Chuck Pagano is expecting (again) to see an emphasis in the ground game on Sunday. The Colts defensive line is almost entirely revamped from last season and the unit has played very well in 2015. Is the unit ready for the elusive Dion Lewis and the bulldozing nature of LeGarrette Blount?Colts wide receivers versus the Patriots secondary: In the two Colts/Patriots games last season, New England negated T.Y. Hilton with extra safety help. There's new cornerback personnel in New England this season. However, the added attention should still be expected towards Hilton. If that happens again, the Colts diverse pass-catching group must be ready to take advantage of their one-on-one matchups.QUICK FACTS
Since 2003, the Colts and Patriots have met 17 times. For comparisons sake, during that same time span, the Colts have played the Jets, Dolphins and Bills a combined 15 times.
The Colts lead the NFL in forcing negative run plays this season with 25 such plays (six more than any other team).
Since joining the Colts in 2014, safety Mike Adams is tied for the AFC lead with eight interceptions.
Over the past 10 seasons, the Patriots (126-38, .768) and Colts (113-52, .685) have the two best records in the NFL.
In just four games this season, the Patriots rank second in the NFL in point differential at plus 73.
Patriots quarterback Tom Brady leads the NFL in passer rating (121.5) and has thrown 11 touchdowns. He's the only starting quarterback in the NFL yet to throw an interception. NOTABLE QUOTES
Colts Head Coach Chuck Pagano
(on facing a Bill Belichick coached team):
"He's made it difficult on a number of people. His record would actually indicate that, not only us, but I think a majority of this league for a long time. Got a bunch of rings to show for it. Great coach. It's a game plan defense. Right when you think you know exactly what he's going to do, he defends you a different way. Not only him, but Matt Patricia, the defensive coordinator, they do a great job, and they do a great job of making you beat them left-handed. They're going to take away what you do best and make you beat them different ways."
Colts Head Coach Chuck Pagano
(on the challenges of New England's individual matchups):
"It's give-and-take because say you got to go in and stop the run and then they spread you out and they do a great job of getting the matchups that they want. So you've got a guy that's running the football extremely well for them and the guy that comes in for him is no slouch as we know. He can run the football. Then you've got playmakers on the outside. Tight end is a nightmare. Backup (Jeff Chandler) is a nightmare. (Julian) Edelman, (Danny) Amendola, they've got a ton of players and they're obviously on the same page and they're in sync and they're playing at a high, high level right now. You can say, 'Okay we're going to load up here in this situation and stop the run and then you've got a potential matchup issue outside.' You can play coverage and you might give up a little bit in the run game. Again, it's a heck of an offense. The quarterback is outstanding, obviously, and he does a great job of managing that offense. He's flawless right now, 121.0 Quarterback Rating, 11 touchdowns, no picks. Playing at a high, high level."
Colts Inside Linebacker D'Qwell Jackson
(on this game being a measuring stick type of contest):
"We know it's going to be a dogfight. Right now we're trending in the right direction. We've been playing well as of late. We're finally getting some guys back from injury. So to address the elephant in the room, this is the game where we're going to see each other later down the road. It has implications on the playoffs, whether home or away. So guys are aware of it but if you start to do things differently than what you've done in weeks past it's going to throw you off. So the main thing for all the players, coaches, everyone involved – stay the course, do what you've been doing and let's go out and play on Sunday."
Patriots Head Coach Bill Belichick
(on why T.Y. Hilton is such a difficult weapon to account for):
"He hits you at all three levels of the defense. He's a deep threat, he runs great intermediate routes and he's very dynamic with the ball in his hand, so underneath routes, catch-and-run plays. That's really true of all those guys though – [Donte] Moncrief, [Phillip] Dorsett, [Andre] Johnson – they're all very explosive. Fleener is another guy who can attack all three levels of the field, so it's overall a hard group to defend. But Hilton is definitely a problem, no matter what he does. It's not just one thing you've got to stop with him. He's just as dangerous on the deep balls as he is on the comebacks, in cuts, crossing routes, over routes, as he is on slip screens and slants that he can break a tackle and take those out of there, too. They move him around. Sometimes he's in the slot. Usually he's outside, but they do play him in the slot, so it's a little bit of a challenge to find him. You don't know exactly where he's going to be. They do that with all those guys, but again that's part of the game plan element that they have in their offense."
Patriots Head Coach Bill Belichick
(on the play of Frank Gore this season):
"He's done a good job. He runs hard. He's got good vision, obviously good playing strength, hard guy to tackle. It seems like they've got their offensive line more intact now than they were earlier in the year with [Hugh] Thornton and [Jack] Mewhort in there at guards. So, they've got a good inside. They've gotten good blocking on the inside as well as the tackle, and of course tight end with [Dwayne] Allen. He does a real good job out there, with [Jack] Doyle and [Coby] Fleener, too. You need more than one guy to run the ball, but they've got a good back, they've got a good line, they've got good tight ends, and they scheme it up differently from week to week depending on what they think they can do best against your team, so we've got to be ready for all those things."
Patriots Quarterback Tom Brady
(on if there's any extra motivation for this week):
"Well, like I said, I'm always pretty motivated regardless of the opponent, regardless of the team or the week, whether it's a preseason game, whether it's a regular season game. They're all important because there are so few of those where you get an opportunity in your life, so I don't take it for granted. I think it's exciting to go out there and do something that I love to do, to go out there and do it with teammates who I love to play with. We all put a lot of effort in, the coaches, players, so it's another opportunity for us to go out there and see if we can be a good football team."