INDIANAPOLIS – The importance of Week 15 and the Colts and Texans meeting has been touched on endlessly this week.
Anytime two divisional teams share the same record, atop their division, meet with three weeks left in the regular season, the stakes are going to be gargantuan.
But, just how important is the Colts and Texans matchup on Sunday afternoon at Lucas Oil Stadium?
This graphic from ESPN Stats & Info defined the importance with some eye-popping numbers: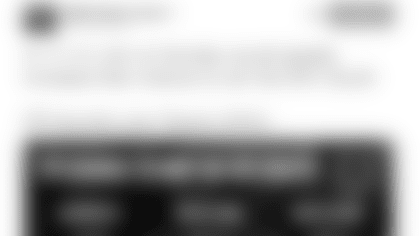 There's no running away from the magnitude of this one.
"We've got a great opportunity," Chuck Pagano said earlier this week.
"We had these guys in here (Monday), they understand the circumstances, we all do. Playing at home, division rival, division game, division on the line, I don't know how you canNOT get up for this contest."
Chuck Pagano was reflective this past Monday at his first press conference of the week.
With all the talk about Pagano's future in Indianapolis, the head coach offered some perspective he endured during his 2012 stay in the hospital.
The Colts head coach reiterated how grateful he is to have the chance that awaits his team on Sunday afternoon.
Through a season unlike any other, the Colts are 60 minutes away from all but sealing up a third straight AFC South crown.
"As bad as it may seem, the record, the ups, the downs, the ebbs and flows, the highs and lows, however you want to state it, we still have an opportunity to accomplish all our goals," Pagano says.
"Guys will say, 'Well you can look at the last two games and this, that and the other.' These guys will show up (Sunday), I promise you. They will prepare, they will work, and they will show up and they will play their butts off on Sunday."
INTERESTING MATCHUPSColts wide receiver T.Y. Hilton versus the Texans secondary:T.Y. Hilton has to be grinning from ear to ear this week. Hilton has torched the Houston secondary in his seven career meetings with the Texans. The Texans watched Hilton have a relatively quiet first 58 minutes back in Week Five, before his 43-yard reception sealed the Colts victory in Houston.Texans defensive end J.J. Watt versus the Colts offensive line: It's a shocking stat line associated with the name of J.J. Watt. Zero solo tackles. Zero sacks. That is what Watt had against the Colts in early October. If the Colts can have Anthony Castonzo return this week, that would allow for Joe Reitz to flip back to his normal right tackle spot, where Watt typically lines opposite from.**
The winner of Sunday's game will need just one win in the final two games of the season to capture the AFC South.
In seven career meetings with the Texans, T.Y. Hilton has 40 catches for 749 yards and six touchdowns.
Colts inside linebacker D'Qwell Jackson leads the NFL in tackles (129).
The Texans have never won in the city of Indianapolis (0-13 all-time).
Texans starting quarterback T.J. Yates was born in Indianapolis and his grandfather, Gene, still lives in Anderson (home of the Colts Training Camp).
The Texans lead the NFL in third-down defense, allowing 30.1 percent of conversions.

NOTABLE QUOTESColts Head Coach Chuck Pagano(on preparing for Texans starting quarterback T.J. Yates):
"We've seen T.J. I've seen him, played him in a playoff game in 2011, obviously in Baltimore. Went back and looked at it. He started against these guys back in '11. So watched that game. I was with T.J. for a year back in (North) Carolina, back in '07. Good player, smart player, really good competitor, got arm talent, can make all the throws, he's mobile. Like I said, he's smart. He knows where to go with the football. He can extend some plays and make some throws. He's won games. He came in in the Cincy game and cleaned that thing up, finished that game and got the win there against a really good football team. He's a winner."
Colts Head Coach Chuck Pagano(on if he feels added pressure right now):
"I mean, there's stress. I go home and if things aren't right, I've got stress at home. My wife has enough stuff. My daughters, I worry about them. That brings stress. Yeah, that's what comes with this job, but we all know what we signed up for. What are you going to do? So what, now what? They can't eat you. Remember I told you that. They can't eat you. They can fire you, but they can't eat you. So if the worst thing is a year from now, let's say I'm in Boise (Idaho) next year playing with my granddaughters, I'm going to be fine. That isn't going to happen but I'm going to be fine if I have to go down that road."
Colts Wide Receiver T.Y. Hilton(on the biggest thing holding the offense back right now):
"Red zone. I mean, we're getting the ball up and down the field, we just aren't finishing. Getting three points and that gives the other team confidence. We got to find ways to score and once we score that will take some confidence out of those guys."
Texans Head Coach Bill O'Brien(on if he views the Colts as a rival):
"I have all the respect in the world for the Colts and their players and coaches. Any time we play the Colts it's a divisional game so it's a very, very important game and Sunday's game is no different. A very important game."
Texans Head Coach Bill O'Brien(on if he's surprised by the injuries for the Colts and Texans at the quarterback position):
"I don't think anything in this league surprises me. This is a tough game. Injuries occur, every team has them. The next guy that's in that role, whether it's quarterback or corner or defensive tackle, left guard it doesn't matter. The next guy has to step up and play like a pro and that's what we're expecting of all of our players here in Houston."
Texans Defensive End J.J. Watt(on if he thinks about Houston having never won in the city of Indianapolis, 0-13 all-time):
"No, we're playing against the 2015 Colts. We're not comparing it to any other season. It has nothing to do with the past or what the record may have been in the past. It's a completely different year. It's a completely different team. We're just looking forward to this game."