INDIANAPOLIS – The Colts became known for a few different things during the 2000-09 decade.
Among the things identified with the club were fast starts:  5-0 in 2003; 13-0 in 2005; 9-0 in 2006; 7-0 in 2007; 14-0 in 2009.
Not every season during that span had that type of jack-rabbit jump, though.  The club was 3-4 in 2008 before finishing 12-4. 
The first season after that successful decade was 2010, when the club was 2-2 at the season's quarter point and 6-6 entering the final four games.  The Colts swept the final four games to win the AFC South.  The answer at that point was to keep sawing wood and stay the course.
The Colts have opened 0-2 in 2011, a first for the club since 1998.  The only player on the active roster who was a part of that squad is the same one who is not available at the moment – quarterback Peyton Manning.
Manning's absence still leaves 52 teammates to attack the situation.  The best plan of attack is the one that has worked before – stay the course.
Linebacker and team captain Gary Brackett always has been a voice of reason, and he remains so.
"There's always an urgency when you start a season off 0-2.  You definitely want to get your first win of the season," said Brackett.  "You still have to stay the course.  We have been in this situation before (needing a win) and guys try to do too much and you're out of your gap trying to do someone else's responsibility.  That's not the answer either.  It's all about doing your job, doing it to the best of your ability.  If you do that, everything will fall into place."
Brackett has participated in 91 regular-season victories during his career.  Five-time Pro Bowl center Jeff Saturday has been a part of 130 regular-season victories, the third-highest total in franchise history.
Saturday knows the best tactic for the club is to keep doing what it has done in the past and to change nothing going forward.
"That's not how we operate.  We're not a big 'change' type team," said Saturday.  "As a player who has been here 13 years, I hope they don't go do a lot of changes because I might be the first (laughs).  We don't want a bunch of changes.  The reality is we have to be consistent, play better."
Saturday can look at exactly what has happened over the first two games offensively and indicate what needs improvement.
"You can put your finger on exactly what we didn't get done," he said.  "You get to the red zone, you're moving the ball (in) 10-play drives, nine-play drives, that's good, consistent football.  When you get it there, make something happen with it, be productive once you get in those zones. 
"We cut down on the turnovers, we have to keep cutting down on them.  We cut down on the penalties.  Keep doing those things.  Those are all things you can do as a player.  You don't need to change a bunch of people.  I'm telling you, that timing just doesn't come overnight.  You have to keep working as a team.  That's what we'll continue to do."
Safety Antoine Bethea is another battle-tested veteran for the club.  Bethea very much believes what Brackett and Saturday advocate in relying on the talent at hand and the approach already taken.
"We just have to keep doing what we're doing," said Bethea.  "It's not the system, it's not the players.  It's just a play here and a play there that's not being made or something.  We just have to critique ourselves and just get better within our system and within the people in this locker room."
Head Coach Jim Caldwell can measure the progress the team made from week one to week two.  He knows the lowest denominator for the club is the final result.
"I think you can look at a number of things and say, 'Yeah, we're getting a little bit better.'  But the bottom-line is winning is the key," said Caldwell.  "We can see a lot of things, even in practice, that we see guys getting a little bit better and making progress.  We've got to put it all together, and make some things happen in that regard.  We've got a lot of work to do, and we've just got to keep pounding at it."
Brackett and his teammates will approach this week the way they have in the past, and he is confident the approach will be good. 
"I think it's more about honing in on what we're doing and doing that better," said Brackett.  "If we control in-house what we need to do, I think on-the-field things will take care of itself.  Guys are fighting.  I don't think guys are hanging their heads.  I think this team has some resiliency.  We need it now more than ever.  Guys have to step up…everyone 'man's up,' and together as a team we need to get better."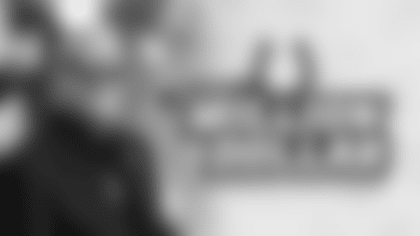 news
'By far the luckiest thing that's ever happened to me:' Lifelong Colts fan Ben Grinsteiner wins Jim Irsay's schedule prediction contest
Grinsteiner, who lives in North Dakota, won 2023 Colts season tickets after predicting nine of the Colts' 18 weeks correctly in Jim Irsay's schedule prediction contest.