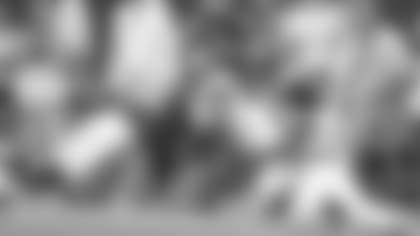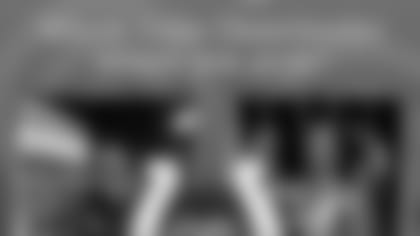 ](http://www.colts.com/cheerleaders/cheerphotosvoting.html)
INDIANAPOLIS – Colts linebacker Pat Angerer is a man of few words.
He is a man of one goal – to play the perfect game.
Angerer has started 27 of 32 games since joining the Colts in 2010 as a second-round draft choice.  His rookie season was one of impact, when he totaled 75 tackles while starting 11 of 16 contests.
His starts that year were split between the strongside (seven) and middle (four) positions.  Angerer's tackle total ranked second on the team, and his 16 special teams stops made him one of five Indianapolis players to reach double digits.
Angerer came to camp last August as a hungry second-year player.  After opening on the strongside at Houston, he moved to the middle when Gary Brackett suffered a season-ending shoulder injury late in that contest.
Angerer hiked his pants, buckled his helmet and led the team with 146 tackles in being one of only two defensive players to open each game.  He led teammate Antoine Bethea (139), the other Colts defender to start 16 games, by seven tackles, and he felt like his play was more instinctive this past season than it was as a rookie.
"I did feel more comfortable in my second year," said Angerer.  "I could see more what I was supposed to do.  I could play faster and without thinking, and that's important.  The big thing was being able to tell other people what to do."
While calling the defensive signals, he was in the middle of the fray weekly.  After opening with 13 stops against the Texans, he had 20 in week three against Pittsburgh, 15 against Kansas City and 12 and 10 against Tennessee before ending the season with 10 stops at Jacksonville.
Angerer but once failed to have fewer than five tackles, yet he still saw himself as a player who can improve.
"I definitely think I've gotten better," said Angerer.  "I still need to avoid making mistakes.  Obviously, you want to play the perfect game, and I still haven't yet.  That is a goal of mine, and it will take work.  I did okay.  I played better."
The 2011 season was the first losing year for the Colts since 2001.  Only five players on the roster had ever gone through a non-winning year, and none were on the defense.   Angerer held up through the difficult time, and he saw other teammates doing the same.  He agreed when asked if he thought he learned more about his comrades than if the season had been more successful.
"I did (learn a lot through the adverse times)," said Angerer.  "We have a great group of guys.  We grew closer and tighter as a team.  We could have strayed away from each other with how the season was going, but we stayed together.  We kept fighting and kept believing.  I could see that in my teammates, and that was good to see.  You want to win, that's the main thing."
Angerer emerged from the season needing a minor knee procedure, and he is mending nicely and with a full range of motion already accomplished.  He has seen the club make changes with a new general manager in Ryan Grigson and a new field leader in Chuck Pagano.  He is excited about the new opportunity, and senses the same in his teammates.
"I have talked with (Coach Pagano) over the phone," said Angerer.  "I know he has a lot on his plate, and I am sure we will talk specifics about what the defense will be.  I know he will get us on the right track.  I'm excited about what can happen here.  I think a lot of our guys feel the same way.  We have a lot of great coaches coming in.  I think we're fired up.  We have to put the work in first, but the sky is the limit.  I think we're all looking forward to it."
As for the off-season, Angerer will have more of a normal routine than last year when the lockout negated a spring of work.  He has one goal in mind for this spring.
"I will spend it trying to get better," he said.  "The off-season routine will be different this year than it was last year.  I want to keep learning and improving.  Like I said, the perfect game has not been played.  I've gotten better, but there is work to do."