 ](http://careyindiana.com)
INDIANAPOLIS – When Ryan Grigson was first introduced to Indianapolis in 2012, he tipped his hand about his passion for finding talent.
Responding to a question if he had an "unknown" player he scouted that brought back memories, Grigson mentioned UMass linebacker Kole Ayi.
"After my first draft we were out for dinner and our general manager in St. Louis asked if anyone had a 'will' linebacker," said Grigson.  "It was the day after the draft, pickings are real slim.  I kind of just said, 'I have one.'  No one else was saying anything.  
"Long story short, he (Ayi) ended up making our 53(-man roster), and I believe went to three Super Bowls, one with us and two with the Patriots."  
Every rock-kicking personnel man has at least one Ayi story, and Grigson was praised enough by colleagues for that one that it shapes his mandate to this day.
"I tell the young guys, 'If you want to move up, you want to do this, you want to do that then step up.  Show some confidence in your opinion.  You did all the work.  You spent all that time away from your family.  You did all these things.'  If you have a chance to speak, speak."
Grigson yesterday said this year's evaluations are complete enough that the "hay is in the barn" and that the elongated time between the combine and draft will not cause his staff to create "paralysis by analysis."
Still, there is time for sifting through possibilities that can remain after this draft shuts down after 256 choices.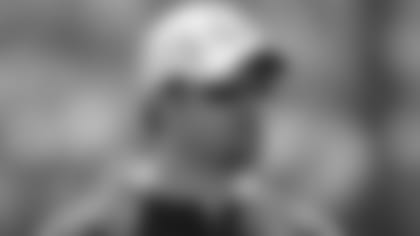 Remember, a personnel man is a personnel man.  His profession is his passion, and there may be a Josh McNary or Jerrell Freeman out there.
"It's what drives us.  It's what's exciting," said Grigson of finding prospects in tall weeds.  "I really hope I never lose any of that zeal for finding those diamonds. 
"That's what drove me on the road as a scout.  That's what all those guys on my staff remind me of when they get excited and bring me a player. 
"It's getting pretty late now.  We're still kind of just picking up some twigs and straw outside the barn.  Those last bits of straw we throw in there are going to be for guys after the draft." 
Last year, about 80 undrafted free agents (CFA's as Grigson calls them) made the NFL.  There were a handful like McNary, Daniel Adongo, Jack Doyle and Da'Rick Rogers that joined Freeman in that category.
Freeman made the Colts in Grigson's first year.  He had had a free agent tryout with Tennessee in 2008, then spent three seasons in the CFL before landing with the Colts.
Freeman has topped the Colts twice in tackles, joining Robert Mathis among top defensive leaders.
Mathis was a personnel "find" by the Colts in 2003 out of Alabama A&M.  The club's all-time sack leader toiled in such near-total obscurity that is hard to believe now that he is one of 30 NFL players ever to amass 100-plus career sacks.
"Every once in a while you get a guy from a school that I guarantee you 95 percent of people have never heard," said Grigson.  "Our scouts do their due diligence, pull (a prospect) aside, set up a private workout with him on the sly, try to make the kid take an oath to never say a word (chuckles).  All those types of things you do when you're an area scout." 
The process is not an exact science.  Unknown commodities can be tougher to judge than "known" entities figured to be taken in draft's seven rounds.
Finding that Freeman, that Rogers, that Jeff Saturday, that Gary Brackett is what drives a talent like Grigson, who was a sixth-round pick of Cincinnati in 1995 before starting his personnel career three years later.
While Grigson and his men construct a 53-man roster, their view is much broader with the in-season roster size allowing for eight practice squad players and a training camp roster that expands well beyond that.
"We're looking at how we can be productive with just five picks," said Grigson.  "I think after the draft (and) with the depth of this draft, I feel that's really an area to really target.  We look beyond the 53.
"That's a fun part of it.  It helps our scouts I think continue to dig.  Again, it's not for our front board (the top prospects), it's for our back board."