 ](http://careyindiana.com)
INDIANAPOLIS – Robert Mathis always has gotten the attention of opposing offenses, but since 2003 he had amassed 110 quarterback sacks.
Mathis entered Sunday trailing St. Louis' Robert Quinn in sacks, 18.0 to 17.5.  Mathis was playing three hours earlier than Quinn and would have to wait until well after his game to see if he could be the NFL's sack champion.
His 110th sack in the first half on Jacksonville's Chad Henne put him at 18.5.  Mathis' 111th sack early in the fourth quarter did not decide the game, but it decided the sack race as Quinn could only muster one.
Mathis won the title, 19.5 to 19.0.  Mathis destroyed this play quickly.
Here is a look why the play worked.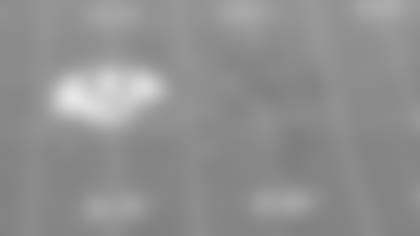 Chad Henne (#7) is in the shotgun with Maurice Jones-Drew (#32) to his left and with a standard offensive line set with tight end Danny Noble (#88) on the right side of the formation.
The linemen from left-to-right tackle are:  Cameron Bradfield (#78), Jacques McClendon (#66), Brad Meester (#63), Uche Nwaneri (#77) and Austin Pasztor (#67).
Three receivers were lined up to the left.  Kerry Taylor (#13) was split wide left, with Mike Brown (#12) to his right and Ace Sanders (#18) toward the formation and off the line.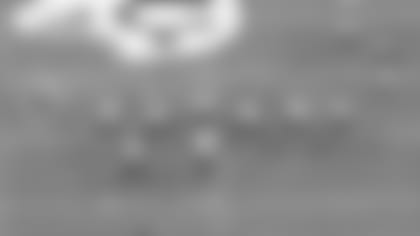 Indianapolis had linemen Ricardo Mathews (#91) and Fili Moala (#95) on the interior shaded just outside the guards, with Robert Mathis (#98) lined up outside of Bradfield and Erik Walden (#93) initially moving across the left side of the alignment.
Josh Gordy (#27) and Darius Butler (#20) had coverage on Taylor and Brown, while Josh McNary was on Sanders.
Jerrell Freeman (#50) was in the center of the formation, while Antoine Bethea (#41) was deep and had Cassius Vaughn to his left, the right side of the Jaguars' formation.  LaRon Landry (#30) was in deeper right side coverage to play off routes of the multiple receivers.
The only minor pre-snap movement was Walden walking to the scrimmage line outside of Noble.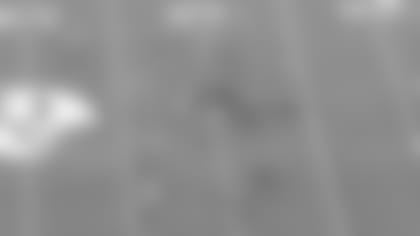 Mathis makes an immediate move into action, crossing the scrimmage line before anyone else.
Henne made a brief fake to Jones-Drew, who slid to the right to pick up blitzers from that side.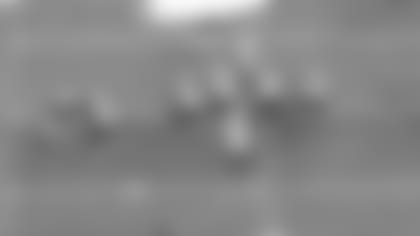 Taylor ran straight down the field, while Brown ran a nine-yard out route toward the left sideline.  Sanders retreated into the left flat and then toward the sideline as a shorter option.
Walden started rushing, then stunted inside.  Mathews moved toward the gap of Meester and Nwaneri, occupying Meester.  Moala stunted to Mathews' left.
Freeman followed Jones-Drew in case the back slipped into a route.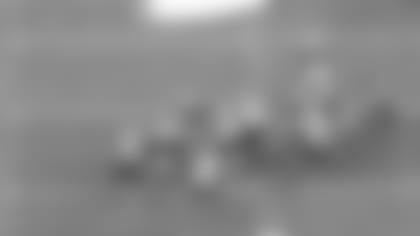 With his left hand down, Mathis rushed outside then used a spin move to clear inside of Bradfield.  McClendon's first contact was with Mathis as he burst through the left side of the line toward Henne.
With three receivers in patterns to the left, Henne was looking only that way, but Mathis' speed stopped any progressions as Henne was thrust into defense mode quickly.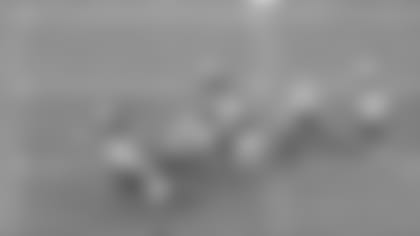 Henne did not have time for routes to develop.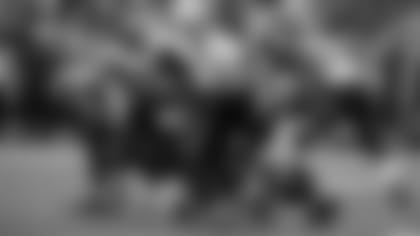 Like many others, Henne could not elude the sure-tackling Mathis, who polished off the play and celebrated while lying on the turf.