 ](http://careyindiana.com)
INDIANAPOLIS – Two mementos in Robert Mathis' locker are must-sees for those who have followed his career.
One is a framed copy of Edgar Guest's poem, 'It Couldn't Be Done,' to motivate the 6-2, 246-pound linebacker who many thought was too small to play the game.  Guest's work is so personal to Mathis that he had the poem tattooed on his torso.
The other is a framed $100 bill recently sent from Dwight Freeney when Mathis became the 30th NFL player with 100 career sacks.
Freeney signed the matting with the message that he wished he could have been present on October 6 when the milestone occurred.
If Freeney (107.5) wants to see Mathis (107.0) break his franchise mark for career sacks, he may want to be in Cincinnati on Sunday.
With 15.5 sacks in 2013, Mathis is one full sack from breaking Freeney's 2004 mark for the most seasonal takedowns in Colts history.  That was the year Freeney became the only Colt to lead the NFL in sacks.   
Mathis has led the pack for most of the season and owns a 2.5-sack edge on his nearest competitor.  The sack title would be a treasured accomplishment.
"It would mean a lot.  I've been around for 11 years," said Mathis.  "As I grew up watching and looking at the old Deacon Jones film, that would mean a lot to be able to get that very first Deacon Jones Award."  
The NFL created the award after Jones passed away in June.  He was a 14th-round pick of the Rams in 1961, the 186th player taken in that draft while Mathis was tabbed 138th overall in 2003.
The award will be presented at an honors ceremony before the Super Bowl, and Mathis made clear his priorities.
"I'm working hard to get it (the award) but at the same time, team goals are first and foremost," said Mathis.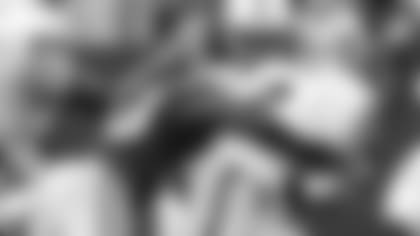 In his first season after a decade with Freeney, Mathis is playing at warp speed.  He reached 11.5 sacks in seven games, the fastest club pace to that total.
He got to 13.5 in nine games, tying the NFL's fourth-fastest pace.
Mathis has sacks in nine outings this year, multiple sacks in a club seasonal-best six games.  Leveling Ryan Fitzpatrick yesterday produced his 41st career sack-strip, extending his NFL record.
Setting another franchise record Sunday with a sack in an 82nd career game, one wonders if Mathis is playing his best ball – without Freeney and at age 32.
"I feel like I am.  I'm just paying attention to my body and just taking care of myself a lot better," said Mathis.  "The older you get, the more you have to do that.  I'm just trying to be as professional as I can with my body and with my time and with my craft."
The owner of five 10-plus sack seasons, Mathis has sampled seven division titles, two AFC crowns and one Super Bowl title.  His leap toward Chicago's Rex Grossman helped cause an interception that Kelvin Hayden returned for the clinching score.
While Sunday's win over Tennessee pushed Mathis (113) ahead of Freeney for the eighth-most regular-season victories by any Colts player, team accomplishments fuel his non-stop motor.
A return to the playoffs is his goal.  Something secondary like a Defensive Player-of-the-Year Award would fit nicely in his backseat.
"It would be a testament to the underdog," said Mathis.  "Anything you set your mind to, faith is a powerful thing.  Hard work pays off.  
"I'm not the biggest guy, I'm not the fastest guy, but I'll put my grind up against anybody.  (The award) would mean a lot because there are a lot of talented, productive guys in the league and to be considered the Defensive Player-of-the-Year would be one of the top five moments of my professional career."
PAGANO ON WIN OVER TENNESSEE – "Great team win, huge ballgame.  Great to be 8-4.  A lot of good things on tape, a lot of good individual performances.  We always say, 'Win as a team, lose as a team.'  It was a great team victory. … We're sitting in a good position, but nothing is sealed up.  We control our own destiny.  That's what we'll try to do this week."
COLTS NOTES/INJURY UPDATE – The club's December 15 game with Houston will remain at 1:00 p.m. (ET)…the Colts' four takeaways were the most in a game this season…Pagano said Daniel Herron will be put on IR with a torn pectoral that needs surgery, "Boom was playing good football for us, special teams and doing good things."…Ricky Jean Francois has partial tear of the planter fascia and is out two-to-four weeks, the same type of injury that kept Bjoern Werner out for three games…Fili Moala steps in for Francois, and Montori Hughes will back up…Jeff Linkenbach has a slight tear in quad and is week-to-week (he would start at Cincinnati if healthy)…Greg Toler, Kavell Conner, Josh Gordy could return for Wednesday's practice…a Colts win or a Tennessee loss gives Indianapolis the AFC South crown.  Cincinnati is 8-4 and sits behind Indianapolis with the fourth seed with four games to go.  Denver (10-2) and New England (9-3) own the two best AFC records.  Kansas City is 9-3, with two losses to Denver...Miami and Baltimore are 6-6.