 **](http://careyindiana.com)
INDIANAPOLIS –When Robert Mathis heard from Alabama A&M, it only was because the university was interested in a high school teammate and said he could tag along for a visit if he wanted to do so.
Mathis impressed the coaches in Huntsville.  They offered him the last scholarship available, and Alabama A&M was the only place that would let Mathis play defensive end.
An individual who had no fanfare in the least made the most of it.  Mathis started drawing notice in his 2001 junior season and during a senior season that yielded 20 sacks and 40 tackles for loss, Indianapolis was on his trail.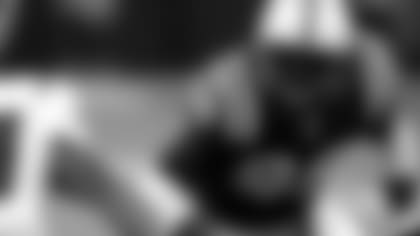 Area Scout Todd Vasvari had visited the school prior to Mathis' senior season, then saw Mathis twice that year in person. 
It was when he saw Mathis on tape playing in the Circle City Classic in Indianapolis that everything started to click.
"When I'm watching the tape, I'm seeing a player with some of the same traits as Dwight Freeney – exploding off the edge, high speed, high motor, making plays," said Vasvari.  "I saw him crossing over the Colts helmet on the field and I'm thinking, 'This is weird.  This guy looks like Dwight at his level.' "
The Colts had drafted Freeney a year earlier, with pundits at that time deriding the selection because of Freeney's 6-1 height.
This was different era for the Colts with second-year Head Coach Tony Dungy on board and wanting to emphasize certain traits in players that would help his system take root.
"Tony was in his second year and always said, 'Size isn't always important if a guy has great athletic ability, speed and a high motor,' " said Vasvari.
Vasvari left Alabama A&M with a copy of tape featuring Mathis' top plays as an end and special teamer.  That tape had an impact in Indianapolis much like the one Mathis ended up having.
"The tape is phenomenal," said Vasvari.  "The most impressive thing was special teams plays with him being the first guy going down the field, jumping over piles, blowing up the ball carrier in addition to his defensive plays.  I have the tape to this day."
The only Indianapolis representative to see Mathis in person, Mathis was evaluated by Vasvari's counterparts Mike Butler and Mark Ellenz.
"Mike and Mark gave Robert high grades in addition to me," said Vasvari.  "I had put Robert at 'Sam' linebacker and nickel rusher.  Mark put him at defensive end because Tony had said he could play there with the right traits despite size.  Our scouting superiors would take it from there, and then coaches got involved."
As it does now, Indianapolis prospered under the organization dynamic where scouting and coaching communicated when it came to finding prospects. 
"With our personnel and coaching system, it was like a perfect storm," said Vasvari.  "Tony was very good at describing the talent that would work in his system.  Not every team did it that way, but we did. 
"He was talking to a personnel staff that had meshed together for years, so that worked in our favor.  We had drafted Dwight the year before, and we thought he was almost too small at 6-1, 268.  Now, we're talking about Robert at six-foot and change and 228. 
"As a scout you ask, 'How small is too small?'  Tony was sure what would work.  His endorsement and the good staff we had really helped, plus you can't downplay the outstanding talent Robert had.  You couldn't just take some smaller guy who was above average in some things and give him to the staff to make him great.  You have to have the talent to start with."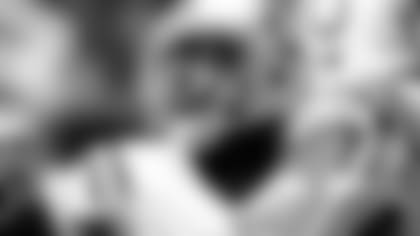 Once while scouting Mathis, Vasvari went down to the stadium rail to see him closely during a game break.  He remembers being amazed at how compact Mathis was because he played in such a dominant style, but he saw the body type that Mathis would achieve through hard work and maturity.
Mathis had not played in any all-star games, nor had he been invited to the combine.  Vasvari attended a March 2003 workout session in Atlanta that featured players from other schools. 
"There were a bunch of guys working out for scouts," said Vasvari.  "I was able to give Robert the Wonderlic test there and our psychological test.  After everyone was gone, I got to spend about 90 minutes with him, and he didn't say a word.  He was just like he is today, very quiet and professional."
Vasvari later attended Mathis' Pro Day at Alabama A&M, and the Colts were one of about 12 teams present.  Vasvari noted no teams seemed all that interested in Mathis.  It seemed scouts were there to say they had covered it, and that was something Vasvari put in his report.
"With the information in the reports, the personnel department would estimate where you could get a player in the draft," said Vasvari.  "You look at notes about the conditions of the day and the teams that attended. 
"We would factor in information – school size, no all-star game, no combine, smaller guy, how many teams does he fit for, how many teams were interested in him on the Pro Day.  The staff was very good at those things."
Vasvari said based on school size he gave Mathis a grade commensurate with the first day of the draft.
"The last day of the draft, Dom Anile said, 'We're pinpointing your guy.  There's a good possibility we're taking him in the fourth round,' " said Vasvari.   "We had an early fourth-round pick, but we took an offensive guard. 
"When they said they had taken a lineman but were trying to get another pick in a trade to get Robert, I said, 'He is not going to last much longer.'  Houston called and offered its fifth pick for a fourth next year, and that's what we did." 
Indianapolis took Mathis in the fifth round with the 138th overall choice.
"Robert was coming here at the right time with Tony, a guy who covets speed, motor and athletic ability," said Vasvari.  "In combination was Tony's association with defensive line coach John Teerlinck, a supreme pass-rush coach.  Robert was an excellent rusher when he got here, and John was able to refine him even more."
Vasvari said question marks are there when a team takes a player from a smaller school.  Will that player's game translate fully at this level?  Mathis' talents did from day one.
"I remember his first mini-camp practice and his first rep, he went by Adam Meadows," said Vasvari.  "Robert set him up with an outside fake and used an inside rip move and it was, 'Whoa.'  We knew we had a guy.
"I think a lot of people thought Robert was a good player, but they weren't willing to bite the apple to draft him and find out what they could do with him.  We saw quickly what we could do with Robert." 
Mathis played in 16 games as a rookie reserve, but he has been a starting fixture since then.  Mathis is the franchise leader with 111.0 sacks, this season passing Freeney. 
His 19.5 sacks set a franchise seasonal record and won him the Deacon Jones Award.  Mathis also was named First-Team NFL All-Pro by Associated Press.
Mathis has sacks in 85-of-133 career games and in 56-of-99 starts.  He has sacked each team, with Houston (16.5) ironically being the most nailed opponent.
Mathis' sack total ranks 20th in NFL history, fifth among active players and he owns the NFL record with 43 strip-sacks. 
Mathis' six straight Pro Bowl nominations rank behind Gino Marchetti (11), Peyton Manning (9), John Unitas (8), Jim Parker (8), Marvin Harrison (8) and alongside Chris Hinton (6) for the most in Colts history.  Six overall choices for Mathis rank behind Marchetti and Manning (11), Unitas (10), Parker and Harrison (8), Lenny Moore and Freeney (7) and alongside Raymond Berry, Chris Hinton and Reggie Wayne.
"Robert was a true 'old school, under the radar guy,' " said Vasvari.  "I don't think in this age with the internet, TV coverage and draft coverage that could happen again.  Draft coverage wasn't up to the speed it is now.  For a guy of Robert's talent to not be invited to an all-star game, not be invited to the combine, it's very rare.  A lot of scouts went in there and identified him as being too small.
"As a football player, he's a perfect blend of super competitiveness, explosiveness, speed and athletic ability.  He's a true blend of everything you want, along with exemplary character, a humble nature, intelligence and instincts. 
"I think all of our scouts go into schools looking for the next Robert, but he's a rare guy.  You try and try to find them, but you have to have a lot of things happen.  You aspire to discover a guy like Robert as a scout."