 ](http://careyindiana.com)
INDIANAPOLIS – By now, Brandon Burlsworth likely would be retired, probably a world champion and former Pro Bowler and, possibly, according to his brother, Marty, headed to Canton, Ohio.
Instead, the dreams of a family and the promise of an NFL career were cut short tragically when Burlsworth was killed 15 years ago today in a car accident as he headed home to Harrison, Arkansas.
That Burlsworth was in the accident was completely like the unselfish person who established a cult following while a Razorback.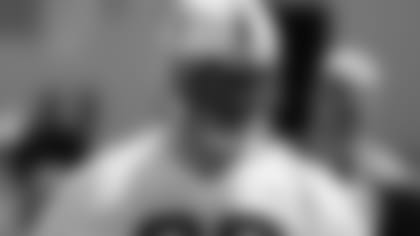 The walk-on who became an All-American, a person who responded, 'Yes sir,' or 'No sir,' to every question, decided to bypass a ring ceremony honoring the school's SEC Western Division title.  He wanted to head home, have dinner with his mother, Barbara, and attend a Wednesday night church service.
Burlsworth was killed 15 miles from home on a road he had traveled for years when his car drifted into the on-coming lane.  Two collisions followed, and the life of a wonderful human with vast talents was over.
Known throughout Arkansas, Indianapolis was only getting to know Burlsworth. 
He was drafted 59 spots after Edgerrin James and with the notion to help fortify an offense that already had young stars in Marvin Harrison and Peyton Manning.
On the line, Tarik Glenn and Adam Meadows were at tackles.  Steve McKinney was one guard.  Jeff Saturday was a street free agent, and Burlsworth could have helped the guard position for years.
"I remember he was the first college lineman I looked at on video that year," said Howard Mudd, then the Colts' line coach and one of the game's best ever.  "I liked him so much that I used him as the barometer for the rest of the players I evaluated that year.  
"I kept coming back to comparisons with Brandon.  Accordingly, I was thrilled to get him."
Mudd was among the club's personnel who knew Burlsworth the best.  A week after the draft, others got a glimpse of the player who drew visible comparisons to TV's Drew Carey.
A rookie mini-camp was held days after the draft.  When publicity photos were taken, the lights in a confined photo area cast reflections that made the picture impossible.
"No problem, I'm used to it," quipped Burlsworth, who popped the lens of his eyeglasses out and smiled away. 
It was the type of impression Burlsworth provided with everyone over the three-day camp before heading home.
"When Brandon showed up at the rookie camp, he was even better than I thought he'd be," said Mudd.  "I couldn't stop talking to my wife about how impressive he was and what a bright future he had."
Burlsworth first caught the eye of Mudd at the Senior Bowl, just prior to the Combine.
"We were in need of finding a guard to shore up the line.  We were impressed with the "guy with the horned-rimmed glasses that looked like Drew Carey."  He was more assertive than most of the other linemen at the practices.  He went after it without caution."
At the combine, Burlsworth topped all linemen with a 4.88 40-yard dash.  He bench pressed 225 pounds 28 times, weighed 308 pounds and measured a slight notch below 6-4.
After being six feet tall and weighing 200 pounds as a senior at Harrison High School in 1993, Burlsworth grew almost three inches and added 30 pounds by the following spring.
At the end of summer, he weighed 311 pounds, yet the draft hopeful could dunk a basketball with both hands from a standing start.
Two months after the accident, Harrison football coach Tommy Tice told Sports Illustrated, "You had to be careful what you told Brandon.  Brandon believed whatever his coach, his mother and his preacher told him was right.
"At Arkansas the coaches told him one day his legs could be stronger.  Well, he ends up squatting 700 pounds."
Burlsworth was so much about the right stuff that his dorm bed never was unmade.  With a 3.4 grade point average, he earned bachelor's (marketing management) and master's (business administration) degrees at Arkansas before playing his final game.
On the practice field, a dedicated and fully-focused Burlsworth did not remove his helmet or unbutton his chin strap.
With a chance to be Harrison's first full-time resident to make a professional sport, brother and agent Marty remembers draft day.
"I remember it being exciting and extremely stressful.  We knew he wouldn't be picked in the upper first round, but it took a toll on us," said Burlsworth.  "Getting picked by the Colts was a blessing.  It couldn't have been a better fit for Brandon."
The family picked Brandon up at the airport after the rookie camp.  He was sore from the work, but expressed comfort with his teammates and the size of Indianapolis. 
"He loved the coaching staff and grew close to Coach Mudd immediately," said Marty.  "Brandon felt very good about getting on the field and beginning the next step of his career.  He knew he could be going against Bruce Smith on opening day.  He was already getting ready for that challenge."
Instead, the accident happened four days later, tearing holes in the hearts of everyone who knew Brandon.
"If God ever made the perfect person, it was that guy," said then teammate Sacha Lancaster to Sport Illustrated. 
Said Burlsworth's position coach and lineman on the 1964 national champion Razorback team Mike Bender, "(He's) the best to play the offensive line in Arkansas history.  There has never been one like Brandon, and there never will be again."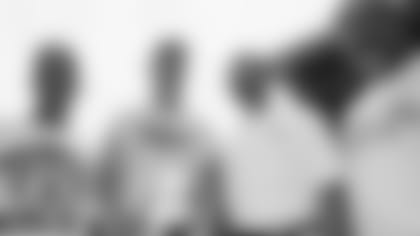 The Colts honored the Burlsworth family on opening day in 1999 with a framed jersey number 66. 
Burlsworth's Arkansas jersey number 77 was retired by the Colts for Hall-of-Famer Jim Parker, but Burlsworth's memorial picture ran on page 77 of the Indianapolis media guide.  A "BB" sticker inside the club logo was worn on the rear of helmets that season.
Barbara and Marty came to training camp in advance of the Buffalo opener.
"I thought it would soften the blow because there was going to be a ceremony on opening day where our family would get a framed jersey," said Marty.  "Brandon hadn't been around the NFL so as a close family, we were going to live it with him. 
"We got to know a lot of Colts personnel at training camp.  Through the years, we have stayed close."
Family members have attended one home game annually to this day.  Their affinity for the franchise has been a constant.   
"That first year was tough.  Every year, it was a little easier," said Burlsworth.  "That first year when Brandon was supposed to be on the field was hard, and I think anyone could understand that.  You always wanted the best for your team, but you wanted your family member to be out there.
"Through the years, we have stayed close.  We're very appreciative of Mr. Irsay and the bond his organization has with us.  My mother always has gotten a Colts Christmas card.  We've kept a feeling of being a part of Brandon's team."
Brandon always had a huge heart for kids.  His foundation serves about 2,400 children annually through an Eyeglass program in conjunction with Walmart Optical (a long-visioned Brandon famously would hoard his per diem on football trips to buy Walmart stock).
The program provides free exams and glasses for up to 1,000 preschool-through-12th grade students in Arkansas, and there are plans to take it nationwide. 
'Burls Kids' is a program where youngsters attend Colts and Razorbacks games, and the foundation conducts camps and prep football awards.
"The connection with the Colts now is just what we want it to be.  It's almost like it was at Arkansas," said Marty.  "When you go on their campus, it feels like family because we know so many people.  It feels that way with the Colts. 
"There are people in the organization we feel close to.  I'm still asked by people in Harrison about the Colts, and I tell them about our close relationship to this day.  Arkansas is impressed with the Colts, no doubt about that."
As the mind flashes back 15 years ago, the accident remains just as tragic.  The life of a tremendous human being was ended.  That is an incalculable loss.
As a player, "Brandon promised to be one of those players we point to and say, 'This is how it's done,' " said a top Colts official.
Brandon's Arkansas coach Houston Nutt told Sports Illustrated, "He always did everything exactly right, and I've never known anyone to work as hard."
Mudd went on to scale heights with Indianapolis that included the NFL's all-time winningest regular-season record over a decade (115-45, 2000-09), multiple division titles, two AFC crowns and a World Championship.
The now-retired Mudd could be forgiven if he could not remember Burlsworth vividly.
"I still believe he'd have had become one of the better guards in the NFL," said Mudd.  "I just wished I'd had the opportunity to have been part of his development.  Brandon sure left an indelible impression on me."
Fifteen years.  So sad, so much promise, such a terrific person.
"As time goes on, you deal with the hurt.  That 'what ifs' never really go away," said Marty.  "We're life-long Colts fans, always will be.
"It would have been great to see Brandon play, but it wasn't God's plan.  That wasn't the way it's supposed to be, and that's what you accept."