 ](http://www.careyindiana.com)
PHOTO ABOVE: Dave Reitz in 1996 with sons Joe (L) and Andy
INDIANAPOLIS – At 6-7 and 322 pounds, it is hard to picture Joe Reitz sitting on his father's lap playing euchre.
As a sophomore at Hamilton Southeastern High School in Fishers, Indiana, Reitz discovered any spankings he would have to take from Dave, his father, would not hurt any longer, "I realized I could take him.  It went from him being physically intimidating to it being switched around."
Discipline meted out by Dave Reitz to his four children – Joe, Andy, Betsy and Katie – likely was not often.
Most such incidents are avoided with a proper example, and Dave was a Pro Bowler by setting a proper course for his family.
"He was great when I was growing up," said Reitz.  "The best thing was he was always around.  He always wanted to coach us, and he always coached me every year growing up.  Whenever a parent would volunteer on a field trip, he would always be there.
"That meant a lot for me.  Even the times in junior high and high school when dad wasn't as 'cool' as I thought he would be, he was there.  Looking back at it, it means a lot that he was around and very involved."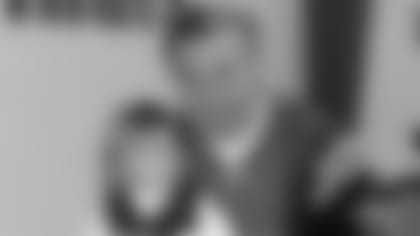 Dave Reitz graduated from Purdue with a degree in industrial engineering.  He went to work at Eli Lilly upon graduation and has about 30 years with the company.
Dave and his wife, Jane, moved the family briefly to Omaha, Nebraska, when Joe was two, then returned two years later and set up a Cleaver-esque existence north of Indianapolis.
"My brother and sisters laugh that we were the 'Leave it to Beaver' family," said Reitz.  "It was great for us.  We're together and very loving.  All four kids got along.  Andy and I are two years apart and Betsy and Katie are two years apart, so it's a big, loving family."
Rooted in the right things, Joe learned early that what was fine with Dave was fun to do.
"I always wanted to do what dad did.  He liked to play euchre all the time, so I learned to play when I was five years old," said Reitz.  "He let me sit on his lap and pick out the card I would play.  If I were going to play the wrong one, he'd say, 'Play this one instead.'
"I found myself doing things he liked.  He graduated from Purdue, so I was a big Purdue fan.  My dad loved the Cincinnati Reds, so my brother and I were big Reds fans.  Like any kid, I wanted be around him and do the things he did."
Like any family on Main Street, kids would need periodic guidance.  Reitz said he was the one who needed a gentle harness occasionally.
"I was the one in the family who stirred things up.  I love to antagonize and tease sisters all the time.  I'd mess with Andy, too," said Reitz.  "I was kind of the wild child.  Dad was quick to discipline me when he needed to do it with tough love, but the next minute he'd hug me and tell me he loved me.
"He had such a good balance of being a stern dad and not letting me do everything I wanted, but he'd follow with love and the reason why he did what he did."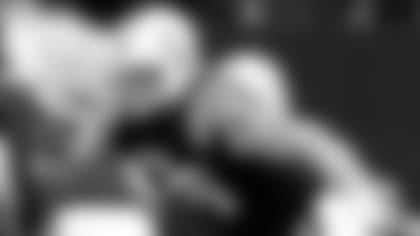 Reitz left high school for Western Michigan.  He shed prep football to play basketball, and soon learned the value of family structure once he left the nest.
"It was when I went to college that it really set in how cool my parents were," said Reitz.  "All kids, we go through that junior high and high school phase that you don't want to be around your parents, 'Mom and dad, you're ruining my life.'
"When I went off on my own for the first time and met a lot of people who didn't have a stable father in their lives, I realized how much of a blessing it was for me to have that kind of relationship with my father."
Reitz had brief NFL stays with Baltimore and Miami from 2008-10 before joining the Colts.  Being back in Indianapolis makes Reitz one of the few players in the league to toil in a hometown.
It is a benefit Reitz enjoys, and it keeps the family completely intact.
"Our relationship is not as much father-and-son as it is like we're best friends," said Reitz.  "Andy, my dad and I like to go to Reds games together, or sit around and talk sports and things like that.  That's fun for me to have that different relationship.
"Our family, we're all in Indianapolis, which is a blessing.  We get together a lot.  For Mother's Day we went to their house to celebrate.  We'll get everyone together this weekend and grill out.  We'll probably end up sitting around and telling funny stories from when we were kids."
While Dave and his four children spend time together this weekend, thoughts of an example set years back certainly will come to mind.
"My dad grew up in a little Indiana farm town, Trinity, and it was a hard-working, loving family," said Joe.  "My grandpa, Andy, was the best of the best, according to my dad.  He has passed away, but what he taught was generational.  My dad tried to live up to his father's example the same way I have tried to and how I hope my children will.  I've had great examples, and I want to be one myself."
Laughs should be plenty on Sunday.  At the center of things will be Dave.
"The biggest lesson I learned from him is to raise your family with faith at its center," said Reitz.  "My parents have attended St. Louis de Montfort in Fishers, and they were always active.  I grew up in the church.  We were always there helping.  He taught us to keep faith present.
"A second lesson was to love and respect your wife.  He did that with my mom, and everything fell into place for the family."
"Now being a father and husband myself, he laid such a great template for me for how to love and respect my mom, how to raise our kids, how to raise them with a strong-faith background.  He did so many important things like that for us growing up that it's ingrained in me now.  His example means so much for me with my own family.  Dad, Happy Father's Day."