 Questions and Answers with Colts Wide Receiver Griff Whalen. . .
*Question:  You're in the NFL now, the latest step in a lifelong dream.  When did that dream begin?  *
Answer:  "It's always been a dream of mine as long as I can remember, just watching it growing up and playing backyard football all the time.  So, as long as I can remember as far as that."
Q:  When did you first start playing organized football?
A:  "I started in seventh grade for my junior high and then just played from then on."
Q:  Was it an easy transition for you from backyard football into an organized setting?  Were you good right off the bat?
A:  "I was OK right off the bat.  There were other guys playing Pop Warner growing up, so I was kind of average I guess.  And then in high school, I kind of made some big strides and improved a lot." 
Q:  What do you remember about your first team?*
A:  "It was awesome.  It was Arbor Hills Junior High and we were the first seventh-grade team that they had ever had.  It had previously only been eighth-grade teams. We went undefeated and I think the next year only lost one game or something, so we were pretty close, a close group.  It was a lot of fun.  In Sylvania (Ohio), there's two high schools – Northview and Southview.  A lot of us got split up after that.  That was a fun year.  We felt like we were doing really well and dominated a lot of teams."
Q:  To get to this level, it has to be about more than money, or fame – the things a lot of people associate with the NFL.  What do you love about the game that has kept you playing?
A:  "Man, there's a lot of things.  The whole team environment is really special and unique, I think.  You know, putting all that work in together in the offseason, making a lot of lifelong bonds and friendships.  And then, Sundays are another story entirely.  That's just a special thing, all the screaming fans and lights and everything.  There's nothing like it.  I actually don't have any social media really, so I kind of stay pretty reserved from all the celebrity stuff going on.  I'll do a bunch of charity events for the Colts and stuff like that, but I don't put myself out there too much in that way."
Q:  Is that intentional to avoid some of the trouble professional athletes can get themselves in through social media, or have you just never been big on it?
A:  "I never have.  I never had a Facebook, just because at first I thought it would consume too much of my time.  School at Stanford is hard enough already.  I was just trying to get through that, so I never ended up doing that.  There's a lot of cool things it does and staying connected, but I know it can get people in trouble, too.  So I just kind of made that decision, 'No, I don't think I'm going to do that,' so I never ended up doing that.  Since then, I've just stayed away from it and been fine with that."
Q:  What was your best sport growing up?  It wasn't football for all NFL players . . .*
A:  "When I was really little, before I played football, soccer was probably my best sport.  Then I stopped playing that when I started playing football, and I also started playing lacrosse at the same time.  So I played lacrosse, basketball and football through junior high and high school.  I was probably about equally good at lacrosse, maybe even better in high school, I'm not sure.  I looked at that for colleges, too, trying to get recruited for lacrosse, but it was a little bit newer in the Ohio area and definitely newer for me, and I didn't know how the recruiting process worked. I went to some camps, and a lot of them told me that they had already finished signing their senior and junior classes, so I kind of had missed that boat I guess.  I didn't have any scholarship offers for either sport, but there were a few schools that said, 'You can walk on and play both sports,' like Syracuse, Ohio State.  That kind of intrigued me.  (I) ended up doing the walk-on at Stanford and my sophomore year, I actually played lacrosse there on the club team.  There isn't a varsity men's team, but there's a club team that was pretty competitive.  I did that one year and loved it. It was a lot of fun."
Q:  When did you move to your position?  Were you always a wide receiver?
A:  "No, I never played receiver until my freshman year of college.  In high school, I played quarterback and safety mostly.  And I would move around occasionally on offense, like a couple snaps at receiver, a couple snaps at running back, but mostly at quarterback.  Then in college, I walked on as a safety originally.  That was mostly what I was recruited as.  Pretty much immediately, (I) switched to running back because of a couple injuries on the team and my skill set, and then a couple months later, I think, moved to receiver."
Q:  You have a few other Stanford teammates here in this locker room in Andrew Luck and Coby Fleener.  What was that like having those guys here and going through the transition together?
A:  "It's really nice, especially last year it just made it so much easier, so much more comfortable, just having even a couple guys that you already know **(click here for Stanford reception from Luck)**.  That was really nice.  At this point, we've all made a bunch of other friendships and know all the other guys, but last year I think it made a big difference for all three of us, I'm sure."
Q:  What's your best football memory?
A:  "Last year my first preseason game, my second catch was for a touchdown against Pittsburgh.  I think it was a Sunday night game at Pittsburgh.  So my first NFL game, that was definitely one that stands out.  It was pretty awesome."
Q:  When did you first think this was real?  When did you first think, 'I have a chance to play in the NFL?'
A:  "I think my junior year (at Stanford) I started thinking I could do something **(click here)**.  Our two older receivers that year, Ryan Whalen and Doug Baldwin, were really good, too, and I felt like I was as good as them at a lot of things, better at some things, not as good at other things.  They both had pretty strong years and good careers and then the next year were successful, both making NFL teams.  I felt like I could do the same thing and kind of follow in their footsteps, just based on what I had seen from them and how they were able to play in the Pac-12." 
Q:  Do you have a pre-game ritual?
A:  "Not really a ritual.  I mean, there's lot of things that are pretty consistent just because it's very routine-oriented.  There's nothing really unique that I do.  It's nice to be able to do things in relatively the same order – get off the bus, tape your ankles, go catch a few balls, whatever, but there's nothing really unique that I have to do or anything."
Q:  What about after football?  Do you have any post-career plans?
A:  "Yes and no.  There's a lot of things I'd like to do actually, so it's kind of overwhelming when I start trying to think about what I actually would want to do, just because I feel like there's so many things I would enjoy doing.  I have not narrowed it down at all.  I think about it occasionally, but it's still very overwhelming to me.  There's so many things I feel like I'd like to do."
Q:  What were you pursuing academically at Stanford? Was that what you wanted to do if football wasn't an option?
A:  "I don't know.  I actually didn't know quite what I wanted to study when I got there.  I did human biology for a quarter thinking I could do pre-med and figure out where to go from there.  (I) just really didn't like it at all and switched to engineering.  My major was called product design, and I really loved that and definitely felt like I could have hopped right into that right away if I wasn't playing football."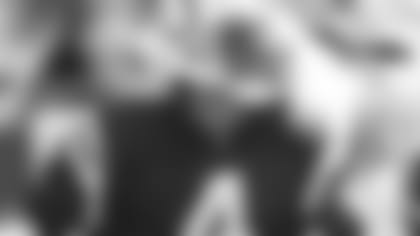 Q:  Who's the person most responsible for you being in the NFL?
A:  "Gosh, there's a lot of people.  My parents, definitely, for sure.  Just for helping me with everything and putting me on a good track.  A lot of coaches, too, from my high school coach to (Jim) Harbaugh having that confidence in me to bring me in, and then just being that great motivator that he is my whole career just helped me a lot.  Then as far as the last step getting here, Aaron Moorehead, who actually played here.  He was my receiver coach at Stanford and helped me get really sound with technique and really never being satisfied with that."
Q:  Did you have a favorite player growing up?
A:  "I had a couple. I was pretty close to Detroit.  I loved watching Barry Sanders.  I was also a big Brett Favre fan, and Jerry Rice, too.  Jerry's awesome."
A:  "The Packers were probably my favorite team."
Q:  What was your first car?
A:  "It was a Mazda Tribute, just like a silver SUV, which was great for me in high school throwing all the lacrosse bag and (equipment) in the back.  I always had a couple of everything in there.  I had a basketball, a couple of tennis rackets, a soccer ball, whatever.  I just had all that stuff back there. You never know what's going to happen."
Q:  What was your first job?
A:  "First job was in a small grocery store and I hated it.  It was a lot of seeing what shelves were empty and restocking stuff.  That was my first job."
Q:  What was your toughest job?
A:  "Other than this?  I don't know.  I've only had a couple.  I had a summer job at Big 5 out in Palo Alto, a sporting goods store.  Then I did a summer out in San Francisco and worked at Golden Gate Capital.  That was challenging, but it was also really rewarding and more interesting.  I don't know, that was just more of an interesting job I guess."
Q:  Do you have a favorite quote that has inspired you in football or life?  If so, what is it and why does it mean something to you?
A:  "I don't know.  Quotes are really big on teams, especially football teams.  We hear a million of them all the time.  We have signs of them up all over the place. Maybe Nike's, 'Just Do It.'  I feel like I say that a lot when I'm doing stuff.  You know, 'Ehh, just do it.' "
Q:  What is it about football that drives you the most?
A:  "It's just my personality.  I'm really competitive and never really feel satisfied.  Our strength coach here, Roger (Marandino), talks to me about that all the time because he wants to make sure I don't do too much and end up hurting myself just because I always feel like I want to do more.  That's just kind of my personality I guess."