 ](http://careyindiana.com)
INDIANAPOLIS –To a large degree, quarterbacks can be the face of the NFL just by the nature of their position.
Some faces who could assume new roles early in the draft were on the media stage Friday at the combine.
Speaking at high noon was Johnny Manziel, who drew the same level of attention as Manti Te'o did a year ago.  Others got their requisite level of attention, and quarterbacks shared the day-long access time with running backs, wide receivers, coaches and general managers.
anziel (who will be highlighted Sunday on Colts.com) was well-prepared for his appearance and projected a maturity and comfort teams holding interest would need to see from him.
Manziel displayed the niftiness at the microphone that he did under center by winning the Heisman Trophy as a freshman and by guiding the Aggies to two memorable seasons.
He hopes to display himself as a "trophy" for evaluators, who measure his height and hand size as tangible items on checklists at the game's most difficult position.
Manziel projected the same composure LSU's Tyrann Mathieu did in 2013 when Mathieu needed to face the music about off-field indiscretions that shortened his career.
Manziel homered on the latest stage possible, with more proving grounds to follow soon in Indianapolis.
Johnny Manziel, Texas A&M
On if would comment on his measurements
"No sir.  I play with a lot of heart, play with a lot of passion.  I feel like I play like I'm 10-feet tall.
A measurement to me is just a number."
On how important is it for him to go through this process
"It's really important for me to meet some of these coaches that I'm really looking forward to meeting, seeing how their offense is, getting to show them what I've learned through the past six weeks of being in San Diego and really see how much different things were.  The main thing is them getting a chance to see me and get a chance to see how I am as a person and characteristics of me."
Blake Bortles, Central Florida
On his meteoric rise and if feels he belongs with elite at combine
"Yeah, 100 percent I do.  That's why I'm here, that's why I'm invited.  I believe that I can compete with any guy here, and that's why I'm doing everything I'm doing.  That's why I'm throwing, that's why I'm running, doing all this stuff.  Why wait till pro day when you have an
opportunity to make your first impression here in Indianapolis.  I grew up watching this as a kid and dreamed of competing in it.  Why would I sit anything out?"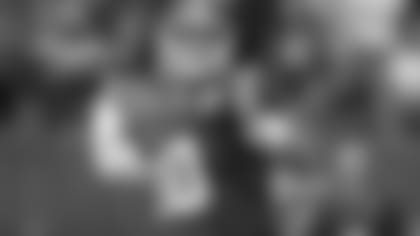 "I would think being a winner.  Everybody says (I) played behind NFL talent at Alabama.  Well, usually in the NFL, what's in the NFL is NFL talent.  So I don't see how that can be a knock."
Jacksonville GM David Caldwell (3rd pick)
On which top QB is most ready
"That's tough.  We're still going on with that evaluation process.  We have to sit down with these guys.  A lot of it will depend on the interviews, the workout when we bring them in.  Rookie quarterbacks, as a whole, generally aren't NFL-ready.  You get the exceptions like Andrew Luck and Matt Ryan and Peyton Manning, but those are guys that spent four-to-five years playing in a pro-style offense.  That's not the common thing right away for a rookie to come in and start."
Arizona coach Bruce Arians
On if mobile QBs put more or less pressure on an OL
"You get used to it.  In interviewing the tackles that some of these guys play with, they get frustrated at times because they might get a holding penalty when they've got their guy stymied and the quarterback takes off around the corner.  It's like a tight end (who) got a good block and the running back bounces outside and he gets a holding penalty.  That's part of the life of living with those types of quarterbacks.  It's a love-hate thing."
Minnesota GM Rick Spielman (8th pick)
"I think there's a lot of different caliber.  I really do believe this is a deep class.  I don't have the answer on who's the No. 1 quarterback.  Everyone's going to have different theories on that. We'll have different theories as well.  We'll sit there, analyze it and go through our process."
"I think he's a great little player.  I shouldn't say 'little,' I'm sorry (laughing).  He's a great, great competitor."
See Colts.com Sunday for more on Manziel.