 Question:  So it's your second year in the NFL now, the last step in a lifelong dream.  But when did it begin? When did you begin playing football?
Answer:  "I started playing at the age of nine.  I was a young pup, and then I've been playing ever since."
Q:  What do you remember about your first team?
A:  "My first team I played for (in the NFL) was the Steelers.  (In little league) I played running back.  And I remember we used to play this little 18 sweep – hand the ball off to me, helmet to the side, too big for my head, as it was for all the cats out there in little league.  I remember I used to run that 18 sweep all the time and score."
Q:  To get to this level, it has to be about more than money, or fame - the things a lot of people associate with the NFL.  What do you love about the game that has kept you playing?
A:  "I just like the drive, I like the competitive part.  I'm coming almost from the bottom.  I like to prove myself and show the world that I can be one of the elite players in the NFL, that you don't have to go (in the) first round to become an elite player in the league."
Q:  Was football your best sport growing up or was it something else?*
A:  "Oh yeah, that's it.  You know what I mean?  That's my number one and only love.  I played other sports.  I never got into basketball.  I played baseball for a couple years, but football was the consistent sport I played.  I had to play, it was a must."
Q:  You said you were first a running back, so when did you make the switch to linebacker?
A:  "I made the switch to backer when I got to high school."
Q:  Was it a good fit from the start?
A:  "Yeah, I played running back and linebacker in little league.  My dad was also a linebacker, too, so he kind of put that in me.  So I've always been a linebacker throughout my whole career."
Q:  What's your best football memory, from when you first started playing until now?
A:  "My best memory so far is when I was at Marshall.  We were in UAB, an Alabama game, and we were down.  I got a strip, and I scored.  And Joe Webb, he plays for the Minnesota Vikings now, he's real fast, and he couldn't catch up with me.  I probably smoked him by about twenty yards."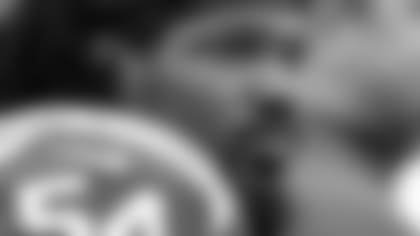 Q: When did you first think this was real?  When did you first realize you could make it to the NFL?
A:  "My first reality was coming towards the end of my career in college, my junior year.  Scouts were coming around, asking about me and whatever.  Everybody's dream is trying to get to the NFL, but most people don't fulfill that dream.  So I was just taking it one year at a time, I wasn't really trying to get ahead of myself.  But when the scouts started coming in and asking about me, I was like, 'Okay, I got a real legit shot to get into the league, so I might as well just strive for the best and make the best out of it.' "
Q:  Do you have any pre-game rituals?
A:  "I call my dad, my mom, listen to some music."
Q:  What kind of music do you like to listen to?
A:  "All.  Gospel, rap, hip-hop.  It all depends on what kind of mood I'm in and I'll give a couple of shout-outs to what's on my heart, just try to get my mind right."
Q:  What about after football? Do you have any post-career plans?
A:  "I'm just taking it one step at a time, I'm trying to get established in the league first.  But, you know, I got a couple of things, ideas, but in order for that to come around I have to be successful where I'm at now."
Q:  Who's the person most responsible for you being in the NFL?
A:  "I mean my Daddy, he's a big part, but I got to say my whole family."
Q:  Do you have a particular high school coach or teacher who means a great deal to you?
A:  "I got a lot of them, it's hard to say.  I don't want to single out anybody, because I don't them to really feel left out.  But all of them played a big part in my life, every coach that came through was an inspiration and a good role model to follow, and they always gave me good advice."
Q:  Did you have a favorite player growing up?
A:  "I had a favorite.  Ray Lewis was a favorite player of mine coming up.  A couple guys in college.  But now that I'm in the league, there's no favorite players no more, I'm my own favorite player.  Mario Harvey is my favorite player."
Q:  Favorite team growing up?
A:  "Nah, I wasn't really into NFL football like that, I'm more high school, college.  But, the Colts, the Colts are my favorite team."
Q:  What was your first car?
A:  "My first car was a Box Chevy Caprice, it was gold."
Q:  What was your toughest job?
A:  "One summer I was with my friend, and we were talking about it not too long ago, we were in the hayfield, working in the hayfield, had to pick up bales of hay and ride around.  Working in the middle of Georgia, picking up bales of hay."
*Q:  Do you have a favorite quote that has inspired you in football or life?  *
A:  "Stay humble, stay hungry."
*Q:  What is it about football that drives you the most?
*A:  "You're never satisfied.  There's something you want to conquer, and you ain't gonna' stop until you get it.  And that's the point I'm at right now.  I want to be one of the best to every step in the NFL, so I got a lot of work to do, and that will drive me and keep me going every day.  And I got to support my family, and I represent my family, they want me to do well."