INDIANAPOLIS – It's not the first play you think of when looking back on Phillip Dorsett's rookie season.
The one virtually everyone talks about came in Week Three versus the Titans.
Dorsett's leaping 35-yard touchdown grab came on a third-and-20, with the Colts desperately searching for a spark.
Down two scores, the Colts got the bolt of energy from their first-round pick and it ended in a comeback victory.
When Ryan Grigson looks back at Dorsett's rookie campaign, he knows about the play in Tennessee.
But he would rather chat about a play in Miami from Week 16.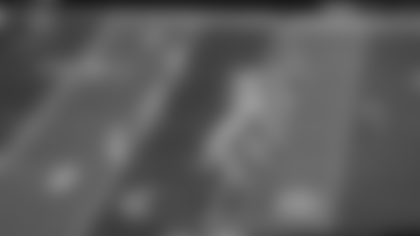 This play, a two-yard run off a pitch, had far less impact than the one in Week Three. But its still significant for the Colts GM.
"It's not like we want him to do this, but he ran into the safety with a lot of aggression and put his shoulder down," Grigson said describing the play, on 1070 The Fan last week. "He looked like a real football player with real toughness about him, which doesn't usually fit that mold of a true speed guy."
On a play where Dorsett showed the elite quickness to get to the edge, he then elected to turn it up field and try for an extra yard not viewing the sideline as an acceptable option.
Besides this instance, Grigson has witnessed other attributes of Dorsett that eliminates him from the "speed guy" stereotypes.
"Everything is there---the want to, the elite speed. (Dorsett) has wide receiver hands. He doesn't have track guy hands," Grigson says.
In 2016, expect the Colts to move Dorsett around quite a bit trying to force defenses into confusion on where the speed of No. 15 is on the field.
When the Colts were on the board during the first round of the 2015 NFL Draft, two defenders were there with Dorsett.
One had character questions.
Dorsett checked the boxes.
"Everyone loves (Dorsett) for the fact that he's extremely mature," Grigson said earlier this offseason. "He cares. He's never acted like a rookie. He gets it.
To listen to Grigson's entire interview with Dan Dakich on 1070 The Fan, click here.