 ](http://careyindiana.com)
INDIANAPOLIS – Pat McAfee (pictured above as a youth with his father, Tim) never has met a topic he has not attacked honestly and without conviction. 
The colorful kicker is one of the most thoughtful Colts players, as big-hearted and warm as they come. 
Asked any topic, he will engage.  Ask him about his father, Tim, and one will have McAfee expose some truly poignant feelings.
"I can say my father is my hero.  When I was rookie, I was asked who my hero is.  I said my father," said McAfee.  "I kind of got some looks, but that's been my entire life.  He's been my hero. 
"I owe the world to him.  I let him know that on numerous occasions.  I'm lucky to have him.  Father's Day is a day to celebrate something that should happen all year."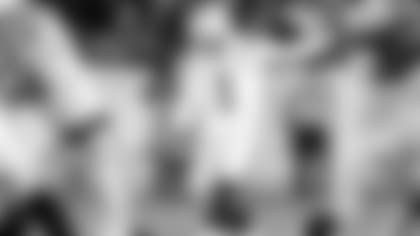 McAfee is like many around the Colts who use Sunday to honor fathers on a very special day.  The club's punter since 2009, his initial memories of the sport started with his dad.
"My father has been my best friend since I was a little kid," said McAfee.  "We bonded together.
"My earliest memories of football are my father and I on a high school field for 10 hours a week with two footballs.  I was just kicking and he was throwing out his shoulder and shagging balls for me." 
McAfee loved how his dad gave direction in athletics, but he also benefited from his father's example and verbal instruction beyond it.
"My dad is the hardest-working human being I've met in my life.  When he was young, he was a truck driver, then he became a cabinet salesman.  Now, he's painting cabinets," said McAfee.  "He did anything he could to help our family out.  He's always been up at 5:00 a.m. to work until 5:00 p.m., just all day long grinding. 
"The thing he pushed me the most about was, 'If you want something, you can have anything in the world.  You just have to work for it.'  He's been the initiator of my work ethic, the initiator behind my confidence – that I can accomplish anything I want in this world, if I want to work for it. 
"He's always been the guy who said to me, 'If you're not working and getting better, the person who wants your job is.'  That's how I approached things.  He's pushed me to be a hard-working person who can do anything I want.  I think that's huge, and a great example of parenting."
Tim and Sally McAfee raised son Jason before Pat came along.  They nurtured the two boys in Plum, Pennsylvania, instilling the values that would get them ahead.
Life for Pat was typical as he grew from child to young adult.
"During your teenaged years, you kind of have little beefs with your dad about who knows what?" said McAfee.  "He might have to discipline you a little bit, but that's what a good father does.  There might have been a couple of years there where we were on the rocks but as my life continues to go on, I grow more fondly of my father. 
"I look back and see what he did when he was at my age (27) now.  I saw what he was doing then, the sacrifices he was making.  My respect keeps growing, but I've had a great relationship with him for so long that every Father's Day is special."
The McAfees live in Pittsburgh.  Tim has been pushing Sally to move to Indianapolis, something that is happening in the near future. 
Since college, Pat and his parents have not lived in proximity, so the relocation has him excited.
"They're coming out here this weekend, so we'll hang out a little bit," said McAfee.  "I think a big gift I'll soon give them will be a place to live here.  We really haven't lived around each other for nine years.
"We'll hang out, have some barbeque and spend time together.  I love that man.  Each other's company will be the best thing of all."
McAfee is proud of his family's name, appreciative of the efforts his parents took to shape his life.
A grown man himself, McAfee still knows where to turn when guidance is needed.
"I seek his advice 1,000 percent.  We talk daily," said McAfee.  "He's in my life constantly.  I know not everybody's like that, but my dad and I are really close.  He comes to me for advice and I go to him.  We're like a tag-team.  I never lose sight how nice that is. 
"I have a very tight circle.  I learned very young to keep it tight.  I have three-to-four good friends I keep tight with, but my dad isn't even in the circle.  He's closer – he's the guy.  Hopefully, I don't have to live a day without him.  He's a good dude."
Asked to provide a first-person message to his buddy on Father's Day, McAfee said, "Hey big fella, Happy Father's Day.  There are 365 days each year you should be respected, but this is the one where we get to celebrate you.' 
"I'll probably beat his tail on the golf course and have fun the rest of the day.  It'll be a great time to hang out, like it always is.  It's awesome to have a day dedicated to him."