 ANDERSON – Twelve months ago, Chuck Pagano arrived on the Anderson University campus for his first training camp as an NFL head coach.
Today as he alights from his SUV, Pagano has a year's Colts experience on which to draw. 
What the last 12 months taught him is what he already knew – a new season lies ahead.  The way to attack it?  Put the past in the past and move on.
"You have to," said Pagano about the need to compartmentalize past seasons.  "You can pull out the press clippings, read the great things people said about you. 
"You read it and start patting yourself on the back, become a fat cat, so to speak, maybe you don't work as hard or put as much time in as you should.  Guess what?  You're not going to flip the switch on Sunday and beat somebody.  Last year was last year.  That's gone."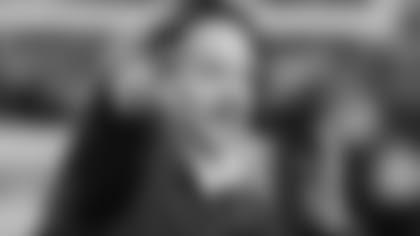 Pagano's Colts were "goners" in the eyes of most observers a year ago.  The response?  The Colts went 11-5 with a youthful roster, coaching staff and front office, nabbing a playoff spot with a week left in the season and turning a few heads along the way.
Many of those performers are a year older now and a season of challenge is on the immediate horizon.  Pagano is ready with his camp-opening message. 
"It's hard to fight human nature.  Human nature says to get complacent," said Pagano.  "It's a 'What have you done for me lately' league.  We know that. 
"You have to put (last year) behind you.  It's a brand new season, a new group of guys.  You have to stay hungry, motivated, driven.  You have to have the mindset that you're going to approach this one meeting, practice and day at a time.  Don't look back.  Don't look forward.  Do the very best you can do that day and get better every day."
Newcomers to the Colts' program entered last year's camp not concerned about the Indianapolis squad that went 2-14 the previous season. 
Most of the hands on deck last year had nothing to do with that struggle. 
A smaller percentage of the current roster had nothing to do with last year's achievements.  Those players either were with respective NFL teams vying for one goal or in college hoping to reach the next level.
As Pagano welcomes back players today, they might be able to anticipate his message and the organization's goal.   
"It's always the same thing.  We're always chasing the same goal," said Pagano.  "All 32 teams and head coaches are all saying the same thing at the beginning of the season, 'We're here for one thing and one thing only.  We're chasing that Lombardi (Trophy).  We're here to win a world championship.' 
"(Outsiders) are going to tell us, 'You have 38 new faces on the roster, coaching changes, no motivation this year, nothing to play for.'  Those are reasons coming down the pike.  We'll hear why we won't be 11-5 or better, that we're going to take a step back."
A life-long battler on the field, Pagano took his fight to a different front last year in meeting leukemia head on and surviving.  Possible pundits do not cause Pagano to bat an eye. 
"You know how I feel?  We totally disagree," said Pagano.  "We did what everybody thought we couldn't do a year ago.  Now, we have to prove we belong. 
"It's really unfinished business.   You look to the playoff game, I showed the players a clip.  There were 12 minutes to go in the fourth quarter at Baltimore.  We had it first-and-five at their 20 with the score 17-9.  It's a one-score game to the eventual Super Bowl champs.  We just have to finish."
That loss drew to a close one of the most memorable seasons in the club's Indianapolis era.  The goal is to make a 30th season in Indianapolis one for the ages. 
Doing so means forgetting the past and intense focus on the moment. 
"We have to better.  We have to do more," said Pagano.  "If we want to take that next step and to hoist the Lombardi Trophy, we have to more and do it better.  It's (compartmentalizing last season) an important thing for us to do."