 INDIANAPOLIS – Oliver Luck and Archie Manning were teammates with the Houston Oilers in 1982 and 1983.
While the two had different pro careers in terms of longevity, each won tremendously in the roles of being a father.  The biggest benefactors – the Indianapolis Colts.
Archie Manning was a two-time Pro Bowler who started 139-of-151 career games from 1971-84 for New Orleans, Houston and Minnesota. 
The second overall pick in the 1971 draft, Manning was dealt to Houston in 1982, the team that had selected Luck with 44th overall pick that same year.
Luck succeeded Manning and played with Houston through 1986, and both had sons – Peyton and Andrew – who later became starting quarterbacks for the Colts.
While Luck started but nine-of-20 career appearances, both he and Archie have taken the same approach to their sons' pro careers.
"The discussions that Andrew and I have are really all about the private stuff, family stuff, fun stuff.  (They're) 100 percent "dad" conversations, zero percent "coach" conversations," said Luck recently.  "I've completely extricated myself from having any responsibility for his football existence.  That's probably a good thing."
Luck watched his son set NFL rookie marks in 2012 with 627 attempts, 4,374 yards and six 300-yard games, while helping the Colts earn seven of their 11 wins with fourth-quarter or overtime game-winning drives.
When Andrew Luck delivered the first one last year against Minnesota, it was the first such effort by an NFL rookie in the month of September since the elder Manning did it with the Saints in 1971 against Los Angeles.
While both Andrew and Peyton took every snap as rookies, Luck (339-of-627 passing, 4,374 yards, 23 TDs) broke Manning's club rookie marks in completions, attempts and yards, though Manning's 26 rookie TDs survived the assault.
Luck's first double-digit victory season (11-5) came as a rookie, while Manning did it in year two (13-3 in 1999).  Manning went on to post 11 double-digit victory seasons during his Colts career.
In 1999, Archie was asked about Peyton's exploits in the victory column.  Archie quipped he only got to 8-8 (1979) once so beyond eight wins, Peyton was in uncharted waters for the family.
Andrew succeeded Peyton in Indianapolis the same chronological way his father lasted past Archie's Houston career.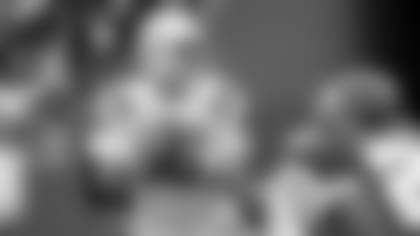 Colts fans hope Luck's tenure is as successful as Peyton's.  Manning earned a 141-67 starting record with the Colts from 1998-2010, starting 208 consecutive games while throwing for almost 300 touchdowns and earning an unprecedented four NFL MVP Awards.
In 1998 at his only camp visit that year, Archie was interviewed about his approach to monitoring Peyton's career. 
Archie delivered a memorable line, "I learned a long while ago to sit in the last row and keep my mouth shut."  He saw Peyton was getting solid direction from Head Coach Jim Mora and his offensive coordinator, Tom Moore.
Luck broke in under Chuck Pagano.  Last year's coordinator, Bruce Arians, is in Arizona.  Luck's former Stanford mentor, Pep Hamilton, is the new wizard behind the curtain of the club's offense.
It will be a continuation of fine tutelage that will keep Oliver Luck, the athletic director at West Virginia, in the background.
"He's getting great coaching with the Colts.  He got great coaching at college.  In fact, he got great coaching in high school down in Houston," said Luck.  "I was able to put myself out of that very early in his career."
Indianapolis has been the winner with great fatherhood direction from Archie and Oliver.  The bonds are tight and football discussions, while intact solidly, are healthy.
"There's maybe a little bit of a temptation, but the game has changed so much since I was a player in the 1980s," kidded Luck when asked if he ever felt a pang to contribute.  "The only question I really ask him is, 'How are you feeling?  Are you beat up a little bit?' 
"Of course the answer, being an NFL quarterback, is always, 'I'm alright, but, yeah, I'm beat up a little bit (laughs)."