 ](http://careyindiana.com)
INDIANAPOLIS –If Veronica Thomas stuck to her early convictions, her son, Donald, would not be where he is today.
Without Vernonica, Donald guarantees he would not be an Indianapolis Colt.
The success story is a perfect remembrance of Mother's Day.
"I didn't play football until I was in college," said Thomas.  "She was kind of overprotective of me when I was younger.  She wouldn't let me play football.  Any time it was about sign-ups, we always had something to do that day.
"I just didn't put two-and-two together.  She didn't want me to play football.  Now, she's all for it.  She's one of my number one fans.  It's ironic the sport she tried to protect me from, I'm getting paid to do it."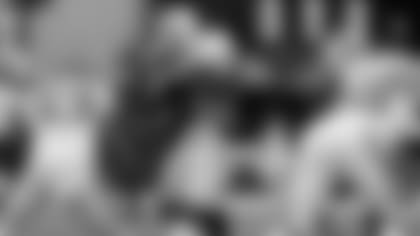 Growing up in Bridgeport, Connecticut, Thomas was involved in baseball and basketball.  He and sisters, Lisa and Ashlee, were under Veronica's thumb, too, where it mattered the most.
"As we were growing up, she was an elementary school teacher.  Later on, she was a principal once I got to closer to high school," said Thomas.  "All the teachers in the city knew each other so any time I would get in trouble at my school, a teacher would say, 'I'll call over and tell your mother because you know I know her.'  I always had to be on my Ps and Qs. 
"She was on top of us over our school work or sports.  Anything extracurricular that we did, it was school first.  The stern foot she put down in terms of education being number one really stuck out to me the most growing up.  She was all about education."
It was a two-parent home shared with father, Donald, Sr.  They saw their son earn eight prep varsity letters, four as a center in basketball and four as a pitcher/third-baseman.
Without a football program in high school, Thomas' size (6-4, 305) led him to walking on at UConn, a choice that impacted his life. 
Without Veronica's direction, Thomas says the opportunity college provided would not have paved his path. 
"If she didn't stay on me about my school work, I probably wouldn't be here," said Thomas.  "(About) 95 percent of the guys on the Colts got a scholarship to play at school.  I had to get into UConn with my grades. 
"She instilled the work ethic and study habits to make sure I took pride in my grades and not worry about getting teased for getting them while growing up in the city.  If I didn't get good grades, I certainly wouldn't have gone to UConn and played.  Her being strong on education got me to this point."
Thomas says science fairs and academic projects took the same importance as athletics and cheerleading for Veronica's children.  Easing up never was an option.
"We didn't have a choice when it came to education and pushing ourselves," said Thomas.  "Our parents' main thing was for us to be successful.  You had to be number one at (everything).  It was a stern and loving household.  They were great examples."
The Thomas' saw Donald graduate from UConn.  He followed examples set by Lisa (now a pharmacist) and Ashlee (an executive for an international aircraft company), both products of Virginia Commonwealth University.
Thomas said three principles learned early on are what he will impart now to his son, Deegan.
"Self-confidence is number one.  Two is to have a great work ethic to get where you want to be.  I wouldn't be here without that, and I had it instilled in me," said Thomas.  "Third is how to treat people.  I want to convey how to have respect for others, particularly your elders. 
"Those three things will get you far in life.  If you work hard, have self-confidence and respect people, you get things in life, and you earn them.  We learned that in our home growing up."
Thomas knows now what it took for Veronica to juggle work and home duties.  He cites both parents for keeping a positive environment and providing for children who he jokes "weren't any help as kids."
Now, 28, Thomas and his wife, Quita, are raising Deegan.  Sunday will be a two-fold effort for Thomas to honor the women in his life.
"I won't be with mom, but I'll be with Quita," said Thomas.  "I'll send her (Veronica) a nice gift and flowers, make sure everything is good at home.  I'll pamper her just like I pamper my wife on Mother's Day. 
"I do it because Quita takes care of Deegan every day.  As a kid you see a mom give, give, give.  Now you see what they go through on a daily basis, and you want to take care of them.