"18. I think," he says. "I could be wrong. I think it's 18."
Who's counting, anyway? For Hasselbeck, 18 seasons is far more than he ever expected to play.

"I set a goal a long time ago, like ok, let's try to play at the highest level you possibly can, play for five more years or one surgery. But I'm in year 18 now and I've still only had one surgery in my life (his left shoulder in 2006). I've just been really fortunate."
Hasselbeck says the new practice and training schedule has made it easier for guys like him to play longer.
"I think we train a lot smarter than we used to. I think the first ten years in the NFL, they wouldn't give you water breaks because it was a sign of weakness."
Hasselbeck says he feels good about the changes NFL players have helped influence and the fact that today's game is safer than it's ever been.
"As someone who has kids and who loves the game of football, you really want to see participation continue to grow and parents to feel good about, 'Hey, this is a great sport for my kid to play.'"
And it's that love that keeps him coming back to the game, even though his role in it has changed. Some guys feel differently about football once they're no longer the main guy. But that's the difference between some guys and Matt Hasselbeck. Even though he calls it one of the hardest things he's had to do, Hasselbeck says watching young players develop their game has given him a new love for football. One he calls just as rewarding, if not more so, as doing it himself.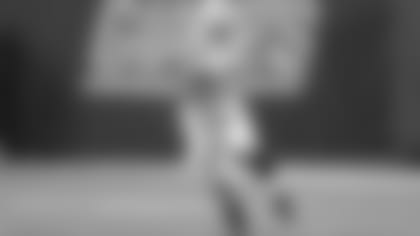 "My locker in the locker room…is in between Khaled (Holmes) and Jack (Doyle), neither one a starter last year or the year before. But now, Khaled is a starter. Jack has got more game balls than I had in my first six years in the NFL. They're playing great football for us. They're going to be Colts for a long time. They're going to have long careers. And just having a little piece of that is really rewarding."
For a competitive guy to find fulfillment watching other players find success is the definition of a selfless player. And it's one of the things that make Hasselbeck such a critical piece of the Colts' young team. 
"Matt Hasselbeck understands," Colts quarterback coach Clyde Christensen told Bob Lamey recently. "And now you've got a veteran presence who also is a humble guy and also believes in his technique and fundamentals and has a good life perspective on this thing also."
And Christensen says Hasselbeck's influence goes far beyond the walls of the quarterback room.
"His goes out into the community and how you do things, his goes into the home and what a home looks like, what a marriage looks like, what a life should look like. You'd have to really see it to understand how deep his roots go into this team and way beyond just the locker room or just our room, just the quarterback room. It's the locker room and it's the whole Indianapolis community."
Some guys are takers. Matt Hasselbeck is a giver.
He knows football. He understands the concept of team. He values family. And most importantly, he gets life.
His years have served him well.
But again, who's counting?