 ](http://careyindiana.com)
INDIANAPOLIS – Marshall Faulk and Eric Dickerson will be inducted into the Colts' Ring of Honor this Sunday.  Faulk joined the Colts as the second overall pick in the 1994 draft, having played at San Diego State.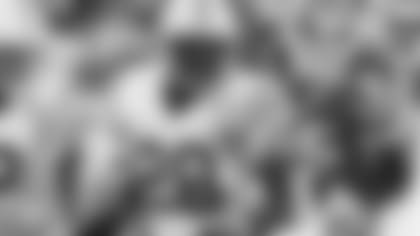 In 77 games with club, Faulk rushed for 5,320 yards and 42 touchdowns on 1,389 attempts and had 297 receptions for 2,804 yards and nine touchdowns.  Faulk had four 1,000-yard seasons (1994-95, 97-98) with Indianapolis and earned three of seven Pro Bowl bids (1994-95, 98) and three of six All-Pro nominations (1994-95, 98) with the Colts.  Faulk played 1994-98 with the Colts before being traded to the Rams.
Faulk was the Pro Bowl MVP as a rookie.  He had 2,227 scrimmage yards in 1998 with 1,319 rushing yards and 86 receptions for 908 yards **(click here for 1998 season review)**.  He became the seventh player to open a career with consecutive 100-yard games.
In his 12-year career, Faulk had 12,279 rushing yards and 100 touchdowns, along with 767 receptions for 6,875 yards and 36 touchdowns.  He totaled 19,154 scrimmage yards and was the NFL MVP in 2000.
Faulk was inducted into Pro Football Hall of Fame in 2013, and he receives a cherished honor in Indianapolis this weekend.  Faulk talks about his days as a Colt: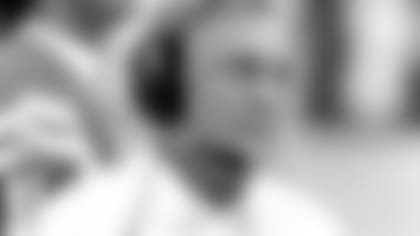 What do you remember the most about playing for Ted Marchibroda?
The speeches and listening to him reflect on his time with Buffalo and bringing his experiences to us.  I loved what he brought.  I loved that he would give me insight on things Thurman Thomas did in that Buffalo offense.  It was priceless information that made me a better player.
Did you have a favorite game or particular run that means something to you?
It was probably my first touchdown against Houston.  It was a 'Wow' moment for me, 'Wow, I can play at this level.  I can play in the NFL.'  That was kind of my moment.  The games I remember the most were in 1995 when we beat the Rams when we were both undefeated and when we beat San Francisco.  The game I try to forget was against Pittsburgh (1996 AFC Championship game), the atmosphere and how exciting it was to be out there playing for the Super Bowl.
How much fun was it playing with Peyton Manning and did you get a sense of what he was going to become?
It was obvious.  Playing with number 18, you could tell the coming greatness.  I could feel just through his presence and preparation that it was only a matter of time before he would slow the game down and become the player he is today.  As a young guy to come in and be as vocal and to understand what we were trying to accomplish, you knew greatness was upon this kid.  He was going to out-work you off the field to make it easier to out-work you on the field.
On what it means to him that Peyton Manning always said he owed you a debt for helping him through his rookie year**
Most of it had to do with on-the-field things like trusting in himself (click here for 1998 season review).  As a veteran, it is up to a guy like myself when you get a young guy like Peyton to be there for him on the field to try to lighten the load, in a sense – giving him answers to questions, confirming what he could be and talking about the tempo of being a high pick.  He was the first overall choice.  I was the second overall choice.  It gave him an idea of what he wanted to be and what he could be.  The friendship and bond we had (was tremendous).  More times than not, a guy in my situation (veteran RB to rookie QB), you look at that quarterback and argue about us throwing the ball, or you argue about something else.  I was just happy to be playing with a guy like Peyton.  It was fun.  I was glad I got a chance to be a part of being on side and sharing a field with him.  He's going to go down as greatest quarterback in our league, no doubt.
When you look back on images of your career, what do you think when you see pictures of yourself in a Colts uniform?
I remember mentally where I was.  I remember how much fun we had, how much fun the locker room was.  I remember my rookie year how much fun Jim's father (Robert Irsay) was.  I remember the parties he had were fun.  I remember all those things.  It was fun.  It was a great atmosphere to be around.  Those were building block times to change the culture of the organization.
How closely have you followed the Colts since you retired, and do you identify yourself with the team in any way?
Oh, yeah, without a doubt.  I watch the games (for the NFL Network), and my opinion has to be neutral.  I definitely want to see the organization win.  I want to see Jim Irsay get the respect when teams talk about great owners and for what he's doing for his organization.  You look at the stadium and it's comparable to the one in Dallas, or anywhere else.  When you think about the significance of it in Indianapolis, it's huge.  His willingness to do whatever he has to do to make his team better, Jim's just done an amazing job.  With winning, you get that credit.  I think it's only a matter of time until everyone understands who Mr. Irsay is and what he's doing.
What is your message to Indianapolis fans?
I want to thank you, and I'm not just speaking for me.  I'm speaking for Eric (Dickerson, who I am being inducted with) and all the players when I say, 'Thank you for your loyalty.  Thank you for your support.'  The feeling I get when I'm at a Colts game and watching fans root for their team, you see all the Colts jerseys and how few fans of the opponent are in the stands because of the dedication of the Colts fans.  It's appreciated by the players on the field.  Colts fans provide a great 12th Man atmosphere.  Opponents find out how rabid Colts fans are and how a basketball city has been turned into a football city.