 INDIANAPOLIS – Marshall Faulk and Eric Dickerson will be inducted into the Colts' Ring of Honor this Sunday.  Faulk joined the Colts as the second overall pick in the 1994 draft, having played at San Diego State. 
In 77 games with club, Faulk rushed for 5,320 yards and 42 touchdowns on 1,389 attempts and had 297 receptions for 2,804 yards and nine touchdowns.  Faulk had four 1,000-yard seasons (1994-95, 97-98) with Indianapolis and earned three of seven Pro Bowl bids (1994-95, 98) and three of six All-Pro nominations (1994-95, 98) with the Colts.  Faulk played 1994-98 with the Colts before being traded to the Rams.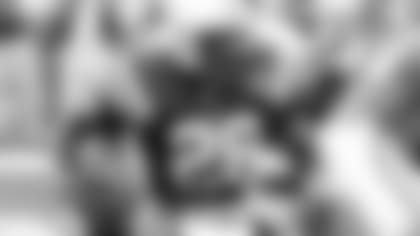 In his 12-year career, Faulk had 12,279 rushing yards and 100 touchdowns, along with 767 receptions for 6,875 yards and 36 touchdowns.  He totaled 19,154 scrimmage yards and was the NFL MVP in 2000.
Faulk was inducted into Pro Football Hall of Fame in 2013, and he receives a cherished honor in Indianapolis this weekend.  Faulk talks about his days as a Colt:
How did your years in Indianapolis form you as a player and person?
My time there was great.  A lot of people talk about different cities and what they are.  I think Indianapolis allowed me the opportunity to grow as a person, that family-oriented community that it is and how they supported us.  How they continue to support the team is unbelievable.  It wouldn't be fair if I didn't say what (RB Coach) Gene Huey meant to me.  I lost my father at a young age, and guys like Gene Huey were men who filled in for me with guidance for what was right, not just in football but in life.
Your name is going on the stadium wall here, you're honored with the Rams and at the Hall of Fame.  Does that seem real to you?
Not at all.  I worked in the Superdome (in New Orleans when I was young) and sold popcorn just so I could get in the stadium.  Now to know in three buildings related to the NFL my name is going to be on those walls for my kids and my kid's kids to see.  It's unbelievable, almost undreamable and unfathomable.  I'm appreciative of it.  I want Colts fans who caught the young, arrogant Marshall Faulk who was a hothead (to know), I appreciate them being fans.  If I rubbed you the wrong way, I apologize.  Thank you remaining a fan.  If you're not a fan, I'm sorry you're not.  Regardless, I thank and appreciate everyone.
Are rewards like this humbling or exciting?**
This is both.  Once you leave the game, you realize what it was like playing.  You really can't grasp it when you're in it.  Once you get away from it, the days of walking on the field, being cheered for and doing something you love to do is no longer there for you, you really start to appreciate the game.  When you're in it, you're engulfed by all the things around you.  I look at it, and I'm so appreciative of it.  It humbles you.  The excitement of being in Lucas Oil Stadium is amazing.  We're (the NFL Network) in that building every year for the combine.  I've been asked a couple of times, 'Why isn't your name up there?'  I tell them, 'I'm sure in time it will happen.'  Now, I don't have to answer that question anymore.  It's great to be up there.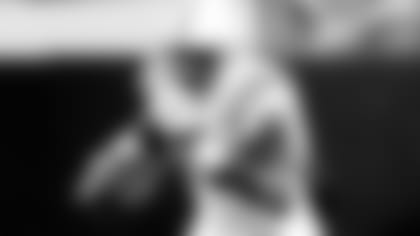 *What percentage of these awards come by physical talent and how much is the result of teamwork? *
It's one and the same.  I don't have the physical talent, there's no way I can be as much a part of the team in order to be recognized in the manner in which I am.  I just don't see how you pick between the two.  They're both necessary in order for my name to be up there.  For Jeff Herrod, Kirk Lowdermilk, Randy Dixon, Zefross Moss, Will Wolford, Joe Staysniak, Roosevelt Potts, Marcus Pollard, Ken Dilger, they're going to look up there and share what I feel.  They know every yard I gained was because of what they did.  My name being up there is my name, but they know everything I accomplished I did it because of their effort in blocking for me, just doing their jobs.  Those guys are going to look up there and tell their kids, 'I played with him.  I blocked for that guy.'  I'm a part of their identity.
Did your career exceed any dreams you held coming into the league?
After getting drafted, (my goal) was three and a half years.  I was like, 'Let's achieve that.'  Once I achieved that, I said, 'Let's get six strong years.'  Then you get to six and you say, 'Let's get 10 (years).'  Then, it's, 'Let's do 13.'  You keep setting goals for what you want to do.  That's what I kept doing.  I didn't have it in me to say, 'Let's go out and play a 12-, 13-year career and be a Hall-of-Famer.'  That wasn't something I could fathom in my mind.  I'm not going to lie and tell people that I could.  My goals were small.  They were things I saw as attainable, and I kept setting new goals and benchmarks as I accomplished those.