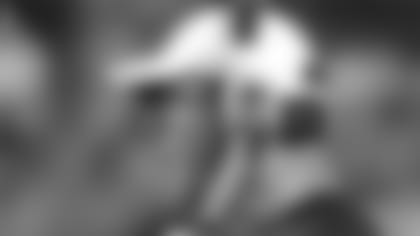 INDIANAPOLIS** – Greg Manusky is one of 16 new coaches with the Indianapolis Colts.
Manusky joined the Colts almost two weeks ago when General Manager Ryan Grigson and Head Coach Chuck Pagano were building a staff that was completed this past week.
Manusky will be in his third coordinator post in 2012, a season that will mark his fifth straight as a chief NFL defensive strategist.  He aims to build a defense as stout as those in his two previous posts, San Diego and San Francisco, and one salty enough to match the toughness of his playing career that included a 113-game consecutive games played streak over a career than spanned 12 seasons.
For Manusky, it is about learning his personnel with the Colts before implementing a specific approach.
"I never want to get into a situation where I'm shoving a square peg into a round hole.  Right now, we're looking at the players and, 'What can they do.'  That's the most important thing," said Manusky.  "I'm a type of coach who doesn't want to put a player in a bad situation.  (I) try to put players in the best situation to make plays.
"That's what we are doing right now.  We're evaluating the talent from last year.  We will come to terms with what defense matches us the best with the personnel we have on the club."
In San Diego this past season, the Chargers had a three-game streak without surrendering more than 14 points a game in wins over Jacksonville, Buffalo and Baltimore.  Linebacker Antwan Barnes had a career-high 11 sacks, ranking among league leaders, and safety Eric Weddle tied for first in the league with a career-high seven interceptions.  It was a pattern of success also seen in San Francisco in 2009, when the 49ers did not yield a touchdown in five different outings while leading the NFL with 21 fumbles forced.  His unit allowed 3.6 yards per rush and produced 44 sacks.
What Manusky wants in Indianapolis would be an aggressive style, something he believes is important with today's offenses.  He believes two components from the Colts' recent past could help fit that style.
"It depends on who you have around you, but I want an attacking defense across the board," said Manusky.  "I think nowadays with offenses having the ability to open up the field and spread you out, I think pressure on the quarterback is the main thing.  With the two guys we have right now with Dwight Freeney and (Robert) Mathis, two individuals I haven't had in the past, that can roll off the edge and create havoc in the backfield it's the best thing you can ever have."
Manusky was a linebacker and a top special teams performer during a playing career that included stops at Washington (1988-90), Minnesota (1991-93) and Kansas City (1994-99).  He received outstanding instruction on the basics from his coaches, leaders who put him in positions to excel.  With that success came bonds, too, and Manusky feels it is important for players to have an understanding of their job and an emotional investment in their team.
"It doesn't matter if you played in the league or you didn't and you still coach, I think fundamentals are the most important thing," said Manusky.  "(For) individuals, we're going to try to make you better (and) fit within the scheme.  For those players to understand that, that's what a coach is there for.  That's what we're trying to do with the team we have now.  We're going to try to make you better based on the things we have.   (We will) continue down the line, each and every year the defense grows.
"From a player's perspective, you have to play for your coach, I really believe in that.  I played for Marty Schottenheimer.  I played for Gunther Cunningham.  I played for Tony Dungy. … It's a lot of emotion during the game.  You spend a lot of time during the week with these guys.  It's like your second family, and hopefully they feel the same way."
Manusky is working along with his new defensive staff to better understand what is on hand in Indianapolis.  The defense will take its shape as the process evolves.
"Right now, we have to find out what the individuals can do – not so much what they can't do, but what's the best thing they do, and put them in situations like that," said Manusky.  "We will accumulate all the information that's in front of us and go from there.  I have a plan in regard to making this team to a '34' defense.  If that means we're not, then we won't put it in that realm.  A lot of people get confused, 'Well, it's a '34,' it's a 4-3.'  It's basically the same thing, just a little bit different nuance based on the calls from a front perspective.  For the most part, it's still getting good guys on the field who can rush the passer and guys on the backend who can cover."
The next stop for the new coaching and personnel staff will be the Combine that starts this week.  The annual event is one component to addressing what the club could look like in 2012.
"It's a way for each team in the National Football League to get better in certain positions they might be lacking.  It's the same with us," said Manusky.   "This is where we can build the roster, keep on building from year-to-year-to-year.  That's what we're looking for."