 ](http://careyindiana.com)
INDIANAPOLIS – The fact that Andrew Luck has played in so many "big" contests in his 21-game Colts career is testament to his ability, but he would be the first to say it is because of the teammates and coaches with whom he has been surrounded.
While some would be quick to laud Luck with numbers (NFL rookie records with 627 attempts, 4,374 yards and six 300-yard games), he is prone completely to sprinkle praise around the roster.
Luck has been able to author nine game-winning drives in the fourth quarter or overtime in his career – the most through a player's first 21 games since the 1970 merger – but he is one to credit the larger cause, which he did this past Sunday when the Colts beat Seattle, 34-28.
"I don't think it's in the DNA of a Pagano-coached team to hang your head or to get too high when you're doing something well," said Luck.  "His approach is very methodical."
And so is Luck's.  Luck's nature is not to draw attention to himself, but the success of his team does thrust it toward his position.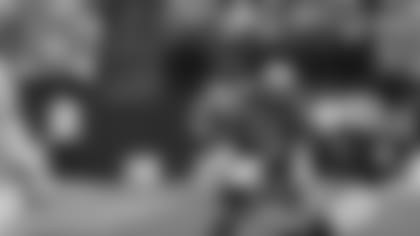 As he and Seattle's Russell Wilson led their teams last week, it was noted that it was first contest in league history where both starting signal-callers were second-year players who started a playoff game as a rookie in the previous season.
Luck and Wilson were twined also by the fact each had directed 11 victories as starters in 2012, tying the second-highest total by any rookie quarterback since 1970. 
Luck emerged victorious because of the 45-man effort over 60 minutes.  It was his defense that stopped Seattle and Wilson on the last two drives. 
Part of this game, though, is about numbers.  Those numbers are adding up for Luck.
With a starting record of 15-6, he has reached that number of victories faster than any quarterback drafted first overall since 1970.  He had entered the Seattle game tied with John Elway with 14 wins in the first 20 games of a career.
The most two-season victory totals of quarterbacks starting careers belong to Ben Roethlisberger (22), Dan Marino (21), Joe Flacco (20) and Matt Ryan (20).
In helping the Colts out-score Seattle in the fourth-quarter, 11-0, came that ninth game-winning drive in the last quarter or overtime (this one an 86-yarder).  The total ties Jake Plummer for the most accomplished in the first two seasons of a career.
Luck now has 5,518 career passing yards, and he needs 2,403 over the next 11 games to set the most in the first two seasons of a career.  The current leaders are Cam Newton (7,920), Peyton Manning (7,874), Marino (7,294), Andy Dalton (7,067) and Drew Bledsoe (7,049).
Numbers like these engage trivialists to no end.  It is great for the sport and a player's team.  It is part of the turf of playing the most difficult position in sports, even the most team-oriented sport of all.
Numbers in the victory column are the important thing and when those come, Luck always will pass the credit around.
Still, voices of former players and coaches who now cover the league like what they see in Luck.
"No situation is too big for this kid," says ESPN's Tedy Bruschi, a former New England Patriot who contested Indianapolis in numerous key battles.  "This guy doesn't blink.  His mentality is always the same and he does not get intimidated.  I just see endless poise and composure from him."
Says Boomer Esiason of CBS, "He is everything as advertised when he came out of Stanford – a 'can't-miss' player.  If you ask any of his teammates or coaches, he is the quintessential guy you want leading your franchise."
Says Steve Mariucci of the NFL Network, "I don't even look at Andrew Luck as a young quarterback anymore.  He plays like a veteran.  He's never out of a game.  He's smart and he's tough.  He plays like an eight-year veteran."