 ](http://careyindiana.com)
INDIANAPOLIS – The months since Jeris Pendleton was drafted by Jacksonville in 2012 and wound up on the Indianapolis practice squad is not an uncommon tale by NFL standards.
It is how Pendleton got to Jacksonville in the first place that draws one's attention.
Reared on Chicago's south side, Pendleton, 30, played football growing up, but going through "a phase of hanging out" with friends outside the sport as a senior cost him a chance at major college football and a possible direct NFL path.
After not completing work at Dunbar Vocational Career Academy in 2002, Pendleton, at his mother's (Jerise) urging, took night classes in pursuit of a diploma so junior college could be an option.
At the same time, Pendleton's long-time girlfriend, Ashanti (now his wife), told him they were expecting.  School waited.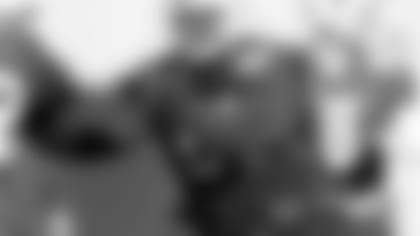 Pendleton shelved football for a housekeeping job at a nursing home ($5.20 per hour), then took a better-paying security job and did construction work. 
Seeing family members return home after seeking a different life only caused Pendleton to want more for his future.
With two children and struggling with barely enough money while living in a family-owned apartment building, Pendleton knew something had to happen or else this could be his family's path for life.
Super Bowl XLI pitting the Colts and Bears provided Pendleton a spark, specifically the play of Kelvin Hayden. 
Hayden was a Chicago-area talent Pendleton had played against in high school, and Hayden had the Colts' last score in the Super Bowl on a 56-yard interception return in a 29-17 triumph.
"To actually see someone who came from the environment I came from do that on a big stage and compete at a high level sparked me to get my career back on track," said Pendleton.  "He played at a rival high school, so I was familiar with him."
Pendleton's brother, Dennis, was watching the game with him, and Jeris remarked that it should be him out there playing.  Jeris mentioned his dream of returning to football and got full backing from Ashanti.  She always had been supportive of Jeris' dreams.
In 2008, Pendleton enrolled at Joliet Junior College (ironically where Hayden attended six years earlier), playing there two years.
It meant a 45-minute drive each way in a 17-year old Buick that stressed not only the car but Ashanti's income from a department store position.
Pendleton also carpooled with a friend, James Roland, so each could defray expenses, but both had cars break down before Jeris found another one.
With finances tight, Ashanti wondered how long this could continue, but she never spoke to Jeris about it.
"I knew that he and I were working toward something greater," Ashanti said a year ago to the Florida Times-Union.  "I just had to keep telling myself regardless if it was him going to the NFL or getting a degree, we were working toward something better.  I believed in him and knew he could do it."
Pendleton (6-2, 225) had played tight end and linebacker in high school but after gaining 100 pounds, he was ticketed for defensive line work.
He started two seasons at Joliet before spending 2010-11 at Ashland University in Ohio.  The proximity to Chicago allowed Ashanti and sons Jeris, Jr. and Jamere to join him.
Pendleton played well at Ashland, impressing coaches with his long arms, big hands and skills, but his play remained virtually out of sight.
His coaches would mention his name to scouts they knew to create buzz, and three teams – the Jaguars, Saints and Colts – paid keen attention.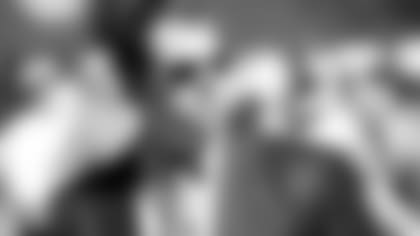 The Indianapolis scouting department provided raw measurements to area scout Jamie Moore, who began to do film work on Pendleton. 
"What I was given was a player at 330 pounds with a 5.1 40-yard dash time and a 30-inch vertical leap," said Moore, who later covered Pendleton's regional pro day.  "His film showed the kind of dominant player you'd want at the Division II level.  The body type he has, his ability to play square to the scrimmage line, his motor, effort and the way he dominated the competition level stood out. 
"Ryan Grigson has preached from the start, 'Let's find players, but they have to be the right kind of person.'  You saw how hard Jeris worked, his skills and movement, and those matched what you saw on tape."
The Colts brought Pendleton in for a pre-draft physical and meeting that reinforced their interest in a solid prospect despite his age (28).
Jacksonville, however, drafted Pendleton in the seventh round in 2012, and he made the team coming out of training camp.
"I watched the (whole) draft not really with the intention of being drafted but with the feeling that I would be going to someone's team and have a chance in camp," said Pendleton.  "It was an unexplainable feeling when I got the call.  I knew it was a slim chance to get drafted, and I was at an age that was on the top end. 
"I busted my tail in camp and made the opening roster, but I didn't start or play (for a while)."
Pendleton played in Jacksonville's last four games and had one solo tackle.  When a regime change came at the end of a rough season, Pendleton's time as a Jaguar was over.
He was released in May and was signed by Dallas.  His time ended there by being waived at the end of training camp.
Indianapolis breathed new life into Pendleton's career by signing him to its practice squad on December 3.  Moore was away from Indianapolis when he heard news that did not surprise him.
"When you sat and talked with Jeris, you saw he falls in line with what we look for," said Moore.  "It's obvious he loves football.  We want guys who love the game.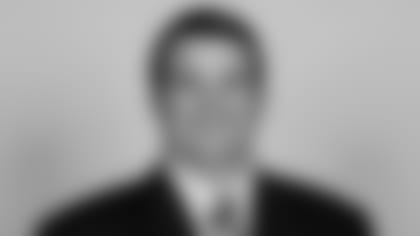 "He has NFL physical qualities and had the motivation of providing for a family.  Jeris just has had a different path than other players.  We feel strongly about identifying the right kind of player.  Here, we identified the right kind of person."
While some teams could have retreated because of Pendleton's age, it was not the case for the Colts.
"You saw a mature guy with a spry body and young, fresh legs," said Moore.  "He's the type of guy who is focused, driven, humble and grateful for the opportunity.  In this league, that's as important as anything. 
"Jeris is the kind of person you root for personally and professionally.  Some college players come out with expectations.  He has none.  He's just going to work hard and let the chips fall where they may."
Moore kept referring to Pendleton's maturity level, and Jeris is approaching this opportunity with that mindset.
"You have to earn your way every day.  Nothing is guaranteed," said Pendleton.  "You can be a third-round pick and get cut.  It's all about how you produce and what you can provide to help an organization reach its goal.  Any day can be your last day.  You have to get out and work for what you want.
"I understand I'm 30.  Everybody says that's old in the NFL.  That's true enough.  As long as my legs are allowing me to run and my strength is allowing me to be physical, I'm going to play a game I have a passion and love for until I can't anymore. 
"Everyone has a time to hang up the pads, but I don't see it coming soon.  I'm going to keep chasing that dream until the dream tells me it's no longer a dream anymore."
The dream from a Super Bowl moment jolted Pendleton into motion.  Desire and commitment have carried him to Indianapolis as he tries to keep creating a wonderful life.
For Jeris, Jr. and Jamere, daddy has a message.
"I want them to know anything they put their minds to is attainable," said Pendleton.  "When you get sidetracked, think about the hard times that I went through. 
"Nobody lives a perfect life.  Everyone thinks you start at the bottom and shoot straight to the top, but it doesn't always work like that.  You can hit bumps in the road that put you in a different direction before you make it there. 
"Don't get discouraged.  Life is short.  Life is hard, but it's fair.  It's what you make it.  Know that God has a plan for you, just keep your faith and push forward."
As for a loving spouse, Pendleton cherishes the faith, sacrifice and support through highs, lows, years and miles.
"It's been an unbelievable relationship for us, being high school sweethearts and being together for 13 years," said Pendleton.  "It keeps getting stronger and stronger.  It's having each other's back since day one.  It's always going to be that way."