INDIANAPOLIS – Sometimes lost or marginalized in the start of the season is the fact that an established veteran is operating something new.
Kerry Collins is in his 17th season in the National Football League, but he still is less than a month into his tenure as the starting quarterback of the Indianapolis Colts.
Learning on an accelerated pace in a fast-ball league has its definite challenges, even for someone of the advanced status of Collins.
Two regular season games into his tenure, Collins can acknowledge progress is being made.  He also knows there is no grace period involved for him and improvements must continue to come.  
The Penn State product has led the Colts into battle at Houston and versus Cleveland.  Indianapolis dropped its opener on the road by a difficult margin, then waged a fight against the Browns that remained in doubt until the final minutes of the game.
The Colts scored on its first drive of the game and added a field goal just seconds into the second quarter to build a 6-0 lead yesterday.  The club reclaimed a 9-7 lead late in the half before allowing a score just before intermission to trail, 14-9.  Indianapolis cut the margin to two points in the third quarter, but never could get a nose in front afterwards. 
Still, it was improvement in game two, and the club hopes to keep the momentum.
"I thought we ran the ball great.  I thought there were stretches where we were really efficient," said Collins.  "I thought we were better at putting ourselves in more manageable third-down situations, which is a positive from the week before.  There's definitely some good things that happened.  It's tough to think about that when you lose but at the same time, I really believe we took a step in the right direction in a lot of areas yesterday.  I thought we were efficient at times yesterday, we just didn't capitalize when we had opportunities in the red zone."
Indianapolis did have a third-and-one from the Cleveland nine-yard line just prior to its second field goal, a 27-yarder by kicker Adam Vinatieri.  The rushing attempt failed and led to Vinatieri's kick that put Indianapolis up, 6-0.  In the third quarter, Vinatieri capped a drive with a 36-yarder, but the Colts had a first down at the Cleveland 13-yard line just moments before the kick. 
For the day, the Colts had four scoring drives that exceeded 10 plays, while another scoring march had nine snaps.  It was indication the club played better, stayed in more manageable field situations and did things to help Collins run the offense, notably rushing the ball.
"Absolutely (the running game is encouraging).  We're always striving for that balance (for the run and pass)," said Collins.  "I thought we did that really well yesterday.  Joe's (Addai) been running great.  Delone (Carter) comes in and gives us a little punch there.  It's hard to think the world's going to come to and end when it's not.  There's a lot of good things that happened.  I always go back to the old adage, 'You're never as bad as you think you are when you lose, and you're never as good as you think you are when you win.'  As long as we take that attitude and keep trying to go in the right direction, it gives us a chance.
"We definitely did some things better, but there are areas we need to improve on, most notably red zone and third-down.  Those are two things we need to get better at."
Something that did return to the Indianapolis offense was the use of the no-huddle attack.  The Colts have employed the attack famously in the past with Peyton Manning at the helm.  Collins and his head coach, Jim Caldwell, have been quizzed recently about the return of the tactic.  They indicated it was a possibility and it returned early yesterday in the game.  Collins finds himself just fine with the use of it.
"I feel good.  We did some no-huddle yesterday, which I felt completely comfortable with," said Collins.  "I thought that went smoothly.  Obviously, every time I go out there and every time I'm in practice I'm learning something new, and I'm open to that.  I realize that, and I feel like I'm getting better and better all the time."
While he may have been up to new tricks in using the no-huddle, it felt familiar to many of his teammates.
"I think this offense kind of lends itself to it (the no huddle)," he said.  "I think everybody else was happy to be in it.  They've been doing it for so long.  I've really worked on it and tried to get it down, and I think for the most part it went really smooth yesterday." 
Collins is aware the 0-2 start to the season has put some observers on edge.  He draws on his veteran nature and that of his coach and teammates in knowing that improvement is to be sought, execution is to be refined and staying with an approach is essential.
"I tend not to have knee-jerk reactions.  I tend to try and guard against that," said Collins.  "I think a lot of guys in this room have been in and around it long enough to know that, whether you're 2-0 or 0-2, it has nothing to do with what happens the next game.  We take the mentality (that) we'll keep getting better.  That's the best chance we have.
"There's really not a lot of time to have patience.  At the same time, we have to take the mentality that we're going to keep trying to get better.  We don't have time, but the bottom line is that we just have to work in here every day and try to get better, learn from the things that we didn't do well and build on the things we do well."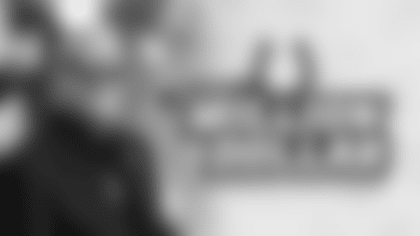 news
'By far the luckiest thing that's ever happened to me:' Lifelong Colts fan Ben Grinsteiner wins Jim Irsay's schedule prediction contest
Grinsteiner, who lives in North Dakota, won 2023 Colts season tickets after predicting nine of the Colts' 18 weeks correctly in Jim Irsay's schedule prediction contest.