"A man must know his destiny. If he does not recognize it, then he is lost. By this I mean, once, twice or at the very most, three times, fate will reach out and tap a man on the shoulder. If he has the imagination, he will turn around and fate will point out to him what fork in the road he should take. If he has the guts, he will take it." — Gen. George S. Patton
Fate has reached out and tapped Eric Ebron on the shoulder not once, not twice, but three times in his life.
And for a man like Ebron who doesn't know a stranger — whose very presence has brought smiles to those on the football field for the better part of a decade, depending on which side he's on — it's how he's reacted to his darkest of days that has ultimately decided his fate.
Nowadays you'll see No. 85 strutting his stuff in the end zone for the Indianapolis Colts, a key weapon for one of the most dangerous offenses in the NFL. At just 26 years old and entering his sixth season, Ebron is already on pace to put up historic numbers at the tight end position.
But what if Ebron never overcame the depression brought on by the death of his grandfather?
What if a college dean didn't show Ebron mercy after he had flunked out his freshman year?
What if the Detroit Lions decided against releasing Ebron after a tumultuous fourth season with the team?
You want your football players to have guts? Eric Ebron's got them. And this is his story.
---
---
Oling Jackson's body might've been slowly failing him, but his mind was still sharp as a tack.
Every birthday, without fail, you could count on a phone call and a card. Mother's Day? Phone call and a card. Father's Day? Phone call and a card. And Christmas?
"He bought me my first scooter, a Razor 2000. I'll never forget it," Ebron recalled recently from the cafeteria at the Colts' facility on the west side of Indianapolis. "It had a wheelie bar. I had the coolest scooter ever."
Gifts and cards aside, Jackson had something else to share that his young grandson just couldn't get enough of: stories, and lots of 'em.
A retired Marine Corps staff sergeant, Jackson fought valiantly in the Korean and Vietnam wars. He was also the great-great-grandson of Chief Sachem Robin Cassacinamon of the Mashantucket Pequot Tribe in Connecticut, according to The Providence Journal, and was a respected member of the Pequot Tribe in his home state of Rhode Island.
"His nickname was Lucky," Ebron said. "He always came back from every war; always a survivor."
Born in 1993 in New Jersey, Ebron had, himself, acquired a nickname from his grandmother at a very young age: "Man Mann." 
"Because I was always talking," he said with a sheepish grin. "Even in diapers I was always demanding things. I always knew what I wanted and I always tried to structure people to do what I wanted."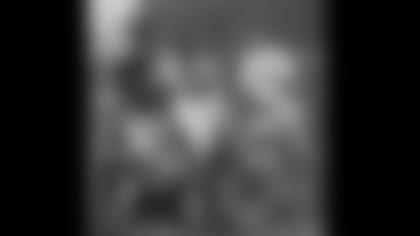 But with the symptoms from Parkinson's disease worsening and Jackson's physical state beginning to deteriorate, Ebron moved with his mother and two brothers to Cumberland, R.I., to help care for him. The two grew even closer.
"'Cause my father was the conversationalist himself. He loved to talk," said Gina Jackson, Ebron's mother. "He was another one who did not meet a stranger, wherever he went.
"My dad's Native American, so when they were little, when we used to take the kids to the pow-wows or stuff like that, Eric's going around and just doing his thing — a meet and greet. I'm like, 'Come over here!' and my dad would say, 'Leave him alone. He's going to be chief one day. Leave him alone; let him be.'"
"He was just always there," Ebron said of his grandfather. "He was our guy."
But on Sept. 13, 2003, Oling Jackson, a father of seven and grandfather of 19, died at the age of 76. Ebron, who was 10 years old and at his father's house in New Jersey at the time, was absolutely crushed.
"We never got to say goodbye," Ebron said. "When he passed away, I shut everything down. I just didn't know what to do. Just because it was hard to take."
All of a sudden, Ebron didn't want to hang out with his friends anymore. He didn't want to play sports — particularly football, in which he had become a standout in the local Pop Warner leagues.
Ebron then started acting out at school. Mentally, he was checked out.
"His focus just wasn't there," his mother recalled. "I'm getting phone calls — I never got phone calls — you know, 'Come to school; we need to speak about Eric and he's not doing what he's supposed to in class.' And I'm like, 'Oh, I never got those phone calls before.'"
---
---
Gina Jackson had seen enough.
With her oldest son, Fredrick, out of the house, and her middle son, Jamee, attending prep school and playing basketball in New Jersey, Jackson knew she needed to do something drastic to snap Eric out of his funk.
By the time Ebron entered high school, he was ready to give football a try again. Jackson applied basic logic to a potentially complex scenario.
"I was like, 'OK, we need to change scenery,'" she recalled. "I said, 'Well, I hear football's good in the South. We need a change of pace.'"
"So my mom's like, 'Well, we've got to move one of two places: either North Carolina or Florida.' And I was like, 'What?'" Ebron said. "She was so serious. She was like, 'Well, we're moving. Here in the next month you need to let me know where we're going.'"
Jackson wasn't kidding around. About a month later, Ebron came home to find a U-Haul truck parked in front of his place; its destination: Greensboro, N.C.
Ebron enrolled as a sophomore at Ben L. Smith High School, whose head football coach, Rodney Brewington, immediately caught on to this tall, athletic transfer student.
He just had no clue where to play him.
"Eric, when we first got him, he was gonna play quarterback. Then we were gonna move him to safety," Brewington said. "We really couldn't figure out where to play him because he was raw. But he was so good and so athletic."
But there was a hiccup. Due to a delay in receiving Ebron's full transcripts from his previous school in Rhode Island, he was forced to sit out his sophomore season. But Brewington said Ebron remained a constant presence at the team's games and practices, just waiting for his opportunity to show what he could do.
"He'd sit on the sideline and he learned," Brewington said. "And that's very unique."
---
---
By the end of the 2008-09 school year, Brewington was more than ready to work Ebron into the lineup. That summer, now as a wide receiver and defensive end, he began tearing it up during 7-on-7 tournaments.
At one such tourney, an eight-team jamboree in Greensboro, Butch Davis looked on as his son, Drew, competed at quarterback for East Chapel Hill High School.
Davis had already built quite the career in football. A noted defensive mind and coordinator of the dominant Dallas Cowboys teams of the mid-1990s, Davis by this point had already spent time as head coach at the University of Miami (1995-2000) and the Cleveland Browns (2001-04), and he was about to enter his third season as the head coach at the University of North Carolina.
The first time Davis laid eyes on Ebron at this tourney, he was lined up at defensive end. In one quarter, he logged three sacks.
The next quarter, Ebron was lined up at wide receiver. The 6-foot-5, 230-pound rising junior caught six or seven passes and had a couple sensational touchdowns.
"You just watch him and you go, 'Oh my God, look how quick he is, how fast he is,'" Davis said. "Nobody on that field could cover him. They've got no chance of covering the guy."
Davis at this point was loaded along the defensive line at North Carolina, with a lineup that featured two future first-round picks in Robert Quinn and Quinton Coples. But he knew he needed playmakers on the offensive side of the ball, particularly at tight end, and he couldn't help but imagine Ebron one day suiting up for him on Saturdays at Kenan Memorial Stadium.
"It was like, 'You know what? That's exactly what we're looking for,'" Davis said of his first impression of Ebron. "I'd had Jeremy Shockey and Kellen Winslow Jr. (at Miami), and when I was at the Cowboys we had Jay Novacek and a lot of guys like that, and I thought, 'This guy is literally somebody that could unbelievably dominate.'"
By this point, Brewington had worked his way over to Davis' side.
"He says, 'Look — I need him at Carolina next week.'" Brewington said of Davis. "And I said, 'No problem, coach.'"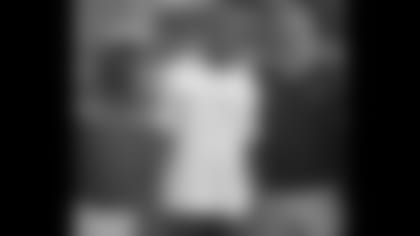 By the time Ebron and Brewington arrived to the North Carolina campus for a high school camp the following week, they had planned to split the day in two; the first half of the day would be spent in Chapel Hill, and then they'd make the 10-mile trip northeast to participate in a football camp at Duke University.
Ebron never made it to Durham that day.
"It was pouring down raining. I was out there, no gloves, no swag, looking like I'd never played football before," Ebron recalled. "But I ran nice routes and caught everything in the rain. They were just like, 'Man, look, that dude there — we want him.'"
"If you have any eye for talent and somebody puts a film on, they should never ever have to tell you, 'Well, he's jersey number this, that or the other.' You turn it on and if it takes more than four, five or six plays and you can't figure out who's the best player on that film, then you are in the wrong profession," Davis said. "And it's the same thing (at camps). Kids come to camp, you see kids, you know, the smoothness, the athleticism, the ease in which they get off the line of scrimmage; the way they run in and out of breaks. And then obviously, if you're a skilled player, their hands. I mean that's the make or break. I mean, if they can't catch — they can't play wideout or tight end or anything if they can't catch.
"I mean, (Ebron) was just big hands, caught everything. So you could have five hundred kids at camp and about ten of them are going to jump off the screen and you're going to say, 'We want that guy, that guy, that guy and that guy.' It doesn't take long to figure it out."
By the end of the day, Davis had offered Ebron a scholarship to play at North Carolina. Remember: at this point, he had yet to play a single down of high school football.
Brewington was incredulous — and he wasn't the only one.
"Eric says, 'Coach, I got a scholarship offer.' And I'm like, 'No, son, you didn't get a scholarship offer. That's not how it works,' you know what I mean? 'Trust me: you didn't get a scholarship offer.' He says, 'No, Coach, I got a scholarship offer,'" Brewington said. "So what ends up happening was I'm trying to protect his feelings, and I go over to Butch Davis with Eric and I say, 'Hey Coach, for whatever reason my kid thinks he got a scholarship.' He says, 'Coach, he does have a scholarship, and we want him to be at Carolina.' So I'm like, 'Wow, man — he just got a scholarship!'"
Ebron's father couldn't believe the kid he said had "two left feet" growing up — "he couldn't get his shoulders and his head and his hands to all move the same way at the same time," he joked — was getting this kind of opportunity.
"I was in awe," Eric Ebron Sr. said. "I was in total awe."
But Ebron's confidence and swagger? You could say it comes from the other side of the family.
"I was like, 'OK, that's one of many,' because I already knew his ability," his mother said, referring to her initial reaction to the North Carolina offer. "For me, I've been watching him play football since he was seven years old. So I already knew this kid had something great about him — something great about him. And even his high school coach at the time was screaming, yelling, jumping up and down. I'm like, 'OK, we're gonna get a free ride to college,' so that's how I'm looking at it."
---
---
The Eric Ebron Hype Train was building steam. Shortly after news of his North Carolina offer got out, Duke and North Carolina State extended scholarship offers of their own.
Again, Ebron was yet to play a down of high school football.
Naturally, by the time the 2009-10 season was getting underway, there was a sense of jealousy brewing within the Ben L. Smith locker room.
"His junior year, his first year, he comes out and gets a scholarship," Brewington said. "And obviously you got veterans who are not getting scholarship offers who are envious. So everybody would go at Eric and talk trash to him, like, 'Man, I deserve that scholarship. You don't deserve it.'"
Ebron quickly got tired of that narrative.
"My coach completely stopped practice. And he put every DB and safety in front of me and I ran maybe 30 fades — and I had to win all of them," he said. "So I went out there and I just destroyed people to show that I can be who I can be."
"I mean player after player after player after player, he was Mossin' everybody," Brewington said. "Literally about 15 dudes on defense. Absolutely everybody. It was unbelievable."
From then on, Ebron had the respect of his teammates — and, truth be told, they needed each other. Ben L. Smith High School entered the 2009 season having lost 32 straight games, which Brewington said was the longest losing streak in North Carolina history.
In Ebron's very first game, his team shut out Winston-Salem Atkins, 42-0, to put that streak of futility to bed; Ebron debuted with two catches for 38 yards and a touchdown.
The Golden Eagles finished that season with a 5-7 record and were clearly headed in the right direction. Ebron that year caught 24 passes for 408 yards and four touchdowns.
With Ebron leading the way, Ben L. Smith became a powerhouse the following season; the team rose all the way to No. 3 in the state rankings and finished with a 10-2 record. An All-State selection at tight end, Ebron had 28 receptions for 682 yards — an average of more than 24 yards per catch — with 10 touchdowns, and he also dominated on the other side of the ball, logging 68 tackles and 13.5 sacks as a defensive end.
"His junior year he was the best player on the field, but didn't realize he was the best player," Brewington said. "His senior year, he was the best player in the state and he knew it. He was that type of player."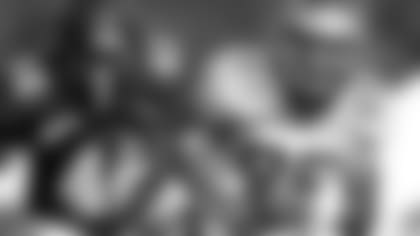 By this time, just about every major college program was sending coaches Ebron's way to offer him a scholarship. It became overwhelming for Ebron, who said most of his days were spent in meetings with various recruiters and head coaches — and not in class.
So after narrowing down his list of preferred schools to three choices — UNC, Rutgers or Cal — Ebron and Brewington headed to the library and began to deliberate.
"We literally sat there for two hours in the library, just me and him, debating on which school to go to," Ebron said. "It was UNC, Rutgers or Cal. Cal-Berkeley because Keenan Allen, Maurice Harris, all of those guys went there and we were all from the same city. Rutgers was to go back home. And UNC was to stay where I am."
"So I was just like, 'I'm gonna just go with UNC," Ebron said. "They gave me my first offer, they were the first team to believe in me when no one else did, and my mom gets to see every game. So why wouldn't I give them the luxury of my talent?"
Before Ebron headed to Chapel Hill for his freshman year, Brewington and Ebron grabbed a bite to eat at a local Subway.
"I said, 'Eric, you're going to be the first tight end taken in the draft,' Brewington said of their conversation that spring day in 2011. "And we laughed."
---
---
Fast forward one year, and Eric Ebron is frantic.
He had played in 10 games as a true freshman at North Carolina, catching 10 passes for 207 yards and a touchdown, but by the time the spring semester rolled around, attending class became, well, optional in his mind. Same thing goes for doing homework and taking tests.
By the time finals came around, Ebron had failed three of his four classes that semester, and he was informed that he was being kicked out of school.
Forget his budding football career; Ebron was seeing a full-ride academic scholarship at a prestigious school quickly slipping from his grasp.
"My wife, Kimberly, she works for the school system — she's an administrator in the school system, and she does not play when it comes to education," Ebron Sr. said. "We were going to get Eric and Jamee either iPods or iPads, and as we crossed the threshold of the Apple Store both of our phones ding. We both look at our phone and there's a message from Eric.
"We're standing in the aisle of the mall and he says, 'Dad, I messed it up,'" Ebron's father continued. "Kimberly and I were getting ready to get into the car and head to North Carolina from New Jersey immediately. We were on our way to put our foot in his behind; to talk to him, to find out what options he had."
Ebron, as it turned out, did have one option available to him. He wrote a heartfelt letter to the school dean expressing his regret for his academic performance and promising he would go above and beyond to get back on track if given a second chance.
It worked. But that was only half of Ebron's troubles.
Now he had to go face his new head coach.
Larry Fedora was formally introduced as North Carolina's head coach in December of 2011, and when he started to dig into his new roster the following month, he took note of this athletic freshman at tight end who just couldn't seem to get things right in the classroom.
"I didn't know Eric coming in," Fedora said. "I knew that he had great potential, and he didn't really play much tight end in high school. But I knew that he got to Carolina, and it's not easy to get into Carolina. So I knew if he did that, he had the ability to make it there. But he didn't put the effort in; he didn't concentrate on it."
Fedora didn't mince words in his first meeting with Ebron.
"He says, "You've got a bad stigma. No one really believes in you. No one likes you because you just don't care,'" Ebron said. "So I had to completely change who I was."
So how'd he do it? Ebron said it started with nightly trips to the home of his tight ends coach, Walt Bell, where he was obligated to complete his homework and study for tests. He also gave his parents access to his grades, and they stayed in contact with his professors. The result: Ebron didn't get anything worse than a "B" the following year.
"I hate letting people down," Ebron said. "So that's my biggest thing. I didn't want to let my family down. I didn't want to let Larry down. I didn't want to let my teammates down. Because I created a band of brothers that, I mean, we talk everyday to this day. Like ever since we left college we talk every single day. So I had a group of people I didn't want to let down. So I had to do what I had to do to get back."
Ebron not only ended up flourishing in the classroom, however. With Fedora, an offensive-minded head coach, now leading the charge on the field, the talented tight end quickly rose to the top of the depth chart. In 2012, his sophomore year, Ebron logged 40 receptions for 625 yards and four touchdowns.
But by his junior year, Ebron, now in his second full season in Fedora's offense, had a performance for the ages. A First-Team All-ACC selection, Ebron caught 62 passes for 973 yards and three touchdowns; his 973 receiving yards were the most ever by a tight end in ACC history, besting the mark of 871 set by Maryland's Vernon Davis back in 2005, and Ebron's career receptions (112) and receiving yards (1,805) were the most by a tight end in school history.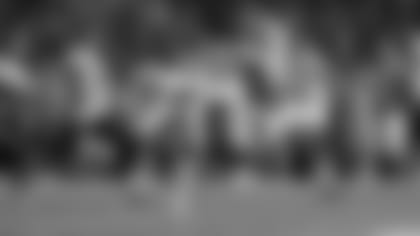 After an eight-catch, 199-yard, one-touchdown performance over 10th-ranked Miami in the Tar Heels' sixth game of the 2013 season, Ebron was starting to believe that a career in the NFL was a realistic goal.
"We had 32 (NFL) teams, five general managers at the game," Ebron said. "Miami had a bunch of dogs, we had a bunch of dogs. We were 1-4 and Miami was 5-0. And no one expected us to be 1-4; like, we always had players, but we could never get it going. So from that game, I was like, 'You know, we're 1-4. I'm going to do everything I can to win this ------- game.
"So I opened up the game with a 71-yard touchdown. I just outran the whole Miami defense. I'm talking, like, when people saw that, they're like, 'This dude just outran everybody in Miami.' You know what Miami's known for; what Florida kids are known for: their speed. And then I end that game with 199 yards. I had a touchdown, I had eight catches. And my coach called me in the next day and he was like, 'You might have just put yourself in the first round of the NFL.'"
While North Carolina fell to Miami, 27-23, that night, the Tar Heels would reel off wins over their next five games, and finished the season with a 7-6 overall record, which included a victory over Cincinnati in the Belk Bowl.
Naturally, Fedora would've secretly been thrilled if Ebron decided to stick around for his senior year. But realistically, he knew it was time to let him achieve his dreams.
"There was no doubt about what he needed to do. You know, it was by far the best thing for him," Fedora said. "Sure, I would have loved to have had him back for a lot of different reasons — one, because I loved just being around him. I mean, he just brightens your day every day; he's always got a smile on his face. He's got an unbelievable personality, and I love being around the guy, and so, just selfishly, I wanted him back for that reason. But it was the right decision, and there was no doubt about what he had to do."
But not so fast. Ebron had one more person he needed to convince: his mother.
"Honestly, I never even looked that far," she said. "My focus was getting a free ride to college. But when the NFL came and it was time and he wanted to leave college early, I was terrified, actually. And I was like, 'No, we're not leaving school. We're gonna finish this four years. This is what the goal was.'
"They had so many meetings. He was like, 'Ma, I could truly get injured. I'd rather get injured in the NFL than to get injured in college and never see the NFL,' and it was like a battle for months before I said, 'OK, we're gonna do this thing.'"
---
---
On May 8, 2014, Rodney Brewington's crazy prediction came true.
With the 10th-overall pick in the first round of the 2014 NFL Draft, the Detroit Lions selected Eric Ebron, tight end, North Carolina.
Ebron was stoked for the opportunity to add his talents to an offense that already included the likes of Matthew Stafford at quarterback, Reggie Bush at running back and Calvin Johnson and Golden Tate at wide receiver.
But some of the team's fans weren't shy about giving Ebron grief with every mistake he made his rookie year. The fact that future Pro Bowlers Odell Beckham Jr., Aaron Donald, Taylor Lewan and C.J. Mosley were picked after him in the first round of the draft — a factor obviously out of Ebron's control — didn't help matters.
The outside noise grew louder, and soon Ebron started to fall out of favor with the coaching staff. He had a career year in 2016, catching 61 passes for 711 yards, but by midway through his fourth season in 2017, Ebron, who had just 18 receptions for 195 yards through the team's first eight games, was removed from the starting lineup.
But during the bye week, Ebron's life changed. His fiancée, Gabby, gave birth to the couple's first child; their son, Oliver.
Ebron's entire perspective changed. And it showed on the field.
Over the final 10 games of the season, Ebron would average four catches and almost 50 yards per game, including a 10-catch, 94-yard performance Week 14 against the Tampa Bay Buccaneers and a five-catch, 83-yard, one-touchdown game Week 16 against the Cincinnati Bengals. He finished the year with 53 receptions for 574 yards and four touchdowns.
"I was 24 years old, man, and I'm about to have a kid, so it was a lot of stress, it was a lot of pressure, a lot of things I was going through," Ebron said. "And when he was born, it was just like something just clicked. And I don't want to fail him, I don't want to ever let him believe that I am the person that (some) people make me out to be. So I just went out there and tried to destroy anything in my path for him.
"And I damn sure did that."
Before leaving for the offseason, Ebron met with the Lions and felt good about the possibility of being brought back for a fifth season in 2018.
But on March 14, less than an hour before the start of free agency, the Lions decided to release the tight end.
"Eric was heartbroken," his father, Eric Sr., said. "I was heartbroken for him, not knowing what the future held for him because Eric really didn't play to his potential in Detroit. I don't know who, if anybody, is even going to pull the string on Eric."
For his part, Ebron mostly blames himself for the way things played out in Detroit. He couldn't help the situation he was brought into — and the team ended up making a change at general manager in his second season — but he had hoped to do a better job handling the factors he could control.
"You know, when you think you get drafted 10th overall, you're expected to perform, you're expected to be somebody. And I thought I was going to be that person, but maybe I thought I was a little bit too much," Ebron said. "I was 20, just turned 21. I was really young and I was coming off of one of the best tight end football seasons in college history, period. So to me it was just, I think my vibe might've killed my whole perspective. Maybe with the team, maybe burned a couple of bridges with coaches and things of that nature, just based off of who I was and them not really understanding who I was.
"I underperformed. That's obvious based off of my draft status. I underperformed," he said. "I've had some good seasons — I've had a 700-yard season there — I've had some good seasons, but all in all I just think that I let a lot of outside noise get to me; not fans, but just me."
---
---
Eric Ebron's phone was blowing up.
Upon being released by the Lions, Ebron was priority No. 1 for Frank Reich, who just one month prior had been hired as the Indianapolis Colts' new head coach.
Like Fedora during his time at North Carolina, Reich had an offensive playbook tailored to his players' strengths. And he saw a player in Ebron that could absolutely take off in his system — if he could only get him in the building.
The calls and texts kept on coming — from Reich and from Colts offensive coordinator Nick Sirriani and tight ends coach Tom Manning. All were new to Indy, but they clearly recognized the potential of an offense that featured Andrew Luck throwing the ball to Eric Ebron.
But the Colts weren't the only team interested in his services. Ebron also heard from the Baltimore Ravens, Jacksonville Jaguars and New England Patriots, and scheduled a free agent visit to each facility.
But Ebron said he intentionally saved what he believed could be the best visit for last.
"I knew they would bring everything out," Ebron recalled of his trip to the Colts' facility. "So I met with Nick and they're showing me all kind of plays that I do really well and how their offense can make it better. And then Frank has this whole cut up by himself, of all things that I do well and how they can make it better. And so they just were like, 'This is where you should be. This is where you need to be. You'll help make us better; we help make you better,' and basically told me, 'We're going to coach you hard; we're going to make sure that you're the best that you can be.'"
The plays and schemes were great. But what really hooked Ebron?
"The biggest thing they said was, 'We just want you to be you. We want that same college guy that we know about to go out there, have fun, and play football," he said.
By that point, Ebron couldn't sign his two-year deal with the Colts quickly enough.
"When he went to Indianapolis, he called me and said, 'Dad, I think this is where I want to play.'" Ebron Sr. said. "I said, 'You sure? Do they want you?' He's like, 'Dad, they want me here and I think this is where I want to play.'"
Like clockwork, Ebron quickly became one of the most dangerous tight ends in the NFL. With Reich exploiting mismatches and Luck delivering the ball, Ebron finished his first season in Indianapolis with 66 receptions for 750 yards and 13 receiving touchdowns; he also added a rushing touchdown Week 10 against the Jaguars.
Ebron's 13 receiving touchdowns set a Colts single-season record for a tight end, and he led all NFL tight ends in receiving touchdowns in 2018, while tying for the second-most among all players. His 14 total touchdowns tied for fifth in the NFL.
For his efforts, Ebron — who also added eight receptions for 77 yards and a touchdown in the Colts' two postseason games — was named to his first-career Pro Bowl.
"I didn't know it would be this good, but I have always believed in it," Ebron said of his first season in Indianapolis. "Our coaches just gave me an opportunity. They gave me a chance. They believed in me, my abilities, my talents and I can't say enough about them, this team and Andrew. I wouldn't be here without Andrew, the constant communication with him and everything — a whole lot to commend about my teammates."
---
---
For Gina Jackson, what's most important is she sees the fire in her son's eyes once again.
In 2003, when Ebron lost his grandfather, he was crushed.
In 2012, when Ebron was on the brink of being kicked out of North Carolina, he was shaken.
And in 2018, when he was suddenly released by the Lions, Ebron was heartbroken.
But now, Ebron has everything he could ever hope for. He has a loving family at home — his now-wife, Gabby, gave birth to their second son, Aiden, in January — and he's found a team in the Colts that enable him to be productive on the field, and himself off of it.
"I started seeing the spark and fire in him start getting dim, and I was like 'Oh my God.' Just like the same reason I moved to North Carolina, I started seeing that in him; (it) was the same thing I was seeing by him playing with Detroit," Jackson said. "And so everything, for me, I pray about it. Something different has to happen, and when it did, it started happening and I was overjoyed."
"He's my baby," she said. "I'm very proud of him."
When fate has reached out and tapped Ebron on the shoulder throughout his life, he's had the guts to go down the right path every time.
He can't help but figure his grandfather is somewhere smiling, proud of the man, and the father and husband, he's become.
"I'm 26 years old. I'm still figuring out life, man," Ebron said. "But my grandfather? Man, I couldn't even imagine. As for the man I am, I think he'd be extremely happy because of the man he was to his seven kids and grandkids. So how would he look at me as a man? I think he'd be very proud. As for what I do on the field — I'm sure he would love every bit of that, too."
Check out Indianapolis Colts tight end Eric Ebron's life in photos, from his childhood, to his playing days in high school, his career at the University of North Carolina, the NFL Scouting Combine, the NFL Draft, his four seasons with the Detroit Lions and now in Indianapolis with the Colts.