 ANDERSON – Vontae Davis is starting his second year with the Colts, his fifth in the NFL.  With training camp underway, Colts.com catches up with him.
Most fun thing I did during the summer – I took a cruise, my first one, with my fiancée, her mother and grandmother.  It was an 11-day cruise, and we went to Aruba, St. Thomas, St. Martin's and around the Caribbean.  It was fun to get away and go to the beaches.  We went to different ones.  I really enjoyed Aruba and the sight-seeing.  It was fun and relaxing.  
Teammate I expect to have a great camp and why – I really don't want to pick just one guy because I think there are a number of guys who came here with a serious mindset and have done well.  A lot guys are working hard.  It is a serious group, and I don't want to single anyone out.  We know there is a great opportunity out there ahead of us.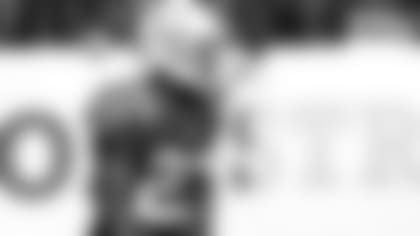 Song(s) and artist(s) I listened to the most this summer – I read, "The Millionaire Next Door."  I did it because I wanted to educate myself and because of the importance of financial security in life.  I learned how to better manage my money, and a book like that is a good tool to have.  Something that stood out to me is that most wealthy people live below their means.  You probably think they buy all the nice things, but they actually don't.  They don't like their money showing.  They'd rather be discreet.  It was interesting to see, and living smart is a key to be ahead of the game in later years.   
What I want to accomplish in camp – Every year is different, but the main thing is to work on my craft and technique.  I want to be the most sound player I can be.  There always are things to concentrate on like off-coverage or press coverage, things like that so you can be the best overall player possible.  You can never stop improving.
Do you like having the whole spring and summer with this team unlike last year when you arrived in late August – Of course.  I could learn the playbook more, get a better grasp of assignments.  I could be around my teammates and get to know them.  I got to know their responsibilities and know where we belong on a certain play.  I got accustomed to the defense more.  Last year was hard picking up the defense right off the bat.  It wasn't a disadvantage, but it was something you had to go through.  Learning didn't happen overnight, going from one defense to a new one and from one group of guys (in Miami) to my teammates here.  I had to go through the process.   
Toughest thing about training camp – The whole process.  IT'S A GRIND!  There's no other way to do it.  You just have to go through it.  It is a mental challenge, and our coaches make it hard.  You get to a point mentally where you think you can't go anymore, and you have to go.  We call it the, 'Dog Days.'  It's the job of the coaches to do that to us.  I like coaches who work hard with you because the result is games become easier and much more enjoyable.  You put yourself through so much of a grind in practice that you feel fresh in games.
Most fun thing about training camp** – Competing against teammates because that will be the only opportunity you have to make each other better before the season.  I think we all take it seriously because you have to be at your best.
What you know now about training camp that you didn't as a rookie – The importance of practice.  You have to practice like how you want to play on Sunday.  If you do that, it is easier to succeed in games.  I approach practice every day like it's a game.  When you get the lows in a game, you're tired and fatigued and you think you can't go anymore, you can reach down and get over that hump.  You reach back to how you've practiced, and it makes a difference.
How to beat the heat and spend any downtime – You have to prepare yourself.  What I've learned in this league is about separation.  The best players separate themselves through preparation.  When tough situations happen, you can handle it easier.  You have to work, but preserve yourself, just work in advance.  To beat the heat – hydrate and do it well all the time.
Best advice you received before entering the NFL and who gave it to you – The best advice came from my brother, Vernon, "Take advantage of the opportunity you have because you never know when your last opportunity is going to come."  He's four years older than I am, and he's been a great role model.  I take that advice seriously.
The perfect meal is – Bison.  I love Bison – burgers, steaks, any way I can get it.  I eat Bison a lot during the season.  I can eat it every day.  It's lean.  It helps me with my weight.  I feel leaner when I eat it.  There is a place, Ted's, where I buy it in Indianapolis.
What is the most challenging drill for you in camp and why – Everything is tough when you first get back into camp drills.  It reminds you how much work it takes to play at this level.  After a few days, you get in a rhythm, and it flows a little bit easier.  
Who was the NFL player you wanted to meet the most before you made the league and why – **Randy Moss (see video)** because he dominated the game at one point in his career.  He was a player you had to be ready for.  Ever since I was a kid, everyone knew Randy Moss.  With my friends when we were playing and one of us went up and made a great catch, we'd say, "I Mossed you."  Randy was a guy I looked up to and wanted to resemble.  When you watched him, he'd make spectacular catches.  I played against him my rookie year (2009) in Miami.  It was crazy to look up to him, "Man, Randy Moss, he's such a great player."
What kind of day did he have, did you feel differently on Sunday than how you felt preparing during the week and did you say anything to him before or after the game? – I was making the transition from college to the pros when I had to line up against him.  That's when I knew I was in the NFL – having to guard a guy like him.  It showed me the difference in the talent level up here.  When that moment came true on Sunday, it was a different feeling than how I'd prepared because it was "real."  It was Randy Moss.  I was lined up on him.  It was a humbling experience because I appreciated the challenge and that I had accomplished the goal of making the NFL.  He "welcomed" me to the NFL.