 INDIANAPOLIS – Questions and Answers with Colts Running Back Kerwynn Williams. . .
Question:  You're in the NFL now, the latest step in a lifelong dream.  But when did it begin?  When did you first start playing football?
Answer:  "I started playing contact football when I was seven.  Playing with the football and stuff like that, I feel like I've been doing that forever.
Q:  What do you remember about your first team?
A:  "The first year was tough.  I was waiting and waiting and I didn't play much that first year.  I think I learned a lot that year because I played every position that year and I learned a lot about playing on a team.  This is a team sport and you have to do what's best for the team and that year taught me the most, and it's something I've carried with myself my whole life playing this game."
Q:  What was your best sport growing up?  It wasn't football for all NFL players . . .
A:  "It was the best sport I played.  I played a lot of sports, pretty much every sport.  My mom is a parks and recs coordinator.  So a lot of weekend stuff, if they were having weekend clinics I'd do a lot of those.  I grew up playing everything.  I played hockey.  I'm from Las Vegas.  There's not a lot of ice out there, but there are some indoor rinks.  I played hockey, lacrosse.  I wrestled, played basketball.  I liked soccer a lot growing up, too."
Q:  When did you move to your position?  Were you always a running back?*
A:  "No.  Growing up I played a lot of positions: running back, receiver, quarterback.  In high school, I played quarterback, running back and receiver.  College was running back and receiver and I returned kicks."
Q:  What's your best football memory?
A:  "By far it'd have to be this past year, my senior year at college.  When I came to college we weren't that good of a team.  Prior to that they probably only won three games in four years.  We were a bad team, but our head coach and the coaching staff turned it around.  We won four the first year, four the second year, seven the third year and my senior year we finally accomplished what we set out to do.  We won the conference championship and won the bowl game both in one year.  Winning that bowl game was definitely the biggest.  I had the best game of my career, we won the first bowl game in like 20 years."
Q:  Do you have a pre-game ritual?*
A:  "I don't have a ritual.  I try to stay as relaxed as possible.  I don't try to tense up myself or anything like that.  I try to keep myself as relaxed as possible.  I listen to music all the way until I get to the locker room.  I don't listen to music once I get in the locker room.  I like to just recap and go through different plays in the game and visualize what's going on prior to the game.  I don't really listen to music in the locker room.  Once we get in the locker room, it's pretty much all business.  Then once we touch the field, it's time to go."
Q:  What about after football?  Do you have any post-career plans?
A:  "A little bit.  I feel like everyone thinks about that because we can't play this forever.  If I could, I'd play football forever.  Hopefully, a while down the road I'll probably do something in business.  That's what I got my degree in, marketing.  My dream job would definitely be to work for Nike, so we'll see."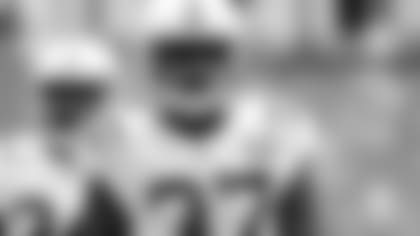 Q:  Who's the person most responsible for you being in the NFL?
A:  "Two people… my parents.  My mom definitely stayed on top of me with the school work because she's always been afraid of me playing football.  She stayed on top of me with the school work which is a big part of a person's development.  As athletes, we're more than that… we're student athletes.  Pretty much everyone in here graduated from college and had to go to college and get a degree.  My mom being so tough on me when it came to school was definitely big.  My dad picked up everything.  He was a good role model for me to look up to as far as how to treat your wife and how to put your family first and take care of your family and do what it takes to provide for your family.  As far as giving me advice in the football aspect, he played so he definitely had some good insight for me to go off of.  That was big for me.  Both of my parents were supportive.  They came to every game.  They'd watch my brother's games on Fridays and drive up Saturday mornings.  My parents watched every game.  It'll be tough with my little brother going to college.  I prefer they watch his games.  It's definitely been great having my parents so supportive of me."
Q:  Do you have a particular high school coach or teacher who means a great deal to you?  If so, why?
A:  "I had a different coach every year in high school.  My dad coached me when I was younger. How can you not like your dad as a coach?  I'd say definitely the running backs coach for most of the time I was at Utah State.  He left my senior year.  He was the one who is most responsible for me getting up there.  He recruited me out of high school and fought for me to get there.  He definitely was a big part of my development as a player for those three years."
Q:  Did you have a favorite player growing up?
A:  "I didn't really have one single person.  I tried to take the good things from a lot of good running backs that I'd watch and see what they do.  I liked how physical Walter Payton ran.  I liked watching Warrick Dunn and Marshall Faulk because they could do a little bit of everything. They caught the ball well out of the backfield, they made people miss in space and they ran the ball well and hard.  I just tried to take a little bit from everyone, like Gale Sayers.  I like how he'd hit the hole even if it was just six inches of space.  You only need six inches of space to hit the hole.  I just tried to take a little bit from everyone's game and try to make it into one to make myself a better player."
A:  "I did not (have one).  I liked so many different players on different teams."
Q: How about the NBA, MLB?
A: "Oh, I'm definitely a Lakers fan.  It's kind of difficult to say it.  I do like watching the Pacers, though.  They're a young team.  Paul George is blowing up and playing out of his mind.  They have a good basketball team where I am.  I'm definitely a big Kobe fan.  I like the way he plays and I like his mentality on the court."
Q:  What was your first car?
A:  "When I was 16, my parents got me a Ford Focus.  I drove that car from the time I was 16 all the way until my senior year of college.  The only reason I'm not driving it right now is because I gave it to my little brother.  He still has it.  I just gave it to him."
Q:  What was your first job?
A:  "My first job was selling newspapers.  I sold newspapers on Sundays.  It was tough because it was so hot.  It was in the summer and it was so hot in Vegas.  Any job outside in Las Vegas is tough because it's straight heat.  There's no buffer to it.  I didn't get paid a lot, so that made it tougher.  You really have to love selling those papers."
Q:  Do you have a favorite quote that has inspired you in football or life?  If so, what is it and why does it mean something to you?
A:  "Vince Lombardi said this, 'Winning isn't everything, it's the only thing.'  I like that because it applies to a lot of different areas.  You can apply that to the business world, to football, anything you do in the classroom.  Just take what you're doing and try to be the best at it.  That's definitely it.  I like another one, 'Wolves don't lose sleep over the opinions of sheep.'  People whose opinions you don't hold highly, you shouldn't let it bother you or bring you down."
Q:  What is it about football that drives you the most?
A:  "It's the greatest team sport.  You can't just have one player go out there and dominate and you win all the time.  Sometimes that may occur but most times, it's a full team effort that has to happen in order for your team to get the job done.  I feel like it's the greatest team sport on earth."