 ANDERSON – Justice Cunningham is starting his first year with the Colts.  Cunningham was taken with the last pick of the draft after a four-year career at South Carolina. 
With the first preseason game on Sunday, Cunningham will see his first action.  Colts.com catches up with him.
How has your first training camp gone – It's going pretty well.  I'm learning and trying to get better every day.  I'm trying to learn from Dwayne (Allen) and Coby (Fleener).  I've gotten a lot more comfortable in the passing game as far as running the routes.  I'm just trying to get my technique down blocking-wise.
How much did the OTA work in May prepare you for right now** – The OTAs helped me a lot.  They got me a lot more comfortable.  At mini-camp, I was finally past that rookie stage of just being uncomfortable playing around the veterans.  Now, I feel like I fit in a lot more.
Early on, there were some learning curves like everyone else, and you seem to be catching the ball well – I'm catching the ball a lot better.  I'm getting adjusted to the ball, getting used to the speed of the game.  I'm getting better all around.
What was your role at South Carolina – **Our offense utilized a lot two tight ends, but my primary role was blocking.  When we needed a big play, they'd let me go out and make a big catch.  I was mainly a blocker.  Some of the routes we're running (here), I'm getting more used to it each day.
On if Steve Spurrier's offense at South Carolina suited him – I liked it.  He used tight ends a lot and in a lot of different ways.  There was a big play selection.  You lined up in the slot, you might be in the backfield or you might be a regular tight end.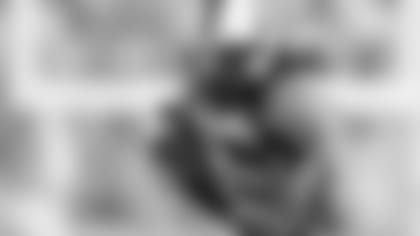 As camp as gone on, you are getting more exposure with different units, you must like that – I'm getting a good bit of reps.  I'm getting more reps than I thought I would.  There's value in every rep, and I'm enjoying them.
What are you hoping to achieve on Sunday – I'm looking forward to getting out there and competing, to go out and hit somebody other than my own teammates and just do my best.  Right now, it looks like I might play a good bit.  You don't know, but I'll be ready when they call my name.
Which player has helped you the most in camp – Dwayne Allen has helped me the most.  He always looks out for me and tells me the small things, shows me how to get the job done from a tight end perspective.  He shows me how to stay low, how to use my hands, things like that.
Alfredo Roberts had a great playing career, and that can help you as you learn – He has a lot of credibility.  Just knowing his history and what he taught in OTAs by practicing it in the off-season and getting back here, I came back with a lot of respect for him.  Alfredo has brought me a long way from OTAs.  He shows he has confidence in me and gives me a chance to make plays.
What one or two things have you done that are good and what are some areas you still aim to improve – I've been pleased with my physicality.  I've think I've shown the team I'm a physical player and I'm not scared of anybody.  I think I've shown I can catch the ball when they throw.  I want to be a better player for the quarterback.  I really need to work on my technique.  I have to do my techniques right all the time.  I can't just over-power people and just use my size.  I need to work on my routes and become an overall better route-runner.  I need to also work (on identifying) the defensive coverages to be ready for them.
Even though you primarily were a blocker in college, you knew the other talents for a tight end were there, didn't you – Of course.  I always knew I could do it.  Here, they're giving me a chance, and I'm showing them I can do it.  I think this is more of a mental challenge right now than a physical challenge.  When you first do something new, your body has to get adjusted to it.  In your head, you have to believe in yourself that you can do it.  Once you get used to doing things, there's muscle memory with it.
How do you handle a tough day – For me, it's hard.  I always want to do things perfectly.  I want to be perfect, and that's my approach.  You just have to look past your mistakes and realize you are a rookie.  You just try to improve.
On his work here– I'm getting more confident every day.  I always knew I could do it.  Now, I'm pushing myself.  I know I'm going against bigger and faster opponents.  I'll work through it.