 ANDERSON – Cory Redding is starting his second year with the Colts, his 11th in the NFL.  With training camp underway, Colts.com catches up with him.
Most fun thing I did during the summer – The most fun thing I did……(sigh)…..(laughs), nothing.  That's all I'll say, nothing (laughs).  I'm approaching 33, so nothing.  I would not have said that when I was 25.
Teammate I expect to have a great camp and why** – Defensively, I'm looking for Robert Mathis to do well.  I'd love for Robert to go ahead and continue to do what he's doing.  Having a good camp (would be good).  For so many years we had two (forces) – Robert and Dwight Freeney.  Now, it's Robert.  I want to see Robert shine and continue to do well, have a good camp and translate that to the season.
What I want to accomplish in camp – I want to just continue to perfect my fundamentals.  I want to continue to be where I'm supposed to be for my teammates and the defense.  I want to continue to lead and help the team win and do everything I can to get better.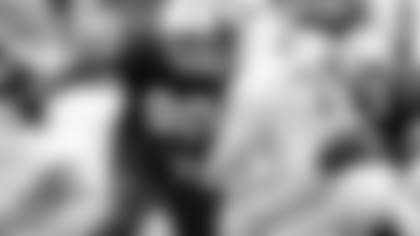 Toughest thing about training camp – (Laughs) the whole schedule is tough – practices, meetings, hours, etc.  It's a necessary evil.  The routine is tough and the pressure is there.  You just adjust the best ways you can.
Most fun thing about training camp – There is nothing fun about training camp.  You are away from home in a grueling situation.  You have to keep your mental frame right because of the physical grind that's involved.  You know you have to do it, but there's nothing fun.
What you know now about training camp that you didn't as a rookie – You can't count the days.  You can't count bodies.  You just have to do what you can to better yourself each day and take it one day at a time, seriously.  When you start counting days and start counting bodies in the (positional meeting) room (wondering) whether you're going to make it or not, that's when you're setting yourself up for failure.
How to beat the heat– You deal with the heat, you can never beat the heat.  You just have to get through it, gotta grind.
Best advice you received before entering the NFL and who gave it to you – I did not get any advice before getting to the league.  I can't say I made it totally on my own.  There were examples I noticed, but you have to find your own way.
The perfect meal is – It's pasta and chicken, finished off with ice cream.  Your body is currency in athletics, so you have to take care of it.  You learn how to do it better as the years go on.
Who are the teammates you eat most often with in training camp and why – For the most part, it's mostly the position group.  Every now and then I like to mix it up and go sit with the punters, the offensive linemen or defensive backs, just to see what they're talking about, just to be around them a little bit.
What is the most challenging drill for you in camp and why** – It's (the) two-minute (drive).  It's fast-paced and up and down the field.  It's quick thinking and running, and there's no rest until the whistle blows.
Who was the NFL player you wanted to meet the most before you made the league and why – **Lawrence Taylor, number 56 (click to see video)**.  You still can see him on the edge ready to move at the snap.  I liked him because I played linebacker, too.  He was one of those guys who was a face of the sport.  He made an impact on me.