 ANDERSON – Chandler Harnish is starting his second year with the Colts.  With training camp underway, Colts.com catches up with him.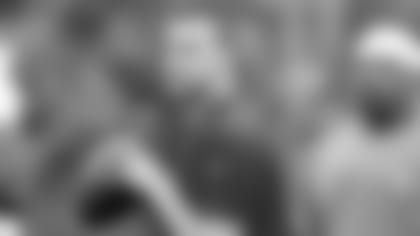 Most fun thing I did during the summer – I went to Las Vegas with a bunch of friends.  I had never been out there before.  It was a really good time going to the pool.  It was great weather.  I went with a lot of close friends and my personal trainer.
Teammate I expect to have a great camp and why – The first person who comes to mind is Griff Whalen.  He was a guy who unfortunately was injured last year.  He works hard all the time, he's consistent, he brings it every day.  You see him doing extra work in the film room and weight room, those kinds of things.  You can see it on the field.  He never drops a pass.  He never makes mental errors.  He's having a great camp.
Song(s) and artist(s) I listened to the most this summer – Right now we have a thing going on the team, we're reading the 'One-Year Bible.'  That's something I'd like to say I've done.  I've gotten behind a little bit, and I'm trying to get back on pace.  I'm getting there.  As for music, I listen to a little bit of everything.  I really got into Ed Sheeran this year.  I thought he came out with good music.  I also like rap and R&B, too.
What I want to accomplish in camp – Just personal improvement every day, build up my confidence, limit turnovers.  In preseason games, just play to the best of my ability.  I want to make myself valuable to this team.
Toughest thing about training camp – The grind, getting up every morning and going through the routine can be tough.  It can be very taxing on the mind and body. Have to learn early on to get in a rhythm and a routine.  If you can do that, it makes things a lot easier, something I didn't learn for the first couple of weeks.
Most fun thing about training camp – It's just getting to know your teammates on a more personal basis and meeting the fans face-to-face.  I like the work atmosphere.  It's a part of the deal.  Another great thing is having the opportunity to meet the fans.  Some diehards are there every day, and it's just fun to converse and be around those fans that bleed blue and white.  That's what makes the state of Indiana so great, the love the fans have for the game and the excitement they have when they get to meet players and coaches.
What you know now about training camp that you didn't as a rookie** – You have to come about it with a systematic approach.  You have to do the same thing every day, develop a routine.  I have to give a lot of credit to Clyde Christensen who taught me that.
Best advice you received before entering the NFL and who gave it to you – "Never get comfortable.  Treat each day like it's your last, whether it's in the film room, weight room or practice field.  Remember, you are always being evaluated."  That was the best advice I ever got. 
The perfect meal is – Chicken cordon bleu, twice baked potato, stuffed mushrooms, with cinnamon ice cream and apple cobbler for dessert.  And if I can't get my hands on a gourmet meal, all I want is chili cheese dogs with onions, and maybe a little sushi on the side.  Quite the mix.
Who are the teammates you eat most often with in training camp and why – I like to mix it up.  The quarterbacks especially, you like to get around and meet everybody.  A lot of times, we'll sit down with the specialists and wide receivers.  We also eat with the offensive linemen a lot.  Those guys are your protectors.  You have to be kind to those guys.  I like to get around and meet people.
What is the most challenging drill for you in camp and why** – Probably the pre-practice drills that Coach Pep (Hamilton) and Coach Clyde (Christensen) take us through.  It's different drops and throws.  They have us going, 'bang, bang, bang, bang.'  It's a half-hour of tough work, but I think it's a great way of getting those motor skills going.  Those are things that become habits when you're playing in a game.
Who was the NFL player you wanted to meet the most before you made the league and why – **Peyton Manning (see 2004 story/video)** has always been a huge role model for me growing up in Indiana.  I got the chance to meet him in Hawaii while going as a fan to the Pro Bowl.  I have always been impressed with his work ethic and the way he lead his team with integrity on and off the field.