 INDIANAPOLIS – Bill Brooks is one of the most popular Colts players during the team's 29 previous seasons in Indianapolis.  As the club celebrates its 30th season in Indianapolis, Colts.com catches up with him.
Who was the opposing head coach you least liked to face – Don Shula always was a tough coach to face, and we saw him twice a year during my career.  They were prepared very well, and you know the presence he had on the sidelines.  While there were other coaches whose teams were challenging, Coach Shula's were among the toughest.  Players played for him.
What opposing player did you respect the most and why – **Darrell Green (click here for video)** for the way he approached and played the game.  Darrell worked hard, kept in great shape and played at the top of his game for many years.  He had the type of career every player wanted to have.
Who was the NFL player you wanted to meet the most before you made the league and why – **Walter Payton (click here for video)** for the way he played the game.  Walter could influence a game any time he touched the ball and when he was playing, you wanted to watch.  He was in the league a few years before I was, and I was able to share a playing field with him a time or two.  It meant something to me.  He represented his team and city well, and that was something I tried to do, too.
What was your most memorable Colts game and why – The Tampa Bay game in 1987 was memorable because the team clinched a playoff berth.  We did not win much during my rookie season.  Though we had some talent, injuries hurt us in 1986.  We played well together in 1987 and won some games down the stretch to put us in position to clinch a spot with that win.  We did, 24-6, and it was a great moment for the team and Indianapolis.  Everyone enjoyed the last few seconds running off the clock as we won.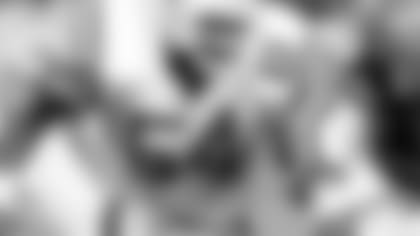 Who was the toughest teammate you had and why was he the toughest – Jeff Herrod was very tough.  He suffered many injuries but continued to play linebacker at a high level.  Jeff had a good motor and wanted to win.  I liked how he played his game.
What was the hardest thing you ever had to do in a game – For me, it was block a 280-pound defensive end.  Whenever it was necessary, I did it, but it was the toughest thing for me to do.
What was the hardest thing about playing on the road – At my position, it was hearing an audible when the fans of the home team are making noise.  You had to be sharp and alert.  You never wanted an opposing crowd to sense it was making an impact.
What was your favorite road win – It was an early-season game in 1990 at Philadelphia.  We were trying for our first win, and we trailed most of the way.  Our defense made a late stand to force a field goal, and we drove the length of the field in the last two minutes to win on a touchdown pass as time ran out.  Jack Trudeau led the drive, and we converted key plays to win.  The touchdown tied the game, and the stadium was quiet while we kicked the extra point.  To win that way on an opposing field and against a great defense was a special moment.
If you could pick three people to share a meal with, who would they be and why would you include them – Martin Luther King, Jr., Rosa Parks and Nelson Mandela.  I would like to know what was going on in their minds as they were enduring injustice.
If you could pick one historical figure to meet, who would it be – John F. Kennedy.
When was the loudest you heard the RCA Dome or Lucas Oil Stadium and what was the circumstance – In the RCA Dome, it was our playoff-clinching win in 1987 against Tampa Bay.  We had rebounded from a tough year to win the AFC East.  It was a real accomplishment, and the stadium was a wonderful environment.  It was also good for the AFC Championship game against New England in 2007.  That was a significant moment for a lot of people.  In Lucas Oil Stadium, beating the Jets to get back to the Super Bowl in 2010 was a loud time.  Fans helped make that a special moment.
What was the best prank you played on a teammate – I did not play any pranks on anyone.
What was the best prank played on you – I once answered the telephone in the locker room, and there was shaving cream on the earpiece.  It is such a basic prank, and it was before the true age of cell phones.
Who were the best pranksters among your teammates – Pat Beach was pretty aggressive.  Pat was not mean-spirited, but he was on the prowl.  I enjoyed having him as a teammate, but I kept my eyes on him.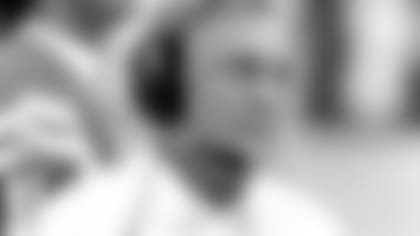 Which of your head coaches gave the best pre-game speech – Ted Marchibroda gave the best speeches.  Ted had a feel for the moment and for his team.  He could make the right points in his style and guys listened.  He was your head coach, but you had respect and affinity for him as a person.
What is the best college uniform and why – USC Trojans have great uniforms.  It is a great color scheme.  The look is traditional, and it looks outstanding in the Southern California sunshine. 
What is the best NFL uniform (other than the Colts) and why – The San Diego Chargers with the powder blue jerseys and white helmets.  That look goes way back to the AFL, but it is one of the best looks in the league today.
Who is the opposing head coach(s) you find always had his team prepared the most thoroughly – Marty Schottenheimer really had his teams prepared well.  He was a former player who knew how to motivate his teams.  He had a bunch of winning seasons as a coach, and his teams fought for him.
If you could have played under any head coach in history (even beyond the NFL) for whom you didn't play, who would it be and why would you want to play for him –* *Tony Dungy because of his football knowledge but more importantly, because of his character, and beliefs.  His players loved playing for him, and I would have as well.  I think all Colts fans know how exceptional Tony was as a coach and person.
What is your all-time favorite stadium (not necessarily in the NFL) and why** – Fenway Park, because of the history and the Green Monster.  I am from that area and grew up loving Fenway.  It is unique on the American sporting landscape.
What was your favorite team growing up and why – Dallas Cowboys.  It was my father's favorite team and we would watch football together.
Who was your favorite NFL player growing up and why – Drew Pearson (WR) of the Dallas Cowboys.  He played on my favorite team and I liked the wide receiver position growing up.  Drew also had a flair for making the key play at the big moment.  You noticed players like that.
Who is the best pure athlete you have had as a teammate in Indianapolis – Rohn Stark was an outstanding athlete.  He was strong, fast and could do everything easily.  He was a natural at everything he did athletically.
What do you remember the most about Colts fans – They were and are loyal, supportive, respectful, knowledgeable and LOUD.  We have some of the best fans in America.  They are behind you all the time, and they have grown with the team through the previous seasons.  As a former Colt, I like how this has become a great NFL city.
Please describe what you currently are doing and where you live as well as any family information you wish to include.
I currently reside in the Indianapolis area and I am coaching high school football.  I also do a little media work as a football analyst on a local TV station, along with serving on a few not for profit boards, and volunteer work.