 ANDERSON – Antoine Bethea is starting his eighth year with the Colts.  He is one of the most senior members of the squad.  With training camp underway, Colts.com catches up with him.
Most fun thing I did during the summer – I'm a simple guy.  Any time I can get together with family and friends for a reunion, we do it – parents, brothers, cousins, nephews, little cousins, friends I grew up with.  Any time we get together and laugh, joke and have fun is great.  We did it in Virginia this year.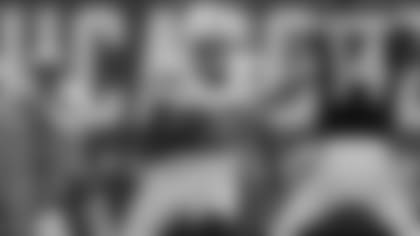 Teammate I expect to have a great camp and why – I'd say Cassius Vaughn.  Cassius came on strong last year.  Just from that, talking to him and knowing the kind of player he is, I think he's doing to great this camp.
Song(s) and artist(s) I listened to the most this summer – Jay-Z, Kanye West.  Those are my go-to guys, mainly.
What I want to accomplish in camp – As I do every year, it's just to become a better player, a better leader.  I just try to get to the point where I'm making plays and being a force back there, whether it's coming up in the box or even being a ballhawk.  It's about being a well-rounded player. 
Toughest thing about training camp – The toughest thing is being away from the family and not sleeping in your own bed.  Those are tough things.  Also, mentally you're around the guys 24-7.  Physically, it's a grind as well.
Most fun thing about training camp – There's nothing fun about training camp, nothing.  I can think all day about it, but there's nothing.
What you know now about training camp that you didn't as a rookie** – It's the same as coming in as a rookie – it's going to be tough.  It's tough mentally.  You just have to get through it.  Even as a veteran, no matter how many times you've been through it, it's continuously the same.  It's tough on your body, tough mentally.  You know it's going to pay dividends at the end.  You just have to be smart about your approach.
How to beat the heat and spend any downtime – You don't beat the heat (laughs).  If the heat's there, it's going to beat you.  As for downtime, you catch a nap or two, watch TV, listen to music and stay in the playbook.
Best advice you received before entering the NFL and who gave it to you – There were a lot of people who gave me the same advice, 'When you get your opportunity, hold onto it and don't let it go.'  I think a lot of guys in the NFL hear that.  There were plenty of people who told me that – my college coach, my parents.  It's the opportunity to do what you love, and you need to put your best foot forward every day.
The perfect meal is – I can get some homemade lasagna and garlic bread, and I'm good.  It's my favorite.  When we have a late Sunday game, I'll come home and my mom will fix her lasagna and garlic bread.  It can't be beat.
Who are the teammates you eat most often with in training camp and why – Now, it's a new crew.  My old-time buddies were Kelvin Hayden, **Marlin Jackson (see video clip)**.  They were my key guys, then Jerraud Powers.  I still have Reggie (Wayne) and Rob (Mathis).  We talk about things outside of football – families, what's going on.
What is the most challenging drill for you in camp and why – I think they're all pretty cool.  I don't see one that's more challenging than the other.  They all help you become better players.
Who was the NFL player you wanted to meet the most before you made the league and why – I wanted to meet **Ronnie Lott (see video clip)**.  He was my favorite player on my favorite team growing up.  Lott was tough, physical and intimidating to receivers.  I remember when he had part of his finger taken off so he could play in a game.  That spoke to his toughness and desire to be there for his teammates.  That's my kind of player."