 ANDERSON – Josh Chapman is starting his second year with the Colts.  He missed the entire 2012 season while recovering from knee surgery.  With training camp underway, Colts.com catches up with him.
Most fun thing I did during the summer – The most fun thing was I went down to the country (in Alabama) and just relaxed.  It was a relaxed feeling sitting out at a hunting lodge in Demopolis.  I was out by the lake and spent time with friends.  It was a couple of former teammates I played with in high school.  We relaxed, shot some guns and spent time on the property.  It's a big piece of land in the Southeast.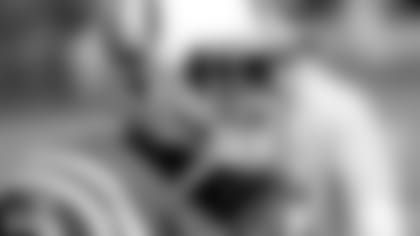 Teammate I expect to have a great camp and why – I think T.Y. Hilton.  He came into OTAs and was flying around, making plays.  He's making explosive plays.  He's a talented guy who studies.  I know I won't chase after him (laughs).
Song(s) and artist(s) I listened to the most this summer – I'm an "old-school" type of guy.  I'm always listening to Frankie Beverly and Maze, a little Johnnie Taylor.  I love Frankie Beverly.  It's been going on in our family for a long time.  You have to listen to Frankie.  It's great music – Happy Feelin's, Golden Time of Day, Joy and Pain.
What I want to accomplish in camp – I want to get out there, knock some guys back and just stopping the run.  It's something I do well.  I want to get back out there and feel the pain with the guys.  I want to contribute to the team.  I'm looking forward to the first time of putting the pads on.  I like the trenches.  Some days you want to get after it.  That's probably the mindset of any nose guard or d-lineman.  You want to get after guys.  Sometimes after those long, physical days you want to kind of back off a little bit.  With me, I like being down there, hitting and just feeling that thump.  I don't mind the hits at all.
Toughest thing about training camp – For some of the guys it's just the mental part of it.  It can get you mentally with the number of reps.  The heat can get to you.  Training camp, it's your job.  It's something you love to do.  You have to overcome the mental part with the reps.  You have to love it.
Most fun thing about training camp** – Probably it's just the camaraderie, especially in the d-line room.  It's good.  You're bonding, you're together.  It's always fun.  I don't think there is anything like that in any other line of work.  When I talk to people when their football days are over, they miss the camaraderie with their boys, catching up with them every day.  That's what people miss.
What you know now about training camp that you didn't as a rookie – As a rookie, you want to know a lot of things.  People tell you about it, but you don't know what to expect, how the meetings are going, the schedule you'll be on.  You're wondering, "What's the next thing coming?"  Now, you know.  Once you see it, you adapt fast.  Most guys adapt fast.
How to beat the heat and spend any downtime – You beat the heat by being in shape and hydrating yourself.  You have to do that.  I take the heat and put it in the back of my mind.  Where I come from (Alabama), this heat is not like the heat down there.  I'm used to blazing hot heat, but heat is heat.  The key is to prepare for it in advance.
Best advice you received before entering the NFL and who gave it to you – Something I got from a few coaches I had was to show up every day.  Every day is a business day, a work day.  You need to cherish every day.  I do that for being a professional athlete.  A lot of people want to be in your shoes.  You have to take advantage of it.  I learned that in high school and at Alabama.  You want to take advantage of every chance you have.
The perfect meal is – I'm a big man and I like to eat, so I like fried pork chops, macaroni and cheese, collard greens, mashed potatoes, cornbread and red velvet cake.  If I'm throwing it down, that's what I like to eat.
Who are the teammates you eat most often with in training camp and why – Most of the d-line, we always stick together.  You hang together.  You learn a lot about guys that way.  Guys talk about different things.  For me, it's like being a fly on the wall listening to the older guys.  It helps you a little bit.  Guys get you laughing.
What is the most challenging drill for you in camp and why – All drills are challenging, they're competitive.  Every drill counts.  Some (practice) periods people love, some (drills) you don't like.  I love the run periods.  I guess I don't like the periods when our offense gets it going.  The two-minute drill, big guys don't like that as much.
Who was the NFL player you wanted to meet the most before you made the league and why – I wanted to meet big Casey Hampton and big Vince Wilfork.  Those were two guys I always looked at playing the position in the middle, the nose guard.  I wanted to pick their brains.  What can I do?  Those guys played a long time in this league.  They were successful, guys who had the skill set I wanted to develop.  You always want to learn to better your craft.  To do that, look at guys who are great at what you do.  I thought I could learn from them.
Do you have a favorite quote?  If so, who did you hear it from and why does it mean something to you – I heard Ray Lewis and Eric Thomas, a motivational speaker, say, "Pain is temporary.  It may last for a second, minute, hour or day, but something is going to override it."  Coming off my injury at Alabama, that helped me a lot.  My mom also instilled in me, "I can do all things through Christ, who strengthens me."  It's Philippians 4:13.  That has stuck with me.  I know God won't put me through something I can't do.