 INDIANAPOLIS – In April when Darrius Heyward-Bey joined the Colts, he said he always followed his heart when making big decisions.
Five months later and on the cusp of facing his former team, Heyward-Bey still endorses the decision.
"Oh, yeah, I still feel that way," said Heyward-Bey.  "I actually had a chance to see my mom this past weekend.  She was like, 'I think you made the right choice coming here.'  I said, 'I agree.' "
The seventh overall pick in the 2009 draft by Oakland, Heyward-Bey endured three different head coaches, four offensive coordinators and seven quarterbacks, plus the owner who selected him and for whom he has great regard, Al Davis, passed away.
Tumultuous times yielded less-than-strived for results and while fond of his first NFL home, Heyward-Bey feels heading east of the East Bay is a good change of venue.
"It was a good experience," said Heyward-Bey.  "We had a lot of good times, and we had some difficult times.  I had a lot of great teammates, great coaches.  (I) learned a lot over there.
"Everybody has welcomed me with open arms.  I just keep working on my game.  I'm definitely getting better."
Darrius Heyward-Bey Career Statistics

C.Palmer/J.Campbell/K.Boller
Carson Palmer was the only quarterback Heyward-Bey played with in Oakland who had achieved a career season with 10-plus wins.  He has a budding talent like that in Indianapolis who sees a nice target.
"A tireless worker, he really is," said Andrew Luck.  "He works his butt off.  It's one of his great attributes.  Beyond that, I think he's a great football player.  He's going to really have a great season, a really special season."
Chuck Pagano is a former Raider himself, and all he has seen since April is Heyward-Bey focusing on 2013.
"The guy has been unbelievable since he's been here.  He hasn't said a word," said Pagano.  "When you talk to him, he loved his experience out there, how appreciative he is of the late Mr. (Al) Davis for taking him where they took him and what they did for him. 
"He's been here every, single day.  Every time he walks through the door, he has the right mindset as far as preparation and work ethic.  He's done nothing but just grind."
Heyward-Bey's fifth coordinator, Pep Hamilton, sees a multi-faceted weapon.
"It (is) exciting for our offense to see DHB display that run-after-catch ability," said Hamilton. "Everybody knows how fast he is and how explosive he is.  He (shows) toughness running the football.
"It's not always the deep passes down field that we expect Darrius to make for us.  We can rely on him to catch the short passes, run reverses or do whatever we need to do.  He can make something happen.  It's just another weapon for us and another way that we can feature a playmaker."
Heyward-Bey counts more than a few Raiders as friends, and he finds the teams' locker rooms about the same – a mixture of young faces and key veterans.
Sunday for him is the start of another season.  The opponent is just an opponent, even though it is one where he has warm memories. 
"I think I did some great things at Oakland," said Heyward-Bey.  "I was 25 yards (one year) away from 1,000 yards (receiving), the only person to do that in nine years.  I think that was a positive thing.  That's the way I look at it. 
"The past is the past.  I've had good times, I've had bad times.  I've grown as a man and a person.  The past is part of that.  I don't shy away from that.  At the same time, this is a good moment."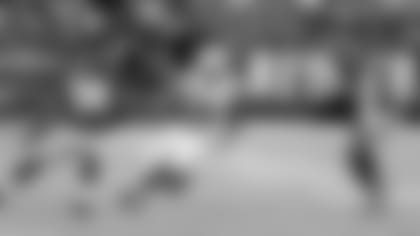 Heyward-Bey is about maximizing his future.  It is a fifth season for a player in his prime, and his heart beats well in Indianapolis.
"I'm glad I'm still in the league and I'm still starting," said Heyward-Bey.  "I think a lot of people would have thought the way they talked about me that I would be out of the league, and that I wouldn't be playing. 
"Not only do I play, but I start in this league.  What I want to accomplish is to keep getting better.  I'm 26 years old.  There's a lot more to give, and I'm excited about it.  Each day I'm happy to come to work, and I'm ready to go.  I feel good here."
ROSTER MOVES – The Colts landed LB-Cam Johnson from San Francisco for a conditional draft pick.  Johnson, 6-3, 268, was a seventh-round selection of San Francisco in 2012.  Last season, he spent the first 14 games on the 49ers' practice squad, then saw action in the final two games.  Indianapolis waived TE-Justice Cunningham.  Indianapolis added WR-Da'Rick Rogers and RB-Kerwynn Williams to the practice squad.  WR-Nathan Palmer left the club's injured reserve list with a settlement.
PAGANO SAYS – OT-Anthony Castonzo (knee) should be ready to practice on Thursday and "should make the game."  LB-Kavell Conner (ankle) is day-to-day. WR-David Reed still is going through concussion protocol.  TEs-Coby Fleener and Dwayne Allen worked Monday, and Pagano said RB-Ahmad Bradshaw will get a "certain amount of plays" on Sunday.