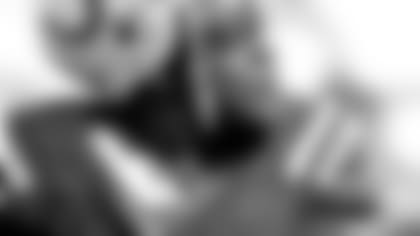 ](http://careyindiana.com/) INDIANAPOLIS –The Colts entered last Sunday's game with Cleveland having allowed 149 or more rushing yards in three straight games.
Interim head coach Bruce Arians and the staff pinpointed the need to limit Trent Richardson and the Cleveland ground attack and despite missing multiple starters and playing three linemen who had joined the team within the past two weeks, the job was accomplished. 
The Colts limited the Browns to 55 yards on 17 attempts and won, 17-13.
The Colts have faced weekly rushing tests this season in Matt Forte (Chicago), Adrian Peterson (Minnesota) Maurice Jones-Drew (Jacksonville) and Richardson, who gained eight yards while being limited to 16 offensive snaps due to an injury.
This week, the test is Tennessee's Chris Johnson, a breed of his own.  The Titans have produced the league's most 1,000-yard rushers since 1996, doing so 14 times.  Johnson has forwarded that heritage by topping the mark in all four of his seasons, ranking behind Eddie George (seven) as the leading category producers during that span. 
Johnson gained 5,645 rushing yards in his first four seasons, the 10th-best league total.  He has 30 100-yard career games, third behind Earl Campbell (39) and George (36) in franchise history.
Defensive end Cory Redding is new to AFC South divisional action, but he has seen the rivalries contested in the AFC North, NFC North and NFC West while with Baltimore, Detroit and Seattle.  Divisional games hold a particular meaning.
"It doesn't matter who it is.  It's a divisional game," said Redding earlier this year.  "If we want to be where we want to be in December, we have to take care of everybody in our division. … We just have to gear up."
Indianapolis is 3-1 at home and 0-2 on the road.  The only loss at home was a 22-17 divisional setback to Jacksonville where the Colts took and lost the lead in the last minute.  Another potential game-winning drive ended with the final gun at the Jaguars' 26.
What hurt the winning chances that day was the 177 rushing yards totaled by Jones-Drew.  Three other Jacksonville rushes combined for eight yards, and it was Jones-Drew's 59-yard scoring run early in the third quarter that cut into a 14-3 Indianapolis lead.
While the Colts did a strong job on Forte at Chicago (80 yards), Shonn Greene rushed for 161 and three scores as the New York Jets compiled 252 rushing yards in the second road outing for Indianapolis.
Prior to last week, Johnson had rushing days of four, 17, 24, 141, 24 and 91 yards.  His 91 yards came in a 26-23 victory over Pittsburgh and last week at Buffalo, Johnson rolled to 195 yards and two touchdowns on 18 rushes.  His contributions helped the Titans earn a thrilling 35-34 comeback win.
In seven career games against the Colts, Johnson has 126 rushes for 463 yards and two touchdowns.  Out of the backfield, he has 37 receptions for 246 yards and one score.  Johnson has two career 100-yard days against the Colts, one each at home and on the road.
Last year, Indianapolis limited Johnson to 34 yards on 14 rushes in Nashville, a 27-10 Titans win.  In the re-match at Lucas Oil Stadium, Johnson gained 55 yards on 15 rushes.  The Colts have been able to hold him below 60 rushing yards on four occasions and seek the same type of outing this Sunday.
Tennessee is 37-31 in Johnson's starts, 22-8 when he tops 100 rushing yards.  The Titans are 35-17 when he rushes at least 15 times.
Johnson burst 83 yards for a score last week at Buffalo, giving him 10 career scoring runs of at least 45 yards.  His total ranks third in league history (18, Barry Sanders; 13, Jim Brown).  In 35 home games, he has 82 career runs exceeding 10 yards.
Indianapolis ventures to LP Field with a 3-3 record and with a victory that followed each loss this season.  Arians spoke this week about the need to stack wins together.  There is no time better to start than this Sunday. 
To do so, the Colts will need to win their first game on the road.  With a minus-eight turnover ratio in two prior away games, quarterback Andrew Luck said the team needs to play more shrewdly. 
"I think you have to be a little more cutthroat.  Realize it's a business trip," said Luck.  "Don't get caught up in anything outside of that.  Realize it's still a football field, the end zones and 100 yards in between.  Don't stray from the game plan.  Trust each other.  Find a way to feed off an opponent's crowd as opposed to feeding off you home crowd.  (We need to) figure out how to feed off the opponent's crowd."
The Colts are just ahead of Tennessee (3-4) in the AFC South.  Houston is 6-1, while Jacksonville is 1-5.  Ten AFC teams have won either three or four games through seven weeks of action. 
The Colts were 2-4 in the division in 2011, beating Houston and Tennessee at home near the end of the season.  The last road division win for the Colts came at Tennessee on December 9, 2010, 30-28. 
The Colts look to improve on their 44-17 AFC South mark since the division's inception in 2002.  Tennessee is 0-1 this year in the AFC South with a 38-14 loss at Houston.  Tennessee's 32-29 mark in the division is second to the Colts.
A key to last week's win over Cleveland was a fast start and a rushing attack that produced a season-high 148 yards.  Arians was pleased with the start and the rushing production.  He wants to see more.
"That was huge for us.  We haven't had it this year.  We needed to get it going," said Arians.   "Once it starts going, it's easy to stay with it.  Let's see if we can do it two weeks in a row."