 ](http://careyindiana.com)
INDIANAPOLIS –As it stands right now, the Colts will not have a first-round pick in May's draft, though Friday Ryan Grigson said, "don't rule anything out."
What cannot be ruled out are the expectations Grigson and Chuck Pagano have for Trent Richardson, who joined the Colts last September in a trade for this year's first-round draft pick.
That choice, the 26th overall, belongs to Cleveland, and it was a difficult adaptation process for Richardson when he came to Indianapolis before the third game last season.
"Any time you go through what Trent went through – you play a game, wake up in one city and the next day you're waking up in a different city, and enter a new building and having to learn a brand new offense and learn the terminology (it's tough)," said Pagano.  "He's probably learned all the same plays as far as the runs, protections and pass routes, but it takes some time. 
"We've got a volume of calls and concepts.  Having a full year and having an off-season is going to do nothing but benefit Trent."
A season-ending injury to Vick Ballard after week one helped trigger the trade, and the first game Richardson played with Ahmad Bradshaw resulted in Bradshaw suffering a year-halting neck injury.
Richardson rushed 157 times for 458 yards (2.9 average) and three scores, starting 10 games before giving way to Donald Brown for the remainder of the season.
Richardson was learning a third offense in a short time after being Cleveland's top 2012 choice, and this off-season is a big time for Richardson to develop.
"Trent expects what we expect, and that's greatness," said Grigson.  "He's always been at the top of the rung every time he's played.  He knows this is the NFL and it's a bottom-line business."
Grigson confirmed Richardson has undergone recent shoulder surgery but "he's going to be fine."  He will be under the microscope from observers with the plans the Colts have for him in 2014.
"We're all on the same page," said Grigson, who added Friday he would make the trade again if provided the chance.  "We all have expectations for Trent and he has expectations for himself, and they're for him to be great.  I think he's in a great place, and we're in a great place with him.  
"We're looking forward to having a great offseason with him.  We have the bar set high.  There's room for improvement like I can say for anyone, but there are areas in Trent's game where he did show up and help us in key situations."
Richardson had one 20-carry game and carried the ball 10-plus times in seven outings.  Only once did he average four yards per carry in a game, and he did display versatility with 28 receptions and one touchdown.
"There's obviously the big magnifying glass on him every week, but we see positives," said Grigson.  "We watch the tape, evaluate and look under every nook and cranny (at) how a guy is progressing.  He's going in the right direction.
"(The) overall feeling is he's a tough, good talented football player that has a broad skillset that's still learning what we do.  We're still optimistic about his future."
Pagano dismissed a query if Pep Hamilton's offense provided such a challenge that it stunted Richardson's progress.  Still, there were about 200 route concepts he had to consume in learning the offense largely on the fly.
"We think the sky's the limit for Trent," said Pagano.  "This will be a very important offseason for him and for everybody on our roster.  I look for great things from Trent.  Trent looks for great things from himself.  There are high expectations not only from us but (what) he has for himself."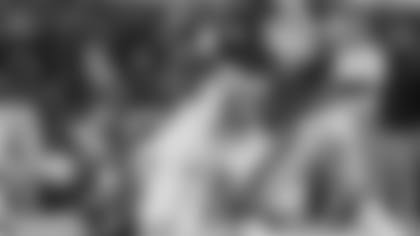 NOTES – Pagano said Friday there would be no concerns with Missouri defensive end Michael Sam if he were to join the Colts.  Sam announced recently he is gay.  Pagano said the close-knit nature of the club's locker room would not be affected.
"I love the environment, the culture we've created," said Pagano.  "We have an outstanding locker room.  
"The Colts never have and never will discriminate based on sexual orientation.  We look at the player.  We'll evaluate him just like we evaluate everybody else.  If he can help our team, help us win football games, he'll be more than welcome."
GRIGSON ON SAMSON SATELE – Perception from many outside observers has focused on the interior offensive line, and Grigson today was asked about the future of center Samson Satele.
"It's an evaluation process, and we have a plan in place," said Grigson.  "We're not going to divulge that to anyone, but we're taking all the time and due diligence and the film work.  It's something for the organization to know and (others) will find out at some point."