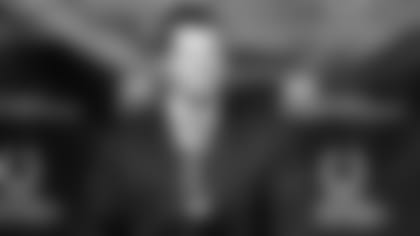 INDIANAPOLIS** – The NFL truly never has an off-season.  The football calendar is just divided between the playing- and non-playing seasons.
Ryan Grigson has completed 13 prior NFL seasons with St. Louis and Philadelphia, so he has been through this process many times before and surprises long ago have been eliminated from the mix for him.
Grigson is starting his seventh week as general manager of the Colts.  It has been a busy and productive time.  Along with Owner and CEO Jim Irsay, Grigson identified and landed Chuck Pagano as head coach.
He and Pagano described as 'Job One' the task of putting together an assistant coaching staff.  The duty was completed last week, and the 18-member staff of assistants is replete with 15 new faces.  The next duty on Grigson's agenda is the annual NFL Combine that runs in Indianapolis from February 22-28.
Grigson is an energetic and intelligent person who thrives on activity and challenge.  It is something that has marked his career.  He and the personnel staff already have been immersed in draft preparations, and he is looking forward to this week.
"It's just exciting to dive back into the college evaluations," said Grigson, who spent a good deal of the 2011 season scouting for Philadelphia as director of player personnel.  "I feel I have gotten to know our team pretty well now by watching tape and doing the evaluations and looking at our team as a whole.
"Now that the scouts are in, we're looking at our (draft) board, watching the film and looking at players across the country.  I saw more than 400 players during the fall.  It's nice to hear the different opinions and hash things out with the scouts.  Now, you get to see them in person (at the Combine).  It's exciting to do this and go down this road as a general manager."
The Combine attracts about 325 of the top prospects to Indianapolis for medical, personal and physical evaluations attended by each team.  A great majority of the evaluation process was done by attending live competition in the fall and while draft boards are being pieced together by teams across the league, this week provides another component to the scouting process that will be culminated in late April with the NFL Draft.
"It's basically a big interview process.  These players are auditioning for a future job," said Grigson. "The Combine is a good place to meet them.  The interview process is very important to this.  You get all the numbers and see how prospects compete.  You love to see how fast players can run, too.
"To me, the real meat of this thing that we're (personnel staff) doing is in the (draft) room – the film evaluation and listening to how the scouts see players and lining them up on the board based on pure ability."
Grigson held the top personnel spot with Philadelphia over the last two seasons.  He now is in charge in Indianapolis, a task which excites him.
"There is more pressure with me leading this charge, so to speak," said Grigson.  "I like that.  I think I do my best under fire.  I always have.  It just sharpens your sensibilities, your senses and your eyes.
"We want to try to get starters in every round.  That's the goal.  I firmly believe that is what we have to shoot for.  You have to out-scout people.  You have to out-work people.  You have to watch more tape than the next guy.  Each scout has to know his territory better than the next person.  You have to have an eye for talent.  You have to also know if a player is talented and if he will fit in the vision we have and the direction we're going to go."
Grigson is ready for the week's work at hand.  He is pleased with the coaching staff in place and how it fits with the vision he shares with Irsay and Pagano.
"We only had people who had good reputations as coaches and individuals.  We wanted men that had a great fundamental foundation in football and technique," said Grigson.  "Everything comes back full circle in terms of fundamentals.  If you hear a great coach in any sport, you hear them speak on fundamentals.  That's true across the board.  Once you lose sight of fundamentals no matter how talented the player is, he's going to have problems.
"That was one prerequisite we had – that they were all teachers who have a strong base in teaching how to play the game and could instruct the intricacies of how to play at the highest level.  They have to convey the techniques necessary to excel at every position.  We did our homework and when we sat with them, we saw they shared the innate vision we had for our program.  You didn't have to draw it from them, it poured right out.  You could feel it.  It was tangible.
"You build foundations with pillars, and these coaches are pillars.  We have one belief system in how to be great as a complete unit.  These guys want to be great, but only if it is being great together.  It is how we are going to build our culture."