 INDIANAPOLIS – Born in bred in Indiana before the sport he loved took him elsewhere, the Colts' top personnel chief, Ryan Grigson, has seen football passions run deeply in his time.
Grigson play at Highland High School before embarking on a football career at Purdue that ended with him being a team captain his final season.
Grigson was a 1995 draft pick by Cincinnati and after a brief playing career, personnel work took him through other leagues and a different country before he landed with St. Louis in 1999.
Now in his 15th NFL year, Grigson has matured in the sport and upon returning to Indiana in January of 2012, he has learned about the football culture locally.
"It is one that is used to winning and used to having a product on and off the field we can all be proud of," said Grigson.  "Growing up in the Midwest and moving back here a couple years ago, my family and I were reacquainted with Midwest values.  Just how hard people work in this great state and city as a whole, not to mention the hospitality we experienced moving here, really made an impression."  
Grigson visited Indianapolis annually as part of the Combine.  He saw how the city took to its team before he came on board. 
He knows the close relationship between the Colts and their fans exists because of the care the organization took in ensuring values in the building matched those throughout the state.  It is a bedrock that will not change.
"I feel we will continue to develop a special bond with our fans in and around the state because our identity as a team is one founded on hard work and character with the true expectation of success," said Grigson.  "When our players or fans wear the horseshoe, it should symbolize all those great qualities and more."
In going 11-5 last year, the Colts won their last six home outings.  Establishing excellence at home is one of the team's missions, and it helps create one of the league's most nettlesome venues.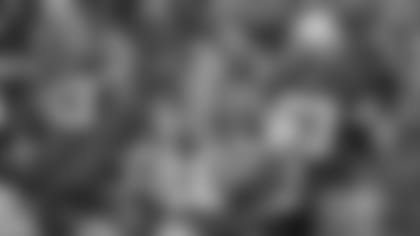 "I think it is, and I know we have the best fans in the NFL," said Grigson.  "We need them every week to cheer on this team and give them the encouragement they need to win.  I've seen it time and again throughout my career that the 12th Man is so critical in key situations to a team's success. 
"Our goal and our fans' goal should be to win every game at home and make Lucas Oil Stadium a place that is unparalleled in the entire league when it comes to energy and passion in the stands.  It's something you can feel, and I know the players feel when it is at a peak level.
"We will strive every day to not only meet our fans' expectations but to exceed them.  We take it very seriously."
As the season starts today, Grigson has his message for fans:
"First of all, I thank all of them for their support and belief in what we are working to accomplish," said Grigson.  "We brought a whole new attitude, philosophy and a lot of new faces to Indy last year, and the way this city embraced us and this team has gone a long way in terms of our growth and development as we work every day to reach our ultimate goal.  
"The last thing I'll say is just like we want our players to be upstanding citizens and carry themselves off the field in the proper way.  When they step on that field we expect them to flip a switch and play until they have nothing left in the tank.  
"I expect our fans to have that same mentality.  When they walk into Lucas Oil Stadium, we want them to flip the switch and become the loudest most passionate fans in the NFL, the type of fans that when a visiting team leaves they not only left with the deep impression of how hard our players played, but how hard our fans cheered them on."