 ](http://careyindiana.com)
INDIANAPOLIS – Gary Brackett joined the Colts as an undrafted free agent from Rutgers in 2003, reaching Indianapolis in an unheralded manner and departing as one of the most popular Colts ever.  Brackett started 86-of-116 games at middle linebacker, and the motor and desire he packed in his 5-11, 235-pound frame was giant.  Brackett (754) is one of six Colts from the Indianapolis era to amass 700-plus career tackles.  He was voted a captain by teammates from 2006-10, a span that included both Indianapolis Super Bowl appearances.  Brackett was a part of 89 regular-season victories, just missing the handful of players in the club's 60-plus years that played in 100.  Brackett also was a 15-game playoff participant, a total that ties for 10th-most in franchise history.  Brackett looks back on his career:
Who was the opposing head coach you least liked to face?
The coach I would pick would be Rex Ryan.  I didn't like his attitude.
What was your favorite road stadium to play in and why?
I liked playing in Tampa Bay.  It was open air and fresh grass, and we had a great win there in 2003 on Monday Night Football.
What opposing player did you respect the most and why?
I would have to say Tom Brady.  We played him so often, and he was so clutch under pressure.  You have to be sharp against him, and you could never count him out.
Who was the NFL player you wanted to meet the most before you made the league and why?
I would pick Ray Lewis because he transcended the linebacker position.
What was your most memorable Colts game and why?
My most memorable was the 2003 preseason game against the Seahawks.  It was my first game running out of the tunnel as a starter.  I'll never forget it.
Who was the toughest teammate you had and why was he the toughest?
Rob Mathis was tough.  He played though a lot of pain and played at a very high level.
What was the hardest thing you ever had to do in a game?
For me, the biggest problem was covering wide receivers.
What was the hardest thing about playing on the road?
Being away from my family was the hardest thing for me.
What was your favorite road win?
What did your jersey number mean to you?
It was the only one they had left.  Players make numbers not the other way around, in my opinion.
If you didn't wear your favorite number, what number would that has been and why did it mean something to you?
My number in high school was 32.  I couldn't wear it in the NFL at my position.
What was the most fun thing about training camp?**
What was the toughest thing about training camp?**
Two-a-days in pads were the hardest.
What advice would you give to players heading into the NFL?
Cherish every moment of your career.  It doesn't last forever.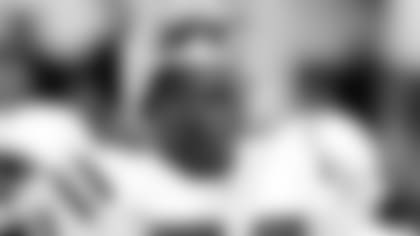 If you could pick three people to share a meal with, who would they be and why would you include them?
Cato June, David Thornton, Robert Mathis.  We all we got.  It felt like we grew up together.
If you could pick one historical figure to meet, who would it be?
Dr. Martin Luther King, Jr., a humble man who was so inspirational.  He changed the world with his 'I Have a Dream' speech.
When was the loudest you heard the RCA Dome or Lucas Oil Stadium and what was the circumstance?
What was the best prank you played on a teammate?
As a captain at home games, we would get newly-elected captains to go out and yell, 'Heads or tails,' at the coin toss.  The only thing, it was a home game and the other team got to choose, not us.
What was the best prank played on you?
I printed out pictures and hung them in the locker room.
Who were the best pranksters among your teammates?
Peyton Manning, Robert Mathis.
What was the best overall prank you saw pulled?
Special Teams Coach Ray (Rychleski) being wrapped up in plastic wrap in the courtyard as we were leaving training camp was the best prank I saw.
Which of your head coaches gave the best pre-game speech?
Tony Dungy, a man of dignity.
Which of your teammates gave the best pre-game or locker room speeches?
Do you have a favorite quote?  If so, what is it and why does it mean something to you?
Mine is, 'It's not the size of the dog in the fight, but the size of the fight in the dog.'  As an undersized linebacker, I knew I had to be aggressive in order to get respect.
What is the best college uniform and why?
It is Rutgers University.  The new Unis are fire!!!
What is the best NFL uniform (other than the Colts) and why?
The Atlanta Falcons are sharp.  It's ALL Black Everything.
Who is the opposing head coach(s) you find always had his team prepared the most thoroughly?
Bill Belichick.  He had his teams ready to play when we met.
If you could have played under any head coach in history (even beyond the NFL) for whom you didn't play, who would it be and why would you want to play for him?
What is your all-time favorite stadium (not necessarily in the NFL) and why?
The RCA Dome is my favorite of all-time.  There were good memories there.
What is the greatest sporting event or individual performance outside the NFL that you saw in person?
Butler almost pulling off the upset in the championship game against Duke.
What was your favorite team growing up and why?
Mine was the Philadelphia Eagles.  You usually cheer for the team you're closest to when growing up.
Who was your favorite NFL player growing up and why?
Reggie White.  He came to our school and spoke, and I thought it was the coolest thing ever.
Who is the best pure athlete you have had as a teammate in Indianapolis?**
Pierre Garcon.  Pierre was physical and fast.
What do you remember the most about Colts fans?
How good they were to the players.   They made playing for Indianapolis a real TREAT.
Please describe what you currently are doing and where you live as well as any family information you wish to include.
I am currently in Carmel, IN.  I live with my wife, Ragan, daughter, Gabrielle, son, Gary Jr., and we have one on the way.  I'm currently back in school at George Washington getting my MBA, and I co-own a restaurant called the Stacked Pickle in West Carmel.