INDIANAPOLIS — Pro Football Focus is a popular website for people to gather specialized statistics on the game of football and to get a gauge for how teams and players perform. However, did you know they've been churning out their famous grading system since 2006?
With the amount of success the Indianapolis Colts have experienced in the last 20 years, they certainly have a presence on the list — including two players in the top 25 — with a surprise player grabbing the Colts' top grade: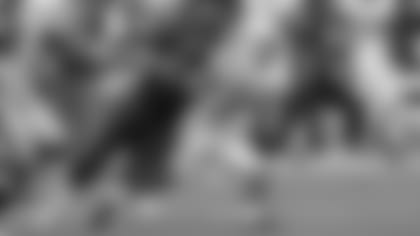 No. 92. (Grade of 95.7) LINEBACKER GARY BRACKETT
2007, Week 3 — Colts 30 @ Houston Texans 24
"The former undrafted free agent shone in coverage throughout the 2007 season, and his Week 3 game was the crown jewel of that great year. He was targeted three times on the day; he allowed one catch for six yards and he recorded an interception and a pass breakup. He capped off a career game by adding a hurry from a blitz and two additional defensive stops against the run."
Fresh off the Colts' Super Bowl XLI victory, the team was performing at a high level, winning its first two contests of the season leading up to this division matchup.
Gary Brackett, the Colts' leader in the middle of the defense at MIKE linebacker, played like a man possessed in Houston. He forced a third-quarter fumble on Texans running back Samkon Gado, which was recovered by the Texans. Regardless, the Texans punted two plays later with the Colts up, 24-10.
After forcing Houston's previous hiccup, Brackett then intercepted an errant Matt Schaub in the red zone on the first play of the Texans' next drive, returning it 26 yards back to the Colts' 29-yard line. Colts kicker Adam Vinatieri would then kick a 28-yard field goal at the end of the ensuing drive to make it 27-10.
Brackett's official statline for that game was nine tackles, one forced fumble, one interception and one pass breakup en route to a Colts victory.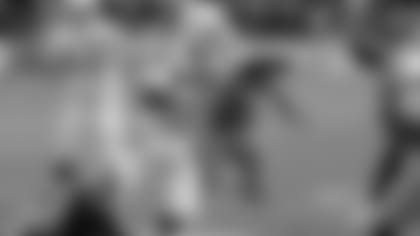 No. 55. (Grade of 96.2) QUARTERBACK PEYTON MANNING
2006, Week 13 — Colts 17 @ Tennessee Titans 20
"Sometimes, there really is no place like home. And that rang true in Manning's Week 13 road battle against the Tennessee Titans. The former Tennessee Volunteer — one of the greatest to ever do it — completed 21-of-28 pass attempts, and he racked up 351 passing yards, one touchdown and an impressive six big-time throws on the day."
You knew "The Sheriff" would be on here at some point. Unfortunately for the Colts, though, this game is more known for the late Titans kicker Rob Bironas drilling a 60-yard field goal with seven seconds left to win the game. But for the sake of this article, it was another gem by Peyton Manning.
Manning's stats in this matchup weren't gaudy, but they were very efficient Completing 21-of-28 passes (75.0 percent) for 351 yards and a huge 12.5 yards per attempt. He only tossed one touchdown compared to two interceptions, but he hit on 10 passes of at least 10 yards including a pair of 60-plus-yard throws to Marvin Harrison.
Although the Colts took the loss in this game, the Colts would go on to win the Super Bowl later that season.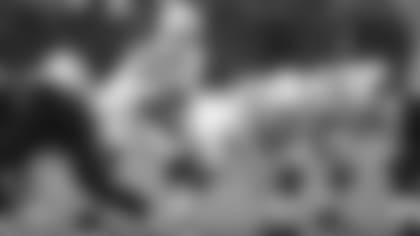 No. 23. (Grade of 97.2) QUARTERBACK PEYTON MANNING
2007, Week 14 — Colts 44 @ Baltimore Ravens 20
"Manning received just one downgrade on his 35 offensive snaps, and he completed 13-of-17 pass attempts for 249 yards, four touchdowns, three big-time throws and zero turnover-worthy plays."
The Ravens and their vaunted defense weren't the most consistent of teams a year after losing to the Colts in the Divisional Round of the AFC playoffs, but the Colts delivered an especially serious beatdown on this day.
Behind Manning's four touchdown throws and a near-perfect passer rating (157.5), the Colts controlled this one start to finish. They jumped out to a 23-0 lead after the first quarter and led 44-7 going into the fourth before the Ravens finally strung together a couple of scores.
Manning only threw 17 passes, but he completed 13 of them (76.5 percent) for 249 yards and a 14.7 YPA. Then-second-year running back Joseph Addai added a couple of scores of his own on the ground as well as one from Manning through the air.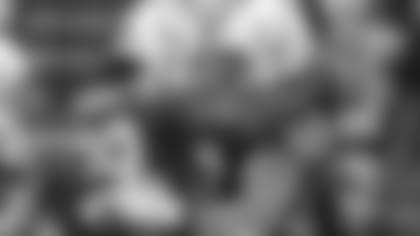 No. 19. (Grade of 97.4) GUARD RYAN LILJA
2006, Week 12 — Colts 45 vs. Philadelphia Eagles 21
"The Colts left guard put on an all-around great display in this one. He kept a completely clean slate on his 21 pass-blocking snaps and dominated his run-blocking assignments to the tune of a 93.9 run-blocking grade."
Raise your hand if you thought the highest-graded game by a Colts player in the PFF era would be by a guard, and it wasn't Quenton Nelson. Nobody? OK.
Ryan Lilja was one of the Colts' most dependable options at left guard for the Colts, years before Nelson would step foot on an NFL field. Lilja was an excellent lineman in his own right, one of the stalwarts of the mid-2000s Colts offensive line that opened running lanes for Edgerrin James, Dominic Rhodes and Addai as well as helping keep Manning upright.
On this day, in front of a national television audience on Sunday Night Football, the Colts kept Manning unscathed and on his feet. They also ran the ball 41 times for 237 yards. The rookie Addai was the star of the show, running for four touchdowns and totaling 208 yards from scrimmage. Lilja was absolutely a key piece of an offensive front that dominated the game.