For Trey Mock, Playing a Mascot is No Laughing Matter
He's made you laugh. He's made you gasp. And on occasion, he's maybe even made you cry. The start of this season marks 10 years for the Colts' mascot, Blue. And while a decade is a major milestone, for many fans, it feels like Blue has always been a part of the Colts family. A sign of just how successful he's been at building his identity.
His office is a furry suit. But for Trey Mock, the man behind Blue, playing a mascot is a job he takes very seriously.
"I guess the best way to describe it is an ambassador. A furry goodwill ambassador," he says. "My job is not to win games. My job is to try to affect the environment to help us win games."
Trey Mock doesn't just play Blue. Mock conceived Blue and then brought him to life. From the sketch he drew, to the suit he sewed, to the personality he put in it.
"Really what Blue is, is just my personality wrapped in fur. So, you really are seeing me when you see Blue, " he says.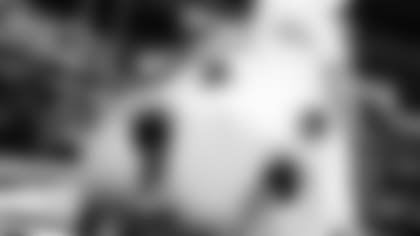 But when he's in costume, there's only one guy Mock wants you to see.
"If you can tell there's a dude in the suit, then it's not really doing the job. If you can make people forget that, and make the character stand out, and make the character seem living and breathing, then you've really succeeded."
By that measure, Mock has succeeded with flying colors.
"That's really a testament to the Colts as an organization, to the Irsays as a family, because they're so committed to being in the community that they said, 'Hey, what's missing is a mascot and a mascot who can go and do school shows and can do all these events to be everywhere because players can't be everywhere," Mock says.
And it's also a testament to the guy who makes it happen. Outside of playing a mascot, Trey Mock is just your average family guy.
He and his wife Alison, a former Colts cheerleader, have a two-year-old son, Gunnar. And they're expecting a girl early next year.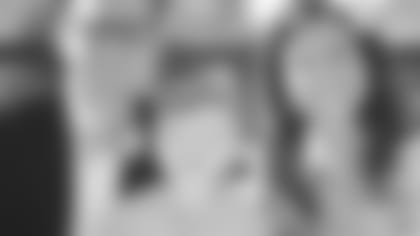 And in case you're wondering how one becomes a mascot, Mock first stepped into costume in college, where he played Aubie the Tiger at Auburn. It was a springboard into the NFL, where he played Freddie the Falcon and Billy Buffalo before interviewing with the Colts (yes, mascots interview too).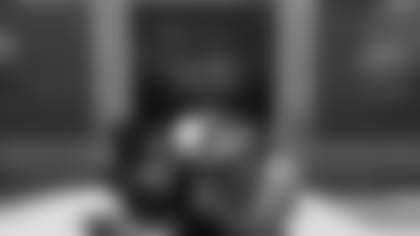 "The connective tissue between what's on the field," he says. "Because you can't go up and hug Andrew Luck all the time. I think a lot of us would like to. But, you can hug Blue. So, I think Blue is kind of the middle man between fans and the team."
And when it comes to hugging, he's got a rule.
"I never let go first. You don't know what that person is dealing with and how much of a hug they need."
Andrew Luck may be the face of the Colts franchise.