HOUSTON —The Indianapolis Colts improved to 3-6 on the season on Sunday with their 20-14 victory over the Houston Texans at NRG Stadium.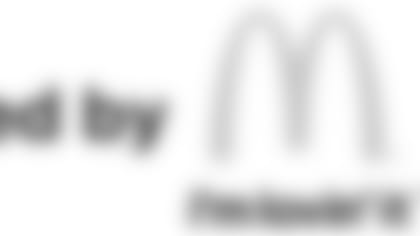 ](https://twitter.com/myindymcdonalds)The Colts never trailed in Sunday's game, but it took a final stand by the defense to escape with the victory, as outside linebacker Jabaal Sheard stripped the ball from Texans quarterback Tom Savage on 4th and Goal from the 7-yard line as time expired. The Colts' Barkevious Mingo fell on the football, and the Horseshoe flew home a happy bunch, having earned its first road victory on the season, as well as its first victory in AFC South Division play.
"They found a way to get it done today," Colts head coach Chuck Pagano said. "Really, Really proud of this football team, proud of the coaches. Guys did a great job. They kept their head down, and they kept working. Blocked out all the stuff they needed to block out Our vets came through, and again it came down to every last second to get that win."
Here are FIVE THINGS LEARNEDfrom Sunday's victory over the Texans:
• HILTON'S HEROICS:After Indy's one-point road loss to the Cincinnati Bengals last week, we talked in this space about how the Colts go as their No. 1 wide receiver, T.Y. Hilton, goes. After that Bengals game, Hilton had caught just five combined passes for 51 yards in his team's previous three games — all losses. On Sunday against the Texans, however, it didn't take long for Hilton to make his mark — and then he just exploded even more from there. Hilton blew by the defense and caught a 45-yard touchdown on the Colts' opening drive of the game, and then in the third quarter, he reached the end zone again, this time from 80 yards out, on a play in which he dove to the turf around the Houston 35-yard line, but his diving defender was unable to even get a finger on him, so he got up and was able to jog it in from there. Hilton finished his day with five catches for 175 yards and those two aforementioned scores, and his team got the win. Coincidence? I'll leave that up for you to decide.
• SHEARD SACKS, SHEARD SAVES:Jabaal Sheard made life miserable all afternoon for Savage, who is playing in place of rookie Deshaun Watson, who was having a sensational year (leading the league with 19 touchdown passes) before he suffered a season-ending ACL tear during a non-contact drill in Thursday's practice. Sheard finished his day with four tackles, two sacks and four quarterback hits, and both of his sacks resulted in forced fumbles. His second sack/forced fumble, of course, was the aforementioned game-clincher, as he fought an initial block from left tackle Chris Clark and quickly found Savage from his backside, pushing the ball out and into the waiting hands of Mingo to seal the victory. Sheard now leads the team in sacks (4.5) and his two forced fumbles is tied with safety Darius Butler for the team lead. His 10 quarterback hits are second to fellow outside linebacker John Simon, who has missed the last two games with a stinger.
• BEND BUT DON'T BREAK:For a second straight week, the Colts' defense, for the most part, played solid overall football on the road. After a 27-0 shellacking by the Jacksonville Jaguars in Week 7, the response has been notable by this unit. On Sunday against the Texans, the Colts' defense, which was fully preparing for Watson's dynamic skillset all week before he suffered his injury, had to abruptly change its strategy and get a crash course in Savage's game, and they would end up knocking down 10 of his passes, sacking him twice, hitting him eight times and only allowing him to complete 43.2 percent of his passes (19-of-44 for 219 yards and a touchdown). The Indy defense was also terrific on third downs, allowing just 4-of-14 conversions, and limited the Texans to just 94 yards rushing. And while the Texans gashed the Colts' defense on the final drive, getting all the way to the Indianapolis seven-yard line with three chances to earn a game-winning score, Sheard made sure his teammates' plane ride home would be a happy one. In the end, that's all that matters.
• PHYSICAL CORNERS:The Colts announced shortly before taking off for Houston Saturday afternoon that No. 1 cornerback Vontae Davis would not play against the Texans, and Pagano said after Sunday's game that it was a coach's decision. So that moved No. 2 cornerback Rashaan Melvin — who missed the Bengals game with a concussion — to the top cornerback spot, while fourth-year veteran Pierre Desir got a second-straight chance to be the No. 2 guy. Against DeAndre Hopkins and Will Fuller V — who each came into the contest with a league-best seven receiving touchdowns on the year — that task can be pretty hefty, but Desir answered the call, finishing with three tackles and a game-best three passes defensed. Nate Hairston, the team's nickel cornerback, continued his solid rookie campaign, meanwhile, finishing with three tackles and a pass defensed on a play in which he absolutely rocked Hopkins across the middle. Hairston, who already has two sacks this year, also came close to notching a couple more on Savage, and has proven to be very effective on the blitz for Ted Monachino's defense.
• MILESTONE WATCH:Here are some key milestones reached by the Colts' players during Sunday's victory:
— Quarterback Jacoby Brissett completed 20-of-30 passes for 308 yards and two touchdowns, and his 122.6 passer rating is a career best. His 80-yard touchdown play to Hilton was his longest-career pass and is the longest pass by a Colts quarterback since Andrew Luck had an 87-yard touchdown play against the New Orleans Saints on Oct. 25, 2015.
— Wide receiver T.Y. Hilton's 175 receiving yards is the third highest for a regular season game in his career. He is also now tied with Antonio Brown for the most 150-yard receiving performances in the NFL this season with three, and he topped the 100-yard mark for the 27th time in his career.
— With his extra point on the Colts' first touchdown of the game, kicker Adam Vinatieri passed Gary Anderson (2,434) for the second-most points scored in NFL history. He also hit a 53-yard field goal early in the fourth quarter and is now 4-of-4 from 50-plus yards this season and is 8-of-10 from that distance over the last two years.