 ](http://careyindiana.com)
INDIANAPOLIS – Eric Dickerson and Marshall Faulk will be inducted into the Colts' Ring of Honor this Sunday.  Dickerson joined the Colts in a trade on Halloween Night of 1987, and he provided treats for Colts fans for five seasons. 
In 61 games with the club, he rushed for 5,194 yards and 32 touchdowns on 1,258 attempts and had 138 receptions for 1,082 yards and three touchdowns.  **Dickerson (click here for Hall of Fame tribute video)** had three rushing titles with the Rams (1,808, 1983; 2,105, 1984; 1,821, 1986) when he joined Indianapolis in a three-team trade also involving Buffalo.  The blockbuster trade landed Dickerson in Indianapolis, while the Colts sent LB-Cornelius Bennett (their 1987 top pick) to Buffalo.  The Rams got six draft picks (three each from the Colts and Bills) and two players.  Dickerson added a fourth rushing crown with 1,659 yards in 1988, becoming the second Colts player to do so.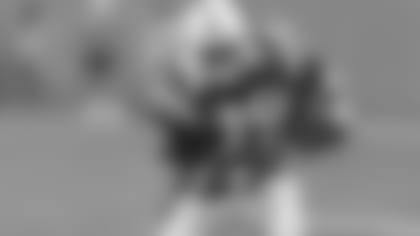 Dickerson left the Colts after the 1991 season, playing then for Oakland and Atlanta.  He retired after 11 seasons with 13,259 rushing yards and 90 touchdowns, 281 receptions for 2,137 yards and six TDs for 15,396 scrimmage yards
Dickerson was inducted into Pro Football Hall of Fame in 1999, and he receives a cherished honor in Indianapolis this weekend.  Dickerson talks about his days as a Colt (part two):
What are your memories of Jim Irsay and what are your thoughts about him as an owner?
Jim has done a great job with that team over the last 15 years.  He got Peyton Manning, and the things he's done with that organization it reminds you of the Colts of old.  As a kid, I heard of the Baltimore Colts.  They had that horseshoe on the helmets then and they do now.  It means a lot to us (players and fans) to this day.  It starts at the top with an organization.  It's not all the players, the good organizations start at the top.  It's drafting the right players, aligning them right, putting them in the right situations, trying to keep guys as happy as you can.  You're not going to keep every guy happy.  It's not going to work.  I think they've done a good job with that, even recently, after losing Peyton and having Andrew Luck come in.  They've made some smart moves.  I give Jim a lot of credit.  The people he has in place, that's what it takes.  Jim can't do everything.  You have to have people who know football.  Jim does, and he has excellent people who help him.
How closely have you followed the Colts since you retired, and do you identify yourself with the team in any way?
I follow them closely.  I watch the **Rams (click here for highlights)** and the Colts extremely closely.  Those are the teams I identify myself the most with.  I'm not a big 'football watcher,' but if they're on I'll watch them.  I pull for them and want them to do well because I played for those teams.  You always want for your teams to do well.  Even if it goes back to high school and college, if you wore that uniform it's your team.  I've always pulled for the Colts, and I've always pulled for the Rams.  I pull for my high school (in Sealy, Texas) and the (SMU) Mustangs.
When you look back on images of your career, what do you think when you see pictures of yourself in a Colts uniform?  Do you still like that look?
(Laughs) I think it looked very good on me.  At my house, I have some pictures of me in uniforms.  One of my favorite ones is the first game I showed up with the Colts and we played the Jets.  It was my first carry with the Colts.  I still had my goggles that I wore with the Rams and they had the yellow tape I wore with them **(click here for highlights, including yellow tape on goggles)**.  It's one of my favorite pictures – that first carry.  I have one other picture of us in the all-white uniform.  I really like how it looked.  It's a very distinctive uniform.  You can't confuse it with any other uniform, especially with that horseshoe on the helmet. 
Did you have particular run that means something to you?
Yes, I do.  It was in that Monday Night Football game against Denver.  It was a run up the middle, and I was able to run away from the defenders and went 41 yards for the touchdown.  I don't know why that one sticks in my mind.  I've had several runs, but that one showed the speed I had and how the line opened the hole up, and I hit it perfectly.  Not many plays come together like that, and it gets back to the team aspect where 11 guys did their jobs.
You had 159 rushing yards and four touchdowns and only played 19 minutes.  It was the first Monday Nighter in the Indianapolis era and it was on Halloween.  You have to remember that magic – a 55-23 win, right?**
I do, and I begged Ron (Meyer) to let me keep playing.  He said, 'No, no, no.'  I was like, 'C'mon, coach.'
What is your message to Colts fans?
What I say for all the Colts fans, was that we played in a different time and the Colts are a different team now.  I wish I had played with Peyton Manning.  Oh, my, it would have been great.  When I look at how Peyton played and how Andrew Luck does now, if I were with them and was back in my 20's, it would be like stealing.  I'm very proud of the Colts.  I'm happy for the organization, and I think fans should be proud of that organization.  They've done a great job for the fans, and it's really for the fans.  The Colts have done a great job of molding that team into one of the top organizations in the league.  That's what it's all about, being on top.  If you start naming the top organizations, if they're not one, two or three, they'd have to be fourth or fifth.  They're near the top.  I want the fans to understand how Jim has done a great job of bringing a product to Indianapolis they can be proud of.
PLEASE SEE COLTS.COM FOR PART ONE WITH DICKERSON.