Coming off a season when injuries nagged him, and a season before when an injury sidelined him, he's also launching a TV show, serving as a player rep for the NFL Players Association, and at the back of his mind, the uncertainty of a new contract looms.
So, how does a guy like Dwayne Allen deal with all of that? The only way he can.
"I'm glad everyone is noticing my physique. Because I've worked hard on this body," he joked at training camp.
But it's no joke. Allen has lost 13 pounds and is down to 255 pounds. A comfortable playing weight, he says. And he feels better. A lot better.
"You can stay healthy, but not feel healthy. That's the way it was my rookie year. I was healthy, but the hips did bother me a bit. And now so far, so good. I've been able to get out there, run around, compete, and not have any problems out of any part of my body so far."
And with added competition from star players like Andre Johnson and Phillip Dorsett, Allen knows there are only so many balls to go around – and that it's up to each player to create his own opportunities.
"Guys who are the fifth, the sixth, seventh, eighth wide receiver or the fourth, fifth, sixth tight end understand that they get the opportunity this preseason to showcase their ability, not only for the Colts, but for the rest of the National Football League. So, we're all encouraged to go out and get better each day. To work our craft and get better as a football player and not to just run plays and understand plays, but evolve as a player."
Evolve is a good word for Allen this season. It started in the offseason, when he took some time away in Arizona to get his body, his mind, and his emotions right. And it continues into training camp, as he finds new ways to make himself valuable to his team and his teammates.
"The health concerns are the least of my worries. Like I said before, worry number one is making sure enough balls come my way. So, I have to stay on the field and keep that chemistry with Andrew."
That which will determine the most for Dwayne Allen is that which he has the least control over. And that's when his beyond-his-years wisdom and maturity come into play.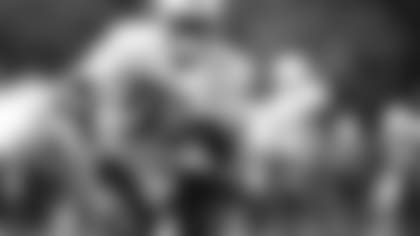 "My role is pretty much the same. I'm a guy who can play all three downs, who will play all three downs, who can also help out in the pass protection game, the run blocking game, but stretch the field and that's the way I've been utilized so far this camp. We'll see as we begin to game play for different teams in preseason and regular season, how that role actually plays out."
Physical, mental, and emotional strength is all Dwayne Allen can ask for. It's what he put all his time and energy into in the offseason. And in the end, it's all about one thing.  
"Our ultimate goal is to be in Santa Clara and hoist a Lombardi at the end of the day. And as many people as we can get that can help us towards that goal, the more, the merrier."
And Dwayne Allen is doing everything in his power to be one of the guys hoisting it.