 ](http://careyindiana.com)
INDIANAPOLIS – Daniel Adongo sat Tuesday at his locker and felt very good about his recently-concluded off-season and the work ahead as he prepares for year two of his NFL career.
A special teamer who came to the league from rugby's highest level, Adongo hopes to augment his career with playing time on defense.
"I know that's where I want to be.  That's what I work toward," said Adongo.  "I think everyone in this locker room works toward being on the field and contributing to the team.  That's what I'm going to do. 
"I'm going to work harder than I did last year and give all glory to God.  This talent He has given to me, I want to work for Him, the team and my family.  Where the team needs me, I shall be there.  This is a team sport.  Whatever they want me to do, I'll do."
Adongo spoke well within the confines of teamwork.  He carried himself that way when he joined the Colts for last year's training camp, and his time around the program has him in firm lockstep with teammates.  
"Patience, servitude, basically, 'Trust, Loyalty and Respect,' " said Adongo of what were key things he has learned in his time as a Colt.  "I think that's what the Horseshoe is, the foundation of our team.  It's the embodiment of each player in here.  That's what I go by."
Adongo joined the Colts at 240 pounds and worked his way through the season by adding 30 more.  It was a regimen fit for the NFL, and Adongo is ripe and ready at that weight.
"It's all about doing whatever (is best)," said Adongo.  "I feel very comfortable in my new body and how I feel.  If I can move the same at 270 (pounds) as I could at 240, even better, then why not? 
"It's just an added advantage to me.  I'm just grateful I am able do that and adapt and probably be successful regardless of what weight I'm playing at."
Like every other Colt, Adongo got away for a break after the season.  Like others, he was around family and friends, and he felt an extended web of interest and duty in his new occupation.
"I was back home in Nairobi, Kenya visiting my family.  What more can you ask for than close friends, relatives and people who care about you?
"The whole nation is rallying behind me.  In a short amount of time, the whole of Africa probably will rally behind me because I feel that being successful in the league also helps those follow the same path I've chosen and make it easier for them.  Why not share the success?"
Adongo is not the first from his native area to reach the NFL, and he could become one of the most visible before he is finished.
He was peppered with questions like every player who returns home, and he took the opportunity to provide a message.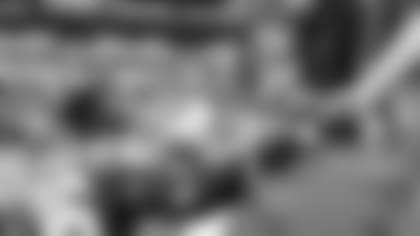 "(I got) the usual questions.  How was the transition?  What's next for me?  My training regimen, how do I eat, how did I become this physical specimen?" said Adongo.  "I told them being physical isn't enough in this league.  The brawn and the brute have to have the brains, too. 
"In that pursuit of success, you have to have those three things – the skill set, work ethic and physicality.  As much time as you put in on the field, I told them the same thing they should do in studying tape in the classroom working."
Adongo said he took advantage of the break by relaxing mentally and physically, though he said taking moments each day to stay engaged does not hurt.
He wants to make a bigger impact this season, and he will go about it the Colts Way since the off-season approach is to provide competition top-to-bottom on each unit.
"The first time you're in it, you're sort of like a deer in headlights.  I subdued those feelings," said Adongo.  "Yet again, it (2013) left me wanting more.  From last year to this year, I was hungry and thirsty to come back and show my wares in the new season."