 ](http://careyindiana.com)
INDIANAPOLIS – In a ceremony befitting a model player and person, Dallas Clark retired officially today as an Indianapolis Colt.
"Dallas is such a great, great football player that really elevated the horseshoe almost to another level when he came in," said Colts Owner and CEO Jim Irsay.  "He was an incredible player, such a great man, such a playful person – a child at heart.
"He was such a joy to have, so much courage.  Dallas would go over the middle, (come) down with the ball, (move) the chains.  Dallas came to a franchise that had one of the greatest tight ends in NFL history and was able to surpass virtually every record John Mackey had set.
"As great a player as he was, the person is even greater."
Clark played nine seasons in Indianapolis, finishing second in franchise history in receptions (427) and touchdown receptions (46) by a tight end, and today capped a wondrous ride that spanned 115 games with the organization, two being Super Bowls.
"Everyone has different experiences in the NFL.  To get there is every kid's ultimate dream," said Clark.  "For me to get with a team that was loaded with so many not just great athletes but people, it was a jackpot – a complete jackpot. 
"For Mr. Irsay and Bill Polian to put it all together, for the coaches to put us in a position to win and for the players to come together, and to be just a small part of it, was awesome."
Clark was the club's first-round pick in 2003, a year that began a record-setting time for the franchise.
Indianapolis won 12 or more games a league-record seven straight seasons.  Among a constellation of offensive stars, Clark's abilities allowed the Colts a freedom to exploit matchups continuously.
"Dallas was the perfect fit for the offense we had," said Tony Dungy.  "He could play in tight in a normal tight end role, but we could split him out and go in a three-wide receiver look without substituting. 
"A lot of times, we'd see who opponents would put on him.  If they had linebackers on him, we'd split him out and get the mismatch.  If they put nickel defenders on him, we'd bring him in tight and run.  Dallas was a matchup problem and allowed us to be multiple.  That was a big weapon."
In a career where Clark topped 500 receptions, including becoming the second NFL tight end ever with 100 seasonal receptions (2009), he may have been at his destructive best in the playoffs after the 2006 season.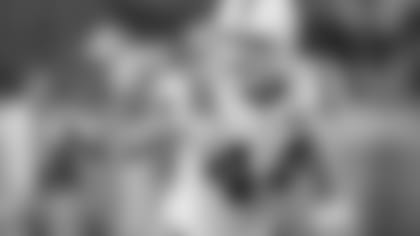 In four games culminating in a world title, Clark had 21 receptions for 347 yards, the most by a tight end in one post-season, while his catches fell one shy of matching the record.
"We had receivers get hurt in the Super Bowl run," said Dungy.  "He basically played a wide receiver position a lot for us in the AFC Championship game and Super Bowl XLI.  That ability was huge."
Clark had a late third-down reception at Baltimore in the divisional round to help ice a 15-6 win.  That catch, which he terms his "favorite," set the table for six receptions for 137 yards against New England in the AFC title game.  Clark had four receptions against Chicago in the Super Bowl.
"His 2006 playoff run in my opinion will go down as one of the most impressive accomplishments for any tight end," said Peyton Manning.  "Basically, he was our slot receiver for that entire playoff run when Brandon Stokley got injured.  Teams were playing defensive backs and cornerbacks on him, and it didn't matter.  He was still getting open.  
"He had a couple of huge catches against Baltimore, some huge plays in our comeback win against New England and a couple of pivotal catches in the Super Bowl, all when defenses were keying on him and targeting him."
One of Clark's two career 80-yard scoring receptions came in 2004, the year Indianapolis boasted three receivers – Marvin Harrison, Reggie Wayne and Stokley – with 1,000+ yards and 10+ touchdowns, and Clark abetted that milestone. 
"Dallas allowed you to do so much," said Clyde Christensen.  "People remember all of those good (statistical) years, but the only reason Stokley and (Austin) Collie and those guys were able to become great slot guys was because our tight ends did what they did.  They were that fullback-type guy when we went to our three-wide package.''
"It's not moments.  It always comes back to the guys, the locker room," said Clark.  "There were some phenomenal games, but what you cherish is your teammates.  It's the guys who make the whole experience special. 
"Where can you get 53 guys in a room that are giving so much of themselves to one goal – to win a championship?  When you do that, great things happens.  There will be moments and experiences of great and tough times – you get it all and teammates, they're your family.
"You remember bus rides, plane rides, smoking cigars after victories.  Those are things you'll always remember.  You remember the great people you met who'd you never meet.  It's because of football and the Colts.  To have those friendships continue past playing is the reward that means the most."
CAREER NOTES:  Started 118-of-143 career games (111-of-115 with Colts) and was 505-5,665, 53 TDs receiving (427-4,887, 46 with Colts)…held career record of 97-46 in games played (84-31 with Colts)…set Colts career positional records in receptions and TD receptions and ranks second in yards (5,126, John Mackey)…owns Colts TE seasonal records in receptions (100, 2009), yards (1,106, 2009) and TDs (11, 2007)…became 2nd NFL TE with 100+ receptions in 2009, the 15th with 1,000+ yards…with 10 TDs in 2009, joined Tony Gonzalez and Todd Christensen as only TEs with 90+ receptions, 1,000+ yards and 10+ TDs in season…had three career 10+-reception games (all with Colts)…had 44 TD receptions from Peyton Manning to rank as 3rd-most potent QB-TE tandem in history (60, Philip Rivers-Antonio Gates; 45, Drew Bledsoe-Ben Coates)…was 64-847, 4 TDs in starting 12-of-13 playoff games and owns NFL career playoff records for receptions and yards by TE…was 21-317 receiving in playoffs after 2006 season, with yardage marking the most by NFL TE and receptions ranking only behind Dan Ross (22, Cincinnati, 1981)…had 70-game reception streak from 2006-11…with Colts, had receptions against all 31 teams and TD receptions against 21 teams.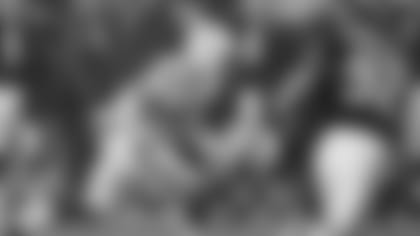 DALLAS CLARK (Quote-unquote)
On why he picked number 87 in Baltimore last year
"Unfortunately, 44 was taken.  They gave me a list with four numbers.  I saw number 87.  I said, 'Reggie Wayne, absolutely.'  That was my small tribute to my man, Reg.  If I could have a list of numbers to wear like 18, 87, 63, 88, 71, there are so many guys I owe my career to.  They made me a better player and person.  Reggie was one of those guys.  To watch him work every day, that's what a pro looks like.  That helped me think, 'Okay, that is how I have to work."
"The love and support the fans gave the team and me was special.  They continue to do it for a new era of players.  They're the greatest fans.  I can't express the gratitude and appreciation I have for them.  It was great to help give them something to cheer about."
WHAT THEY SAY ABOUT DALLAS CLARK
"Dallas brought energy and enthusiasm on top of the talent and all the things he could do on the field.  He lifted a lot of people around him.  I remember his attitude, desire to practice, the energy level in the course of a game.  He was a downfield threat, a big-play tight end who made clutch catches, but I appreciate the energy he brought us."
Tony Dungy (on how Clark differed from John Mackey)
"They were very different.  Each brought an element that was different in the era they played.  John was a downfield receiver who ran after the catch.  He did a lot of things tight ends in that era didn't do.  Dallas was the same way.  Dallas was more like a wide receiver.  He was just different than most tight ends who played in that time.  I think they were unique in that way.  They brought something different, and they brought an energy that inspired their teammates."
"Let's face it—Dallas was a problem for teams.  I've always said you'd like to have teams have a conversation about how they would handle a certain player.  I know for a fact that Dallas was a guy teams were having to have a conversation about, 'Do we keep a linebacker on him?  Do we keep a safety on him?  Do we bring in a third cornerback to play against him?'  All of those different types of defenses came up because of Dallas.  It was nice having a guy who could somewhat dictate what the defense would have to do.  It just said so much about his versatility."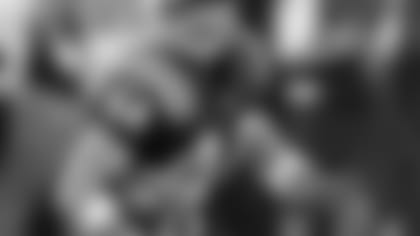 "He was a tough football player who practiced hard every single day.  He and I spent a lot of time working on our timing together.  I could throw a Cover 2 Seam Route with my eyes closed when Dallas was at tight end in the slot because I knew he was going to be exactly in the right place, and he knew where that ball was going to be.  It was always very rewarding, all the hard work we put in during the offseason, to see it come to fruition during the season."
"Dallas is one of my favorite teammates and a guy that truly loved football.  He was always one of Tom Moore's favorite players.  Dallas was a fun guy to play with and a great guy as well.  I am proud of his career and am proud that I was part of it and witnessed all that he accomplished."
"I have great respect for Dallas as a person, player and pro.  He played the game the way it's supposed to be played.  Preparing for him was like doing so for any of the great tight ends we ever faced.  He played at a high level, was a great competitor, a gifted receiving tight end.  He gave you everything he had.  It's great to be able to sign him again and for Dallas to retire a Colt.  I have nothing but utmost respect for what he gave for this city and organization.  It's a great day for him."
"I'm so happy Dallas and his family can finish up his professional career where he started.  Not only was he a great teammate, he is also a great friend to me, my family and several of our former teammates.  He's a first-class person on and off the field.  His role in the Colts' offense was extremely important but more importantly, he has made a huge impact in the Indianapolis community with his philanthropic efforts.  He's genuinely one of the nicest people I know, and his laugh and infectious positivity made him a great teammate in the locker room.  I'm extremely proud of him for the man he is off the field, and the career he had on it."  
"Dallas was a big component to what we accomplished.  We had so many weapons, but his ability to work the middle of the field was critical.  Dallas was versatile enough to command different coverages, and we used him to create mismatches.  His use as a hybrid player in tight or split out changed the position league-wide.  He was a committed teammate with a selfless style, a guy you could count on every game.  It's a thrill to see him honored this way."
"Dallas was clearly an outstanding player; there was nothing fancy about his game.  He was just productive and consistent during all circumstances; Dallas was a dangerous weapon for Peyton that caused problems for defenses every week.  Dallas was equally as special off the field.  His pleasant smile was a joy to be around – a great presence to have in the locker room."
DALLAS CLARK'S COLTS CAREER BY THE NUMBERS
2 – 80-yard TD receptions (vs. Houston 11/14/04; at Miami 9/21/09)
7 – Times playing on team with 12-plus regular season wins
13 – Number of playoff games
21 – Receptions in 2006 playoffs
21 – Opponents against whom he scored touchdowns
31 – Opposing teams against whom he had receptions
84 – Number of regular-season wins
86 – First downs produced on third-down receptions (80.4%)
92 – Receptions against Jacksonville (the most vs. one opponent)
96 – Receptions in RCA Dome (1,140 yards, 16 TDs)
105 – Receptions in Lucas Oil Stadium (1,111 yards, 7 TDs)
107 – Receptions on third downs (his favorite down to have a catch)
131 – Receptions in second quarters (the most in any quarter)
261 – Receptions that produced first downs (61.1%)
647 – Estimated times targeted by Colts QBs
767 – Reception yards against Houston (the most vs. one opponent)
1,487 – Reception yards in second quarters (the most in any quarter)