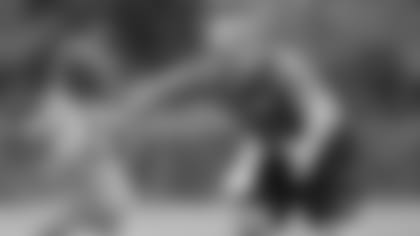 INDIANAPOLIS** – Youth football commissioners from across the state attended the USA Football Leadership Forum last Saturday at the Colts' Indiana Farm Bureau Football Center.
Approximately 40 representatives of football leagues around Indiana met at the NFL facility to discuss best practices in helping programs attract coaches and players and to keep the sport on a rapid and effective growth trend.
"This was a youth football statewide forum put on by USA Football and hosted at the Colts' building," said Colts Youth Football Commissioner Mike Prior, a 13-year NFL veteran defensive back.  "We discussed the positives and negatives going on in the youth leagues.  USA Football and the Colts served as mentors, trying to bring groups together to see how they can help each other in terms of operational purposes, organizing parents, players, referees and how to make youth leagues a great experience for everyone.  We touched on areas like obtaining equipment, how to raise funds, how weigh limits are set for younger ages, how to avoid concussions, what the best safety practices are, how to promote fitness and nutrition and how to run concession stands.  We wanted to help them (youth commissioners) get organized like they were running businesses.
"We wanted to help make this safe for kids, how to be cost-efficient so there is growth and participation.  We have found it is helpful to get as many youth commissioners around the state together so there are fact-finding ways to get better and to let other share ideas that work.  Usually the commissioners who come in can help set guidelines for coaches or volunteers.  This helps because there is a turnover in personnel from year-to-year."
Steve Summerville is in his eighth year as Indianapolis TAB football commissioner.  He attended the forum to gain insight on how other commissioners run their leagues while hoping to pick up ways to improve his league of 500 registered players.
"We want to learn more and ensure that what we are doing is on par with leagues in our state and around the country.  If there's something new, we want to know about it," Summerville said. "We serve inner city, less-advantaged kids.  Their experience though football – a great team sport – will impact them in how our kids interact with people and excel."
USA Football Great Lakes Regional Manager Mike Cuzzone led the meeting.  Cuzzone, Prior and the representatives of Indiana leagues met at the Colts facility, illustrating the team's commitment to youth football throughout the state.  They discussed background checks, coaching education, safety issues, league registration efficiency and how to become affiliated with USA Football, the official youth football development partner of the Colts, the NFL and the NFL Players Association.
Summerville likes his league's partnership with USA Football because it gives the league and his coaches effective ways to run programs and teams.
"If a league aligns itself with USA Football, they have all the tools and resources available to them that will minimize the challenge of creating its own programming," Summerville said.  "Any new league here will gain from USA Football a great, proven way of doing things.  Some of the new programs here today won't have to go through the growing pains that we did because of what USA Football offers them."
Donna Miller, the executive director of the Police Athletic League in Kokomo, has been involved with the league since it started 35 years ago.  She wanted to learn how other leagues handle fundraising and coaching education.
"You can learn little things that will help you run your league more efficiently and better for the kids," said Miller, who has 500 players in her PAL league.  "Everybody is here for the same reasons, and it's for the kids.  They want the kids to have fun."
Scott Hiland from the Washington Township Football League of suburban Indianapolis attended his third forum Saturday.  To earn a trip to Canton, Ohio, this July for the NFL/USA Football Youth Summit, commissioners were invited to submit an essay stating why they are the best delegate to represent the state of Indiana for the summit.  Approximately 200 coaches and league commissioners from all 50 states participate in the annual event to discuss topics vital to the continued success of youth and high school programs.  Hiland's essay was selected as the winning entry.  He will join one commissioner from each USA Football State Forum in Canton.
A commissioner for the past 15 years, Hiland took away ideas for fundraising and background checks and shared insight on parental behavior.  He also is hoping to streamline his registration process, moving from paper forms to online signups.
"You make contacts here.  I can pick up a lot from others and people ask me to share what I know," said Hiland.  "All the support we get, with background checks and a template for emergency plans, the administrative support (from USA Football) is huge."
"We find this is a great communication means that keeps the sport growing annually," said Prior.  "Indiana is one of the states with the biggest forums, and I have to credit the Colts, too, for their role.  A lot of coaches have told me football has gotten bigger because of the team's role, and it helps having USA Football located in Indianapolis.  People are really getting involved in the effort."
Adam Musto of USA Football contributed to this story.