It sounds like a plot from a movie.
More than 300 players with dreams of greatness descend on Indianapolis. Over the course of several days, they're tried and tested, interviewed and examined, and only the smartest, the toughest, and the strongest survive.
Only it's real life. It's the NFL Combine. And it starts on Tuesday.
For the players invited, getting through next week is no joke. Just ask some guys who've been there.
"I just remember it being tedious, being long, being under extreme pressure just to be on point all the time. Not a lot of hours of sleep, not a lot of downtime, you're just constantly on the go from interview to performing to whatever you need to do," said guard Hugh Thornton.
And that's coming off an already long college season.
"If you go to any kind of all star game, you've got a couple weeks after the season, then you're in an all star game, then a couple weeks and then you're in the combine, and then the weeks following that you've got workouts with teams, then you've got the draft, which nothing is guaranteed, and then you've got training camp."
It turns into one long year – which is really two years.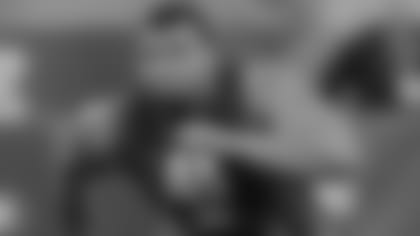 "Going from the beginning of the college season to the end of your first season in the NFL, hardest year by far," Thornton said. "It's like having triplets for your first set of kids. You can do all the preparation you want, but once it's there, you've got to perform. There are no excuses."
For defensive tackle Henry Anderson, the NFL Combine is still fresh – it was last year.
"It was just mentally draining for me. Most people don't see the first three days of it where it's a lot of the interviews and psychological testing and all the medical testing and stuff like that."
Including waking up early for drug tests. But that wasn't the worst part.
"I think the worst part was the MRIs. Any previous injury you've had they want to MRI. So, you end up sitting in the MRI thing for hours. So, that was no fun."
Anderson said the only thing players can really prepare for are the on-field drills – which went by pretty fast. 
Defensive tackle Arthur Jones was hoping to run drills at the combine, but injury prevented him from doing so. And that just added to the uncertainty for him.
"I thought my stock would fall a little bit, which it did because I didn't work out. But at the end of the day, you don't want to go out there and reinjure yourself even worse," he said. "But it all worked out good. I'm here with a great organization."
Things worked for quarterback Matt Hasselbeck too. The NFL Combine, however, did not.
"I got bumped. I got an itinerary, but I never got a plane ticket."
"I told the guy, I said, 'Hey, I want you to know I strongly disagree with this decision.' And he said, 'Ok, kid. Thanks.'"
Now, with a successful 17-year career under his belt, Hasselbeck can laugh about it. Now, he says, it serves a purpose.  
"Any adversity you hit along the way and I think we've all hit it at some point in our lives and at some point in our careers, it definitely makes me not take it for granted."
The message – take advantage of every opportunity you get. And even those you don't.
Good luck to all the players at the NFL Combine!